I recently saw a new documentary getting a ton of buzz in the tech and entertainment worlds called PressPausePlay. The premise of the movie centers around the democratization of art driven by the Digital revolution of the last decade which has unleashed unprecedented creative opportunities for "the crowd" at large. Featuring some of the most influential creators of the Digital era, the film takes a close look at today's cultural democracy through their unique experiences and success stories. What's most interesting is that the world had never heard of many of these people even just a few years short years ago.
Although it's not about Latinos per se, the film's message really resonated with me as I related it to certain digital trends of late that Latinos are driving. We all know that Latinos over-index in technology adoption, social media, online video consumption and so on. It's also clear that Latinos are under-indexing in their presence in mainstream TV and Film relative to their contribution to the U.S. population.
However, of all the facts and figures that stand out, the one depicted in the chart below says the most. According to the Forrester Social Technographic Ladder, 47% of Latinos online are "content creators." That's an over-index of 263 vs. non-Hispanics who also lag behind in the areas of critiquing, collecting, joining and spectating online.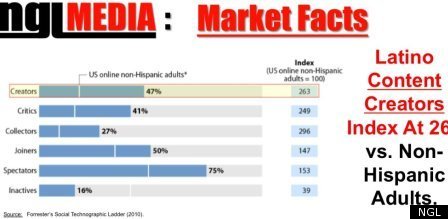 There are some clear factors driving this trend stemming from the youthfulness of U.S-born Latinos who are also adopting new technologies at a rapid pace. However, it can't be overlooked that Latinos, who have been typecast, misrepresented and/or completely passed over in mainstream media and entertainment, now have a platform of their own and they're using it (a lot!). Today's Digital world has changed the rules for everyone, and for Latino "content creators" this represents a huge opportunity. Be it intentional or not, this growing "Latino crowd" is just starting to scratch the surface of changing entertainment as we know it, while simultaneously creating a new Latino image all their own. Imagine a day when there are no more dilutive conversations by executives arguing back and forth about what constitutes a "Latino." With the power to drive that conversation now in the hands of Latinos of all shapes, sizes, ethnicities, hair colors, socio-economic and generation levels, the game has suddenly changed for the better. The idea that anyone and everyone now have the ability to instantaneously share their art with millions levels the playing field. For Latinos, a "new mainstream" has not only begun here in the U.S., but around the world.
The topic of Latinos in media and entertainment will be heavily discussed at TEDxWashingtonHeights in NYC on October 24th. Latino thought leaders who believe in the power of ideas to change attitudes, lives and ultimately, the world will be on hand to share their ideas worth spreading.