Villanueva was unarmed. The officers who shot him on July 4 in Fullerton, California, had been investigating an illicit car rally where participants raced and did tricks. The passenger, 18, has not been charged with a crime, according to the Fullerton Police Department. Officials declined to release his name, saying the case was still under criminal investigation.
At a time when police killings have dominated national media attention, one might have expected Villanueva's death at the hands of police to become a major story. It didn't.
Several other Latinos have died in confrontations with police across the United States in recent weeks. None of them garnered much media attention outside the state press, but many activists and analysts say such deaths deserve more scrutiny in order to better understand the complex relationship between police and Latino communities.
For many, the lack of media attention is a glaring reminder of the scant influence Latinos wield in the country's leading newsrooms. Several experts interviewed by HuffPost last year after the death of Antonio Montes-Zambrano ― an unarmed Mexican migrant with mental health problems who had thrown rocks at police in Pasco, Washington ― agreed that police killings of Hispanics rarely received national attention in large part because the national media rarely takes interest in Latino issues at all.
A 2014 study published by Columbia University found that less than 1 percent of national news stories focused on Latinos. A majority of those stories covered a Hispanic who was breaking the law.
Others say the Latino community needs more powerful institutions and leaders to attract media attention to Hispanic issues. Rick Rios, a co-founder of the Pasco-based civic group Consejo Latino, praised the work of civil rights leaders and Black Lives Matter, saying Hispanic activists should follow their lead.
"I always go back to the same thing: lack of leadership," Rios, who played a leading role in publicizing the Montes-Zambrano case, told HuffPost. "We're not going to legislate discrimination away, we need leadership ... That's what you see with groups like Black Lives Matter. They're organized. They're powerful. That's what the Latino community needs to do."
Franklin Cruz, a program director at the Justice Management Institute, also criticized the Hispanic political leadership for focusing on immigration to the exclusion of other pressing issues like the Latino community's relationship with law enforcement.
"Politicians who hope to get the attention of the Hispanic populations are overwhelmingly concerned with immigration," Cruz told HuffPost. "But also, within our own community, we have not been good about raising what the other issues are."
At an #ElectionVoices event hosted by Twitter and HuffPost Latino Voices last week, Voto Latino president and CEO Maria Teresa Kumar noted that while people of all backgrounds are coming together for protests on various causes ― including minimum wage and Black Lives Matter ― the media has had a role in segregating coverage depending on the issues.
"I think the media does a great job of wanting to silo who we are as Americans," she said. "They're like, 'Oh, that's the immigrant issue, that's the African-American issue, that's the Asian issue.' No, it's us. And until we understand that we have a vested interest in all these different topics, we can't actually come together with an American agenda."
While dozens staged protests for Villanueva, the teen killed by police, and several local outlets like the Los Angeles Times and O.C. Weekly covered the case, the major cable networks and most national media passed it by. The only one of the top-five cable news channels to mention Villanueva's death in a national broadcast was Univisión, during a July 11 episode of the morning show "Despierta América," according to a review of data compiled by TV Eyes.
Anaheim police officers allegedly Tasered Valenzuela in the chest after responding to a report that the man had been following a woman. The 32-year-old had two children. Family members say they will file a wrongful death lawsuit against the Anaheim Police Department, as well as Taser International, the producer of the stun gun, according to the Orange County Register. Garo Mardirossian, the attorney representing the family, said at a press conference this week that Valenzuela had been diagnosed with post-traumatic stress disorder due to family abuse.
One indication of how little influence Hispanics exert over law enforcement institutions is that police departments don't routinely track the ethnicity of people who die in police killings, Cruz said. That makes it hard to even begin analyzing the Latino community's complicated relationship with police.
Failing to collect such data confuses other basic information like the arrest rate. Law enforcement agencies have often lumped Latinos arrested in the Southwest together with whites when they aren't given an ethnicity option, according to Cruz. In other areas with large Caribbean populations, like New York, law enforcement might instead classify Hispanics as black.
Those agencies that do identify Hispanics often classify them as a race, which contradicts the practice of the U.S. Census Bureau. (The terms "Latino" and "Hispanic" refer to an ethnicity. Those of Latin American heritage can belong to any race.) Consequently, it remains unclear from government data how many Latinos die at the hands of police.
The Washington Post has compiled one of the most extensive independent databases, but it only includes data through last year. The paper has identified 518 people killed by police so far this year, including 80 Latinos ― about 15 percent of the total. That figure is roughly proportional to the percentage of Hispanics in the U.S. population, though the paper couldn't identify an ethnicity in dozens of the 518 cases.
"What we call a criminal justice system is not built as a system ― its data is fragmented," Cruz told HuffPost. "I don't think we know the scope of the problem."
Before You Go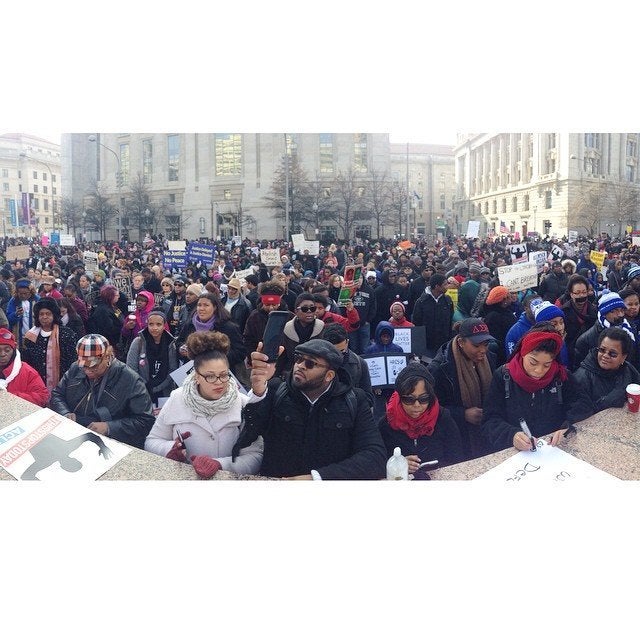 Powerful Black Lives Matter March In Washington
Popular in the Community