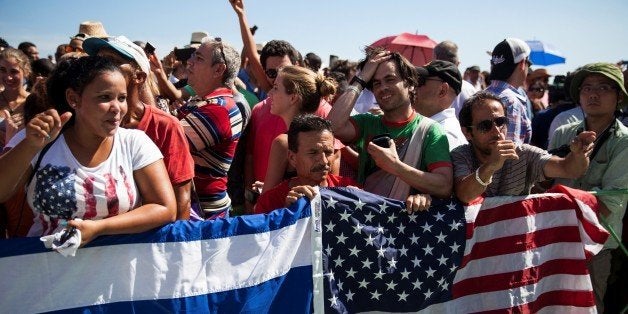 The handbag was expensive, at least for me, and for what I made in a month working as a security guard at Louis Vuitton on Rodeo Drive in 2003. Management kept the handbag, a special edition type for celebrities, upstairs. It was black, with gold fastenings--I don't know much about luxury handbags, but it didn't look like the typical brown and gold monogrammed bags I normally saw in the store. I can't be sure, but those clasps looked like they could be made of real gold.
A manager would run upstairs for the special handbag each time a celebrity would come in. Such was the case when Kelly and Sharon Osbourne walked in one day. Their family's show, The Osbournes, was big back then. I was a fan of the program and had it not been against company policy, I would have asked them for an autograph.
The experience came to mind recently when Donald Trump and Kelly Osbourne's comments about Latinos went viral. I remember helping the Osbournes with their bags, slightly fascinated at eighteen by their fame, while perfectly blending into their celebrity experience as nothing more than the help.
At first I thought the best response would be to identify other ways Latinos play an integral role in our economy. Landscapers. Dog Walkers. Waiters. Factory workers. Grape pickers. The list, especially in California, is exhaustive and illustrates how Latinos are an essential part of the U.S. economy. It's the familiar, "jobs no one else is willing to do" argument and one I have used as an advocate in the past.
While true, the issue with this approach is it minimizes the accomplishments of Latinos and perpetuates a false and racist stereotype about a group of people who over the years have struggled to contribute to society in other ways.
Changing the way Latinos are perceived in the U.S. requires that the group's achievements be recognized. It's not difficult to see either how this group has made contributions to our nation. The group is well represented in many industries. In entertainment comedian Louis C.K. is Latino, as well as newly minted Bond girl Stephanie Sigman. There is also Luis Walter Alvarez, a physicist, who was awarded the Nobel Prize of Physics in 1968 and Junot Diaz, a Pulitzer Prize winner for his work in 2008 and MacArthur "Genius" Grant recipient in 2012, to name a couple of others.
Latinos have made many more contributions in literature, journalism, military, business and finance, arts and entertainment, as well as politics. Despite this it seems the narrative, especially for those in a position to command the attention of a wide audience, is to relegate Latinos to nothing more than criminals and toilet cleaners.
Unfortunately the group's advances and contributions to our society have not been without its critics. If the group is making such progress, why continue to provide government aid or programs to assist this underrepresented group, right? The reality is these achievements would likely not be possible without the support of these programs.
For example, I began my education at a community college while working as a waiter, and later as a security guard; the Pell Grant I received from the government at the time made it possible for me to work less hours and spend more time in the books, eventually allowing me to transfer to a university. As an undergraduate and graduate student, I also relied heavily on financial aid and government sponsored mentoring programs to learn the basics of succeeding in the classroom.
While there are success stories to point to (and we should) there is much work to be done. Take for example a report by the California legislature released last month. It found "Latinos still make up a disproportionately small share of the state's elected officials," despite recently becoming the state's largest ethnic group. Further, in critical areas like education Latinos continue to make significant inroads in closing the achievement gap, but still struggle to graduate high school and attend college. Of those who do go on to college, about 22 percent actually earn a degree. As the State of Higher Education in California -- Latino Report aptly put it, "Latinos are underrepresented in every segment of higher education and have lower levels of college degree attainment than other racial/ethnic groups." Progress is key and should be lauded whenever possible, but there are clearly many areas of improvement, making the support this group receives vital to its success.
As presidential candidate Bernie Sanders said to the New York Times Magazine, "his [Donald Trump] slurring of the Latino community is not something that should be going on in the year 2015." Exactly. We should be seen as more than criminals and toilet cleaners, and in my case, security guards, despite what some celebrities and politicians say and what is shown on television and film. Latinos are lawyers, doctors, professors, writers and so on; not great in numbers, I concede, so there's still much work to be done. But it's possible. After all, when I helped Kelly I was an uneducated Latino working a menial job, unsure about my life prospects--no different from a toilet cleaner to her, perhaps. But life can take on unexpected turns and the help sometimes gets help, and we find a way to improve our situation--for me, first was serving my country in the military, and then earning an Ivy League education.
Popular in the Community