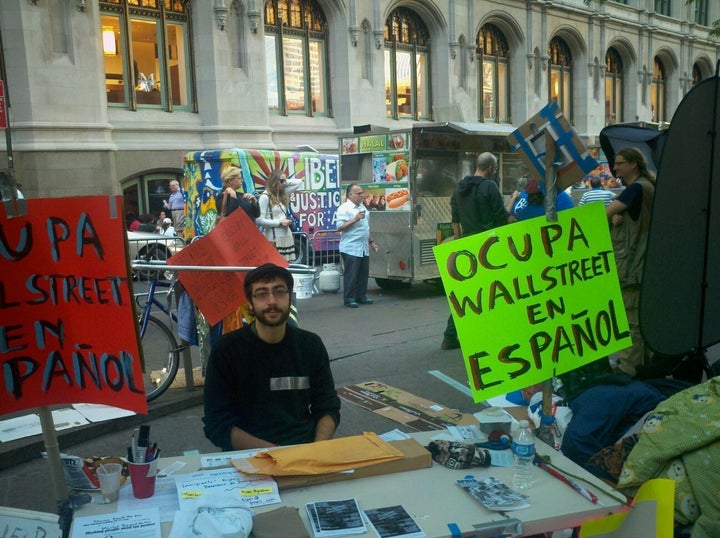 NEW YORK -- As Occupy Wall Street has grown rapidly in the past month, with the number of supporters swelling from hundreds to thousands and like-minded protests cropping up in most major U.S. cities, Latinos have become an ever more important part of the burgeoning movement.
"As days go by and with the growth of the movement to other cities, the presence of minorities at Occupy Wall Street has gone up," Fernando Lopez, editor-in-chief of Poder360 magazine, said in Spanish. "If the movement goes on, this presence will be even larger."
And some Latinos aren't just participating, they're trying to convinces others to join the protest as well.
"We saw that the number of Spanish-speakers has been increasing," said Guillem Alvarez, a young student originally from Spain, told HuffPost LatinoVoices in Spanish. "Some of us decided to create a group to carry out certain tasks like translating the newspaper and the website into Spanish, or going to neighborhoods with a Latino majority to explain to them what is happening,"
Some sympathetic observers, including Luis Barrios, an Episcopalian minister and professor of criminal justice at John Jay College, say there weren't many Latinos participating at the beginning of Occupy Wall Street.
"This is a movement that -- we have to recognize it -- started among white, middle-class youth, but it has since opened up, because the crisis is affecting us all," Barrios said in Spanish.
But others contest that view. Roberto Lovato, co-founder of Presente.org, an online organization that advocates for Latinos, said that contrary to what others may contend, "Latinos have been present since the beginning of Occupy Wall Street." The Spanish language version of the newspaper Occupy Wall Street Journal and signs in Spanish around Zuccotti park -- such as one that said "Ya basta Wall Street," or 'enough with Wall Street' -- Lovato added, show the strong participation of the Hispanic community.

Julio Cesar Malone, a veteran journalist and columnist for Spanish-language media in New York, said he thinks some Latinos who identify with the movement may not have the time or energy to actively take part.
"What time does a Latino have to go protest on Wall Street?" he asked in Spanish. "Our people are working two jobs to survive. Many work 16 hours, and have to commute for four more -- that's 20 hours; they're drained."
But Malone said he remained hopeful the Latino presence at Occupy Wall Street will continue to grow, saying that "in time, the movement will continue to grow and the participation of Hispanics and blacks will come. I have no doubt about that."
And many commentators said that whether or not Latinos were a vocal presence in the movement's beginning, many of the ideas Occupy Wall Street protesters have focused on resonate with Latinos. Some said that they expected both the movement and Latino participation to grow.
"The unjust distribution of wealth leaves us, Hispanics and blacks, lower than at the bottom. Today, the whites are on the bottom and we are a few floors below that. We are in the basement," Malone said.
"As opposed to typical demonstrations where people go out to the streets, confront the police, throw stones and then go back home, this one is different. The participants have decided to stay put and question the essence of the system," Malone said.
"What is interesting," Malone added, "is that it's a horizontal movement like the one that brought down Hosni Mubarak in Egypt. There is no visible leader; the people of Occupy Wall Street are united around an idea: We are going to distribute the resources better, because it can't go on like this."
Other Latino commentators emphasized that Occupy Wall Street was important precisely because of the movement's inclusive nature.
"What we need to do is to find common ground," Barrios said. "Whether white, black, Latino, documented or undocumented, the common denominator here is that the dominant upper class is exploiting us. That is why we have to change these conditions."
Alvarez, the student from Spain, said, "This isn't about Americans, nor about people who subscribe to a concrete political ideology. This is about individuals that have seen themselves affected by the system. The important thing is to be here, to come and fight."
An earlier version of this report appeared in Spanish on AOL Latino.
Popular in the Community