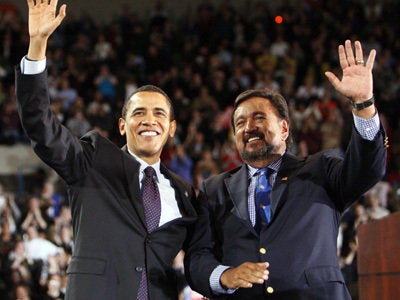 Before a huge crowd in San Diego last summer, Barack Obama vowed to make fixing illegal immigration a top priority as president, and Latinos nationwide responded with massive support for him on Election Day. Now, they are pressing him to keep his promise.
"We voted in large numbers for Obama," said Juan Salgado, board president of the Illinois Coalition for Immigrant and Refugee Rights, a nonprofit based in Chicago, Obama's training ground for immigration issues when he was a senator. "If we're sitting here two and a half years from now and absolutely nothing's been done, people are going to start asking questions."
From Cape Cod to California, activists on both sides of the volatile issue are girding for battle. Supporters of the nation's 12 million illegal immigrants - most of whom are Latino - want Obama to press for a path to legal residency for them. Opponents say reform is impossible at a time when unemployment is soaring, and instead want tougher border security and less immigration to preserve Americans' jobs.
Popular in the Community