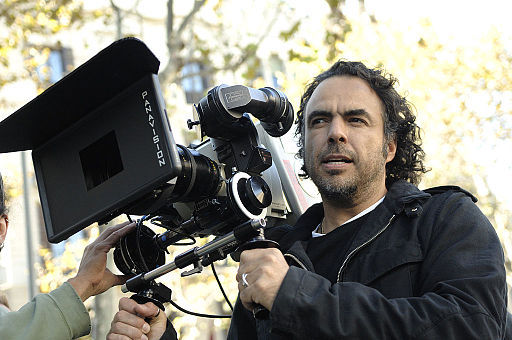 Focus Features (Wikimedia submission) [CC BY-SA 3.0], via Wikimedia Commons
Snubs. Slams. Boycott. Yes. Awards season is upon us. By now we all know that on Feb. 28th the Academy will pull off a second consecutive year of an #OscarsSoWhite award show. Just when you thought we called them out last year with a little hashtag action, the Academy does it again. But did they, really? Every little bit helps, but it's going to take a lot more than the Academy to fix this problem.
No one deserves a nomination just for being a minority. It needs to be earned. You should receive a nomination for an exceptionally, moving performance. Eddie Redmayne is a great example of a well-deserved Oscar nomination which he did in fact receive for The Danish Girl. Beasts of No Nation's Abraham Attah was very much deserving of a nomination, but didn't receive one. Jason Mitchell did an outstanding job portraying Easy-E in Straight Outta Compton, but again, no nomination. I could go on naming more Black actors and directors who were snubbed, but my point is that the statistics for Oscar nominations, especially in these top categories, have always been worse off for Latinos, Asians and Native Americans. Surprisingly, a total of nine Oscar nominees are Latin American this year.
The Revenant is responsible for five of these nominations, and the animation department takes three. Best Picture, Best Director, Best Cinematography, Best Sound Mixing and Best Sound Editing nominations go to The Revenant's: Alejandro González Iñárritu, Emmanuel "El Chivo" Lubezki, Martin Hernández and Frank A. Montaño, respectively. Colombian director, Ciro Guerra's El Abrazo de la Serpiente was nominated for Best Foreign Language Film. Inside Out's Jonas Rivera is part of the Pixar crew nominated for Best Animated Feature. Brazilian director Alê Abreu's Boy and the World is also nominated for Best Animated Feature, and Bear Story's Gabriel Osorio and Pato Escala were nominated for Best Animated Short Film. We should have more Latinos to celebrate at the Oscars, especially in the Best Actor and Actress categories considering that we make up the largest ethnic group in the U.S.
...I wish that this anger was being expressed 365 days a year and not when the nominations are announced.
Agreed! Like many, I believe, it begins at the production and studio level. We need more minorities in high level positions at the studios, more minorities in writer's rooms, more minorities writing screenplays, more minorities behind and in front of the camera in order to begin to put a small dent (of change) in this industry. And of course that also includes women. This is an industry that can do a much better job at mirroring the world we live in today. Change is desperately needed, and necessary at the studio, network, and executive level so if any of you are reading this: please change your hiring strategies to include people of color and women. Find them. They exist.
For those Latinos that already have their own production companies, I beg you to please actively seek out fresh talent for behind and in front of the camera. Inclusion requires solidarity. There's a lot to be learned from organizations like Streetlights, trying to make a difference and bring much needed diversity to film and TV sets.
I challenge Iñárritu and every established Latino filmmaker to produce more films with complex Latina or Latino leads and supporting roles. Let's be the change we want to see, especially if you are in a high position to do so. Let's create opportunity and create the inclusion that everyone yearns. Where are the Desi Arnazs and Ricardo Montalbans of 2016? The film industry is two decades behind the television industry. We need pioneers willing to produce stories that reflect the real world as we see it today. The real world I see on the 6 train in NYC every day. Rich, poor, White, Black, Latino, Asian, Native American, LGBT, handicap, blind, etc.
There are so many fresh and new stories to tell from our point of view. I have about four in my head right now that I'll be working on next. I love Alan Yang's attitude of gratitude at the Critics' Choice Television Awards:
Thank you to all of the straight white guys who dominated movies and TV so hard and for so long that stories about anyone else seem kind of fresh and original now.
I'm also grateful for the same stories that continue to be recycled year in and year out. Like the African proverb says, "Until the lion learns how to write, every story will glorify the hunter." Let's tell our stories from our own viewpoint.
I started writing to be a part of this change. I wrote a sitcom based on a mixed raced (Asian-Latina) woman who's as complex and complicated as everyone you know. As I was doing research and envisioning the people I want in my future writer's room I found some statistics that peak my interest. Here goes:
In December, we found out that only 12.5% of the 376 directors of features released in 2013-14 were minorities, 11.2% were minority males and 1.3% were minority females.
In film earnings, White writers took home a median of $76,848 in 2012 ( a 2.5% increase over 6yrs) and Latino writers took home $46,500 (about a 24% decline over those same 6yrs). The full 2014 Hollywood Writers Report can be found here.
In the TV industry, the number of Latino and multiracial shares of minority TV staff writers has grown in recent years from the 2011-12 season to the 2013-14 season. However, the median earnings for White writers was $120,579 in 2012 (a 23.6% increase in 6 yrs.) while Latinos earned $93,355 in 2012 (a 4.1% increase in 6yrs).
I want to close this gap. Do you?
Be clear. What will you or your organization do to change Hollywood today?
REAL LIFE. REAL NEWS. REAL VOICES.
Help us tell more of the stories that matter from voices that too often remain unheard.