Fictional Narrative Infused with Journalistic Energy
'Act of Valor' presents a rare fusing of fact and fiction. Experienced movie stuntmen, co-directors "Mouse" McCoy and Waugh dedicated over 4 years to the project. After spending six months with the SEALs and learning their stories, Waugh explained how they were able to identify five "acts of valor that were truly powerful stories that you wouldn't believe [were real]." Then, the co-directors engaged action screenwriter Kurt Johnstad (known for the Zack Snyder/Frank Miller chroma-key comic adaptation '300') to weave a narrative thread through the "acts of valor" in a brief 8 weeks. Within one month of launching a collaboration with Johnstad, the co-directors commenced principal photography in Arizona and Puerto Rico, among a number of other locations.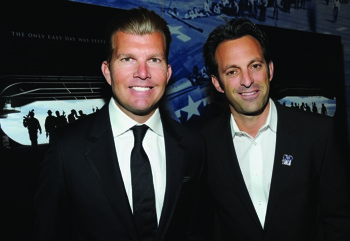 According to the directors, the buzz that the movie is a "recruitment film" is a myth. (After a recent story on HuffPost, you may question this claim.) Rather, the directors say a team of Navy SEALs were drawn to their past work on the documentary 'Step Into Liquid' and approached the co-directors to develop a movie that would paint an accurate picture of their job. Both SEALs and actors bring the story to life on the screen, with energetic cinematography by Director of Photography Shane Hurlbut captured in lightweight 5D and 35mm, accented by live-fire sequences from real SEAL jungle warfare training, as well as unprecedented in-camera special effects, which in an era of heavily computer-generated movies is a notable accomplishment.
The co-directors are eager to deliver real action in their filmmaking in reaction to "an artform that has died," which, according to Waugh, has been overtaken by the "superhero fantastical world of CG [computer graphics,] where the actors are basically on a green screen and we are creating a world around them." The filmmakers' consistent goal is to provide film viewers with an "immersive" experience. As Waugh explains:
"In 'Step Into Liquid,' you could ask all the big-wave guys, "What's it like to surf in 60-foot waves?" And they'd have no answer. You just have to do it to understand it. And it became the same thing in 'Dust to Glory'...So we've carried this [theme of exploration] into 'Act of Valor.' A Navy SEAL can't explain it to you what it's like to operate. But [when] you watch the movie, you can get that experiential feeling because we put you in the boots [of a Navy SEAL] for 90 minutes. You feel what it's like to be in the middle of a gun fight. Rather than give you the conventional fourth wall, where you sit back and watch [the film]....No! We're gonna put you in it. "
Much of the action takes place in Latin America: A segment of the plot is placed and shot in Mexico, while a large portion is set in Costa Rica. "Mouse" McCoy and Waugh are very familiar with Mexico: "Mouse" McCoy is a competitive motorcycle racer who has raced in the Baja 1000 and Baja 500 for many years. Also, Waugh's respect for Latin American filmmaking is apparent through his enthusiastic mention of Rodrigo Prieto, whose filmmaking sequences Waugh describe as "kinetic" and "immersive."
Latino Talents Emerge from the Action Explosions in 'Act of Valor'
The cast of the film 'Act of Valor' is extensive as the plot moves quickly through international locales. One SEAL team member, "Sam," is identifiable as Latino, but his role is minimal. Fortunately, Latino actors emerge around the SEAL team and guide us through the narrative. The movie opens with Agent Morales (Roselyn Sanchez), a CIA operative embedded in Costa Rica, revealing her pursuit of an international drug trafficker (played by Alex Veadov) to fellow Agent Ross (Nestor Serrano). When Morales is kidnapped, the SEAL team is deployed to recover her via a secret operation. Yet, the recovery mission for Morales (Sanchez) leads to a greater revelation. This segues the action to Ukraine, and ultimately to Mexico, where Gonzalo Menedez offers a memorable appearance as "Commander Pedros." Menendez meets the SEALs in the desert to coordinate another covert operation, and he is our guide as we roll into the streets of Mexicali in a suspenseful sequence cast with background straight from the streets. It is in this "bust" that we encounter Emilio Rivera's performance as a narcotrafficker. Rivera engages in a gun fight with the SEALs, resulting in the last onscreen "act of valor" for our protagonist, a real SEAL.

Roselyn Sanchez ("Agent Morales") was born and raised in Puerto Rico. Known for her role in the series "Without A Trace" and a résumé of films, as well as ratings in many Most Sexy lists, Sanchez got her start on the soap opera "As the World Turns." Sanchez confesses that she sacrificed her glamorous beauty for the tough production schedule and torture scenes of 'Act of Valor': "That was one of the reasons that I was so attracted to the movie...I'm so used to [playing] the Latina...bombshell...sexy...So I loved the experience of going there and exposing myself. I said 'I don't have to look pretty. I don't want to look pretty. I don't want people to recognize me.' For once, I want people to recognize the work instead of [my] physique."

Nestor Serrano ("Agent Ross") is Puerto Rican, born and raised in the Bronx. He broke into acting after dropping out of school: "The play was 'Does a Tiger Wear a Necktie?' I thought about it for a day or so and decided to try out. I was so nervous that the director asked me to stop and take a seat. I began to read acting books and was always the first to arrive at rehearsals and the last to leave. Soon after performing in that show, I dropped out of school and enrolled in the Lee Strasberg Institute. I never looked back." Serrano comments on being a Latino in film: "Personally, I think Latinos are not treated in the same stereotypical way they once were, and as such, I'm not the defensive actor I once was. I'm more interested in playing roles that are interesting to me."

Gonzalo Menendez ("Commander Pedros") is from Cuba and was born in Miami, Florida. Menendez is known for his role of "Clavo Cruz" on "CSI: Miami." Menendez was inspired by weekly 8 o'clock movies as a child and a theatre class in college: "When I got to college, I enrolled in an Introduction to Theatre class at Florida State University, and one of the requirements was to see the plays the School of Theatre would put on. I saw Arthur Miller's 'All My Sons,' and I was done. Next day, I'm asking the teacher 'How do I do this?' and the rest is history." To prepare for his role in 'Act of Valor,' Menendez immersed himself in learning about the Mexican Special Forces (GAFE) and he also learned tactics directly from the SEALs.

Emilio Rivera ("Mexican Narcotrafficker") was born in San Antonio, Texas and is fourth generation Mexican. He has lived most of his life in Los Angeles, and is perhaps best known for his continuing role as "Marcus Alvarez"on "Sons of Anarchy" on the FX Network. Rivera is in post-production on 'Water & Power,' a film based on the "highest-grossing play at the Mark Taper Forum." He also appears in the Sundance feature 'Filly Brown.' Rivera doesn't flinch when it comes to playing the bad-guy Latino: "If we're going to start an argument about positive roles, then we will have nobody working. [I'm] grateful for the work out there...There isn't a lot of work out there [for Latinos]."
Check out these Latinos' acting performances firsthand when 'Act of Valor' hits theatres tomorrow.
Calling all HuffPost superfans!
Sign up for membership to become a founding member and help shape HuffPost's next chapter