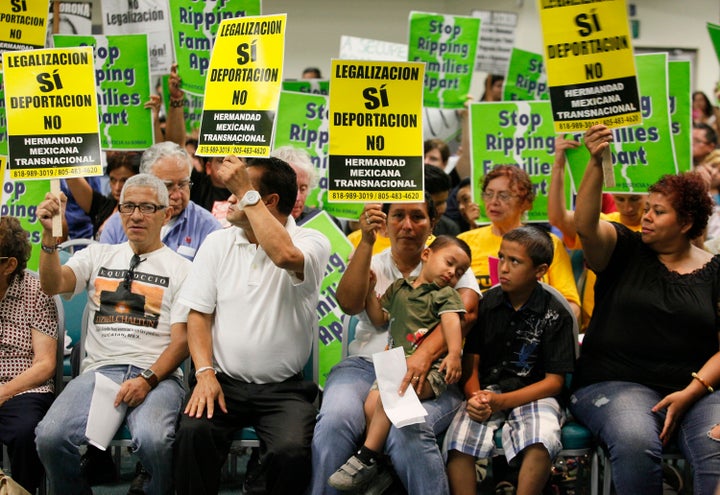 WASHINGTON -- Some Latinos around the country rallied on Tuesday against the White House's deportation policies, attempting to send a message to President Barack Obama that they may not support him for reelection if he continues to deport record numbers of undocumented immigrants.
"We don't need to discourage people from voting for President Obama," rally organizer Roberto Lovato of the Latino organization Presente.org told HuffPost. "He's doing a smashing job of it himself."
Latinos came out in record numbers for Obama in 2008, helping propel him to victory over John McCain. Obama's support from Latinos was based on his personality and politics, but also his rhetoric on immigration -- consistently among the top issues for many Latino voters.
Obama promised to deliver immigration reform and create paths to citizenship for some of the estimated 11 million undocumented people living in the United States. But after two years in office, he has yet to achieve even incremental steps toward comprehensive immigration reform, and meanwhile has expanded immigration enforcement to record levels.
Obama deported 393,000 people in the 2010 fiscal year, with an overall deportation record that far exceeds his predecessor, George W. Bush.
Some Latinos now have a message for the president: If deportations continue at high rates, he should not count on their votes in 2012.
"We know that the people in the Obama campaign ... are running a campaign that assumes that Latino voters will take anything over a Republican, including a Democrat that is worse than a Republican on immigration," Lovato said. "Our actions are to show that you're wrong."
Still, he said, they are not encouraging voters not to vote for Obama. "The idea is to save the Obama campaign" from defeat by a Republican, Lovato told HuffPost.
It's a message Rep. Luis Gutierrez (D-Ill.) has made as well. Gutierrez is applying pressure to the Obama administration to halt some deportations as part of a campaign he calls "Change Takes Courage." He said some Latinos may withhold votes from Obama unless he makes changes to his deportation policy, although he acknowledged that the alternatives are also unappealing to many.
"It's not about voting for the Tequila Party and it's not about voting for Republicans," he said in June. "I don't see Latinos doing that. What I see them doing is staying home."
"The President remains committed to fixing our broken immigration system while most of the Republican presidential candidates, and Republican leaders in Congress, are opposed to a comprehensive solution," Gabriela Domenzain, spokeswoman for the Obama campaign said in an email statement.
One conflict is over Secure Communities, an immigration enforcement program that shares fingerprints taken by local police with immigration authorities. Hundreds of Latinos and immigrants' rights supporters packed into a conference room to discuss their problems with the program on Monday evening.
The Obama administration announced on Aug. 5 that it would terminate its memorandums of agreement with states over participating in the program, effectively removing the states' ability to say no to what was originally touted as a voluntary program.
DHS has attempted to respond to some criticisms of the program, announcing in June it will reform the program to protect victims of crime and prevent racial profiling, two major concerns cited by critics of the program.
"DHS and ICE have been receptive to the community's concerns and have worked with community stakeholders, law enforcement and ICE officials to make significant changes to the Secure Communities program, announced on June 17, to protect civil rights, protect victims of domestic violence and other crimes and to ensure the program is consistent with the top enforcement priorities," said Domenzain of the Obama campaign.
More than half of those deported under the program have criminal records, the administration announced in a document meant to "set the record straight" on Tuesday.
Still, immigration reform supporters argue the program should be discontinued altogether. They delivered thousands of petitions to the Obama campaign headquarters in Chicago, and held protests at Democratic offices in Houston, Boston, Miami, Atlanta and Charlotte, N.C.
"We have a president who promised in 2008 to pass immigration reform during his first year in office; he promised to be a friend for the Latino community," Presente.org organizer Carlos Roa said in a statement. "As president, he has delivered the total opposite of his promises. His decision to mandate [Secure Communities] is a direct and devastating attack to Latinos and immigrants. He must do the right thing and end [Secure Communities] now."