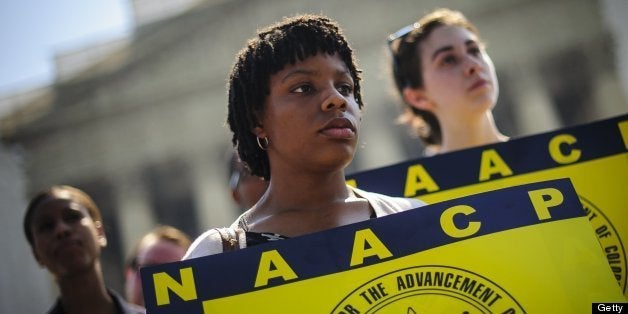 In a 5-4 decision, led by conservative Chief Justice John Roberts, the court ruled that Section 4 of the Voting Rights Act is unconstitutional. The section contains the formula used to determine which jurisdictions are subject to preclearance by the federal government should they want to change their voting laws. This subjection of jurisdictions to preclearance is covered in Section 5 of the Voting Rights Act.
In its ruling, the court states that "its formula [to define covered jurisdictions] can no longer be used as a basis" to enforce Section 5.
Sections 4 and 5 were originally drafted to safeguard minorities from voting laws that would bear negative effects on said population. The sections were written and approved during the civil rights movement, in 1965. Given this approximate 40-year time lapse between when the sections were enacted and now, the Supreme Court ruled that the data used in the Section 4 formula was out-of-date, therefore ruling it unconstitutional.
The court has now left it up to Congress to redesign the formula for the Voting Rights Act.
Latino organizations step up to denounce the ruling
The preclearance provision protects Latino voters in Arizona, Georgia, Texas, portions of California, Florida, New York and more. Thirty-two percent of Latinos in the U.S. live in jurisdictions covered by Section 5, according to a press release from the Mexican American Legal Defense and Educational Fund (MALDEF).
Many are worried about the consequences of the court striking down this part of the Voting Rights Act.
"We are deeply disappointed by the Supreme Court's decision. We think it's going to have a negative impact on our community," Edward Carlson, policy analyst for the National Council of La Raza, told VOXXI.
Carlson said this opens a slippery slope because without the preclearance, the Justice Department and the Federal Government are left with very little safeguards.
In addition, while the future is uncertain as to what kind of precedent Tuesday's ruling might have on the country, Carlson and others argue that this might open the door for tougher voter restrictions.
He added that if Congress fails to act and local governments and municipalities enact tougher voter laws, Hispanics may be affected during the next election cycle.
MALDEF denounced the Supreme Court's decision, noting that the rights of over 15 million Latinos were safeguarded by the preclearance provision.
"Congress must act quickly to protect the rights of voters particularly voters of color," Karolina Lyznik, staff attorney for MALDEF San Antonio, told VOXXI.
In Texas, the state's attorney general, Gregg Abbott, applauded the decision and told Texans that their voter ID law would be implemented immediately.
"With today's decision, the state's voter ID law will take effect immediately. Redistricting maps passed by the Legislature may also take effect without approval from the federal government," Abbott said in a press release.
This spells trouble, Lyznik told VOXXI, because voter ID laws like the ones passed in Texas and elsewhere were once considered unconstitutional and will now be implemented freely.
"This decision tries to disenfranchise Latinos and minorities from voting, and we are trying to do our best to figure out what steps we need to take to preserve the protections of Latino voters that have been guaranteed for decades under the Voting Rights Act," she said.
Section 4 of the Voting Rights Act
Enacted in 1965 to fight voter suppression and discrimination, Section 4 of the Voting Rights Act was a formula designed to determine which states would need federal permission before changing their respective voting laws.
In total, nine states — most of them states that are located in the South and were historically known for discriminatory practices toward voters of color — would need permission from the Justice Department or a special panel of three federal judges before they made any changes to their voting laws.
Section 5 applies to 12 cities and 57 counties elsewhere and is considered the most "important piece of civil rights legislation ever passed," as reported by NBC News. The Voting Rights Act was most recently reauthorized in 2006, carrying bipartisan support.
According to figures from the Pew Hispanic Research Center, it's projected that Hispanics will count for 40 percent of the growth of eligible electorate between now and 2030, at which time 40 million Hispanics will be eligible to vote.
President Barack Obama expressed his disappointment in a statement.
"Today's decision invalidating one of [the Voting Rights Act's] core provisions upsets decades of well-established practices that help make sure voting is fair, especially in places where voting discrimination has been historically prevalent," Obama said.
Calling all HuffPost superfans!
Sign up for membership to become a founding member and help shape HuffPost's next chapter
BEFORE YOU GO
PHOTO GALLERY
7 Measures That Didn't Need Preclearance, According To The Supreme Court