Next Thursday, Secretary of the Interior Ryan Zinke is expected to provide President Trump with his recommendations on the national monuments he was ordered to review in April. Of the 27 national monuments being reviewed, the Secretary has already announced that six will remain unchanged.
While it's good to know that some of the national monuments Latinos feel passionate about will remain protected and not be shut down, ALL national monuments should be kept intact.
The process shows total disregard for the decades of work local communities have invested to protect these places for future generations. These monuments were not created in a vacuum or on a Presidential whim, each one was the result of significant community engagement – stewardship, agency-held public meetings, phone calls, letters and the input of tens of thousands of Americans who voiced their support.
In the effort to protect the California desert, members of Por la Creación Faith-based Alliance, which unites Latino faith leaders to develop stewards of God's creation, led hikes, events and camping trips for Latino community leaders, youth and families at Joshua Tree National Park, Mojave National Preserve, Big Morongo Canyon Preserve, San Jacinto Mountains, The Living Desert and Amboy Crater. These leaders met with elected officials, attended official public meetings on the monument and over 100 joined together to sign a letter to President Obama urging him to take action. The Latino community, which makes up nearly 50 percent of the population in the desert, rejoiced when Castle Mountains, Sand to Snow and Mojave Trails National Monuments were established. The latter two unfortunately are part of this review.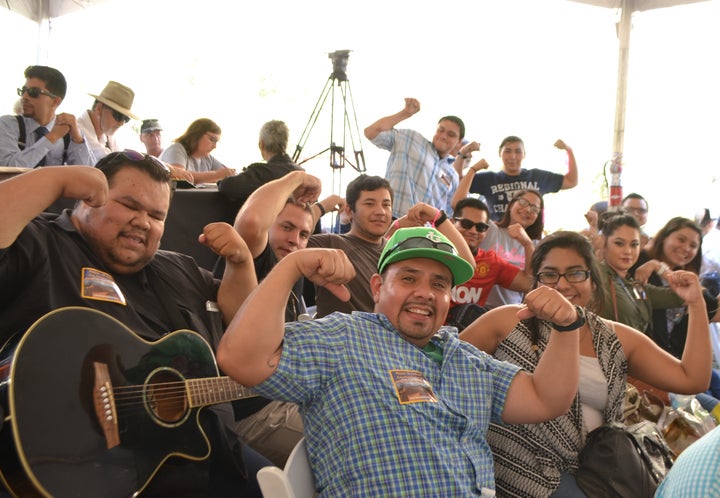 In Los Angeles, Latino youth and faith leaders united around the effort to create the San Gabriel Mountains National Monument, which also happens to be under review. From youth trips, volunteering, to speaking at agency-held public meetings, this collective of Los Angeles stakeholders was active in making sure their "backyard" was protected.
Upon news that President Obama was going to designate the mountains as a monument, Pastor Stephen Morales, a leader with the La Puente-based Youth Awakening Association, said "We want our voices to be heard. Everyone deserves the chance to experience these Mountains – our youth want to make sure that opportunity exists not just for today, but also for tomorrow. This sentiment echoes all throughout the Latino community."
It's also important to note that the sentiment hasn't died down.
A public commenting period was created as part of the review process and Latinos wanted to make certain their voice was heard. Over a matter of a few weeks, more than 52,000 comments were submitted through the Latinos for Heritage campaign site, which asked visitors to show their support for cultural and outdoor heritage and for maintaining the protections of the national monuments. This was one of the largest demonstrations by Latinos for our public lands and we owe a lot of credit to numerous partners – Mi Familia Vota, Por la Creación, Americas for Conservation + the Arts, California Latino Environmental Advocacy Network, Latino Victory, NCLR Action Fund, Chispa AZ, GreenLatinos, LULAC, Voto Latino, Hispanic Federation, Nuestra Tierra, and others.
In total, at least 2.8 million comments were submitted in support of not closing national monuments throughout the country. More importantly, these national monument designations have received broad support. For example, the 2017 Colorado College conservation poll showed that 80 percent of voters back keeping national monuments in place, while only 13 percent support revoking them.
No, the sentiment certainly hasn't died down.
There is a strong collective voice that believes we have a moral obligation to be good stewards, to protect these special places and to preserve them as a legacy for future generations – not just for one monument, but for all of them.
As he prepares his final recommendations in the coming days, let's hope Secretary Zinke is listening.
Related
Popular in the Community