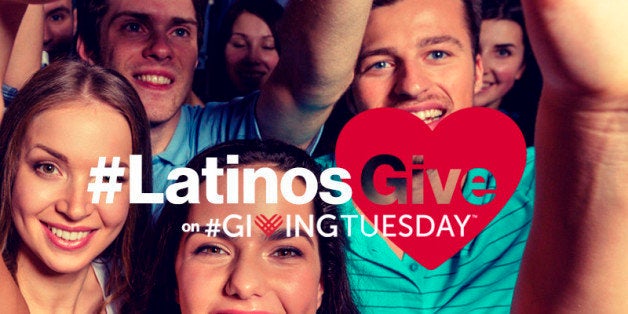 When I was nine years old, I visited my uncle's farm in Cuba and played with the children of the farm workers. After returning home from Havana at Christmas, I wrote a letter to the tres reyes magos (the "three kings" who brought gifts for a newborn baby Jesus). In my letter, I included a list of Christmas gifts for myself, and one for the children from the farm.
I was delighted when my presents arrived. Then I asked my mother if my playmates would get theirs, too. She answered no, and explained that poor children didn't usually get gifts from the three kings. The realities of inequality dawned on me, and I knew I wanted to find a way to change that unfairness.
Now it's several decades later and that sentiment has significantly shaped my life. As the head of Hispanics in Philanthropy (HIP), a nonprofit that bridges the gap between funders and grassroots Latino nonprofits, I make the case daily that giving is essential, as is uplifting our most vulnerable communities.
Throughout my career, I've witnessed many acts of generosity that have inspired me. One of my brightest memories is of meeting Alcario and Carmen Castellano, a married couple that lives in San Jose, California.
The Castellanos were working-class parents who one morning won $41.5 million in the California State lottery. Six months after their windfall, in 2001, they established the Castellano Family Foundation. Since then, the Foundation has awarded more than $5 million in grants to nonprofits to support Latino arts, culture, and leadership throughout Santa Clara County. That generosity is incredible.
I met with the Castellanos in the kitchen of their home. What stuck with me most from my visit was a few casual words from Carmen: "We were rich before we won." She explained what she meant: the Castellanos had each other, three beautiful children who achieved the American dream of going to college, and their community.
Winning the lottery didn't change that. And winning didn't suddenly transform the Castellanos into generous, giving people. That was already at the core of who they were. Their luck just allowed them to share their blessings more widely.
The Castellanos taught me, as so many others have, that philanthropy isn't just the province of lottery winners, or of billionaires like Bill Gates or Mark Zuckerberg. Anyone can be a philanthropist through small acts of generosity.
The Latino community is full of givers. Our abuelas give nourishment through the warm bowls of pozole they feed neighborhood kids. Our primos give with the songs of their guitar strings. And millions of Latinos living in the U.S. give by sending money home to support their families, repair schools, provide medical care, and build churches.
These Latino givers are the inspiration behind #LatinosGive on #GivingTuesday, a campaign we run on our crowdfunding platform, HIPGive.org, to showcase the power of Latino generosity and support Latino-focused nonprofits.
In these divisive times, it's important, now more than ever before, to celebrate generosity. It's important to recognize that the millions of individuals in the U.S. who give do so because they understand that we're all connected, and that it's a privilege to be able to help others. It's important to remember that we can all be tres reyes magos for someone else.
This post is part of a series produced by The Huffington Post and the #GivingTuesday Team at 92nd Street Y, to celebrate #GivingTuesday. #GivingTuesday is a global giving movement, and the series (which will feature content throughout November) aims to celebrate how people are giving back around the world. For more information about #GivingTuesday, visit here. And to join the conversation on social media, use the hashtag #GivingTuesday.
A previous version of this post incorrectly stated that the Castellano family won $53 million in the California State lottery and their foundation has given $4 million in grants. They won $41.5 million and their foundation has given $5 million in grants.
Related