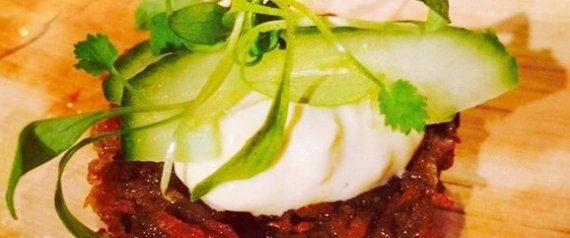 On Monday night, the night before Hanukkah started, hundreds New Yorkers gathered at the Metropolitan Pavilion on West 18th Street in New York to sample 23 different latkes. They came for the Sixth Annual Latke Festival, put on by Great Performances, and they left full and happy. Twenty-three restaurants from New York City put out their own riff on the traditional potato pancake, and the result was a veritable feast of the most extraordinary latkes you can imagine.
Chef Michael Ferraro of Soho's Delicatessen made a sweet potato latke with duck rillette and black truffle vinaigrette that was decadent and delicious. Chef David Heredia of Dizzy's Club Coca-Cola made a show-stopping Katchkie Farm green tomato and potato latke with horseradish apple butter, and Brooklyn's Benchmark restaurant made the ultimate comfort food out of a French onion soup latke with Gruyere, beef gelée and beef carpaccio.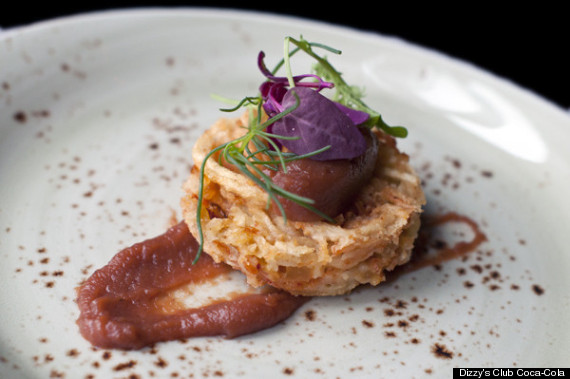 Dizzy's Club Coca-Cola's latke
While some restaurants kept it traditional with apple sauce and potato pancakes, perhaps some sugar and sour cream too, most restaurants strayed far from Jewish norms. Pork was seen on at least four tables and no one seemed to mind. Chef Esther Choi of Chelsea Market's Mokbar made a pork potato pancake with kimchi crema. Chef Tom Birchard from East Village stalwart Veselka made a pork goulash latke with prunes and red beans. And chef Gabe Stulman of the West Village's Joseph Leonard made a caraway spiked latke with brats, beer mustard and crispy onion. When asked about the use of pork in his latke, Stulman told The Huffington Post that the restaurant wanted to stay true to its roots and entertained a few themes that run through the family of restaurants in the Happy Cooking Hospitality Group (formally Little Wisco). Pork it was, and while some people certainly refrained from trying the brat-topped latkes, plenty of people in the crowd were coming back for seconds. There were almost -- almost -- too many latkes to try, so for non-pork eaters, there wasn't a shortage of options.
What's more, the night was about experimentation and inclusion. Chefs who had never made latkes before were serving their own takes on the classics next to chefs who had probably grown up grating potatoes with their mothers every Hanukkah. With restaurants of all stripes participating, the multiculturalism of the festival is one of its draws. The jelly doughnuts from Dough were a nice touch, too.
At the end of the night, festival-goers and a panel of judges voted on their favorite latke. The People's Choice went to Brooklyn's Shelsky's, for chef Peter Shelsky's sweet potato and celeriac schmaltz-fried latkes with house-made chopped liver, cranberry, and horseradish and apple relish. The Judge's Choice was a tie between PRINT. Restaurant and Mae Mae Café. Chef Charles Rodriguez from PRINT. made an Okinawa Latke, which was a Japanese sweet potato and crispy chestnut latke in duck fat with miso créme fraiche and yuzu. Chef Batya Goldberg of Mae Mae Café made a latke with whipped creme fraiche, pickled Katchkie Farm ginger and cardamom apple bake.
Overall the night was a terrific kick-off to the eight nights of Hanukkah ahead. It was a testament to the glory and versatility of latkes. It also confirmed a truth all latke-lovers know: the best latkes are the ones that hold meaning to the person making them and the people enjoying them. Whether it's a Korean-inspired kimchi latke or a latke topped with Ukrainian pork goulash, latkes are a labor of love.
See below for a recipe for Tres Carnes' Smoky Poblano Latke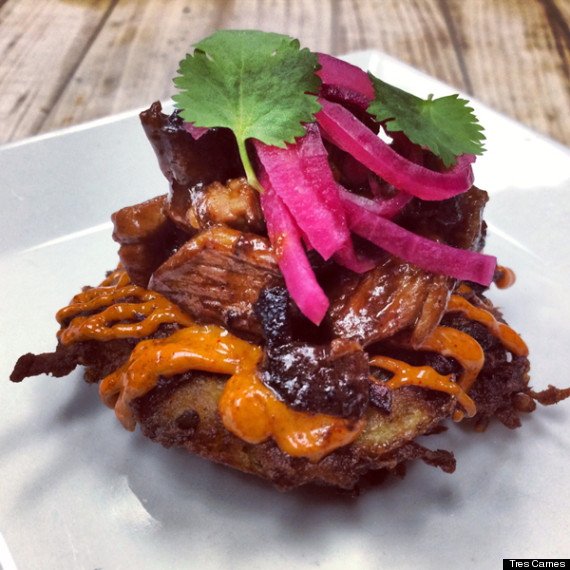 Makes 18-20 large latkes or approx. 30 small latkes
Latkes:
6-7 large russet potatoes (approx. 3-4 lbs), peeled and placed in large bowl of cold water
2 medium-large Yellow Onions
3 eggs, beaten
3/4 cup flour
1/4 cup potato starch (can substitute corn starch if potato starch is unavailable)
2-3 tsp salt
1/2 tbsp pepper
Spice Mix:
1 tsp chili powder ½ tsp smoked spanish paprika ½ tsp cumin powder ½ tsp chipotle powder (optional) 8-10 poblano peppers, roasted, peeled, seeded & stemmed and chopped into ½ inch pieces 8 ozs. Rendered Chicken Fat (Shmaltz) and Canola Oil, for frying
Instructions:
Remove soaked potatoes, one by one from water and grate on a box grater (large grate). Return grated potato to water right away to continue soaking- this will prevent the potatoes from turning brown. Continue until all potatoes are grated.
Grate onion on same grate, place in a large bowl. Using your hands, grab handfuls of grated potato from bowl with water, wring out well with your hands to remove most of the water and add to large bowl with onions, mix together well. You should have a grated mass of onions and potatoes.
Add eggs, flour, starch, spice mix, salt, pepper and chopped poblano peppers. Mix very well to combine all ingredients into one uniform mixture.
Taste a tiny bit to check seasoning. Adjust salt/pepper to taste.
Heat 3-4 ozs chicken fat in a heavy skillet (cast iron works great here) until its liquefied on med-high.
Add enough canola oil to raise fat level to 1 ½ to 2" in the pan.
Using your hands, take out a handful of the latke mixture from the bowl, squeeze lightly to remove excess egg/starch liquid and drop into hot oil. Fill pan with latkes and fry in batches- do not crowd pan- latkes should always have at least an inch between them on all sides.
Turn once golden and fry other side (about 3 min per side). They should be crispy on outside and creamy in the center. Transfer to a cookie sheet lined with paper towels to drain.
After half the mixture is fried, wipe out pan and add remaining chicken fat, more canola oil and fry the rest of the mixture as before.
These are best eaten right away but can be crisped up in the oven at 300 degrees on a foil-lined sheet if they cool down.