A progressive community organizer, who successfully fought an effort to decimate her New Orleans, Louisiana, neighborhood after Hurricane Katrina, is running a competitive bid to become mayor of the Big Easy.
New Orleans City Councilwoman LaToya Cantrell's record, as well as her support for the $15 minimum wage and criminal justice reform, have earned her the endorsements of major local and national liberal groups going into the first round of voting on Saturday.
Cantrell, a Democrat running in a nonpartisan contest, is widely expected to advance to a Nov. 18 runoff between Saturday's top two performers. (Given current polling, it is virtually inconceivable for any candidate in the crowded field to pick up the 50-percent-plus-one majority needed to win outright in the first voting round.)
A Cantrell win on Nov. 18 would add to a string of recent victories by progressive candidates in Southern cities.
"LaToya is part of a wave of local candidates we're seeing across the nation, and especially across the South, who are putting forth bold and transformative visions and winning," said Joe Dinkin, national communications director of the Working Families Party, a grassroots group backing Cantrell.
The Working Families Party sent 25,000 text messages identifying potential Cantrell supporters and asking them to vote, Dinkin estimated. Members of the organization's local branch have canvassed and phonebanked for her as well, according to Dinkin.
After Cantrell's bid in New Orleans, progressive diehards are closely watching Atlanta's mayoral race, where Georgia state Sen. Vincent Fort, a veteran social justice advocate backed by Sanders, is up against a long list of more moderate contenders.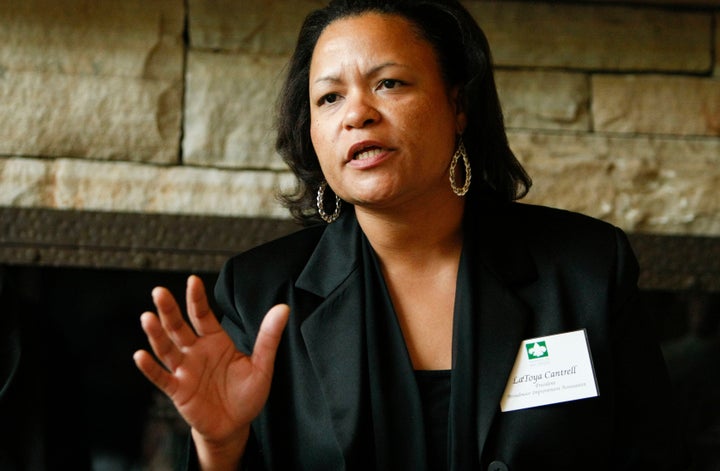 Cantrell, 45, who moved to New Orleans to obtain her undergraduate degree at the Xavier University of Louisiana, began her career in political life as president of the Broadmoor Improvement Association, a community group for the neighborhood where she lives.
Four months after Hurricane Katrina devastated Broadmoor in 2005, a rebuilding commission set up by then-Mayor C. Ray Nagin warned residents that if they did not return to the neighborhood within four months, the city could level their homes and turn the area into parkland or drainage canals.
Cantrell led resistance campaigns against the measure, mobilizing the community to defeat it and securing resources needed to rebuild the neighborhood instead.
Cantrell was elected to the City Council in 2012, where her biggest accomplishment was her leading role in the passage of a ban on smoking in city bars, restaurants and casinos that took effect in April 2015.
As a candidate, Cantrell is running in part on making the city a place where people of all backgrounds can afford to live and raise their children safely.
"We're a 'tale of two cities' and this is a real opportunity to elevate, create that balance and equity that we need in the city of New Orleans," Cantrell said after registering as a mayoral candidate in July.
Cantrell supports raising New Orleans' minimum wage to $15 an hour. Although Louisiana law bars New Orleans from raising its minimum wage above that of the state, Cantrell has said she would lobby the state legislature to change that law, and in the meantime, support making it the minimum for city employees.
Addressing crime is a major issue for New Orleans, which has one of the highest murder rates of any big city. A city police officer was shot dead while on patrol early Friday morning.
Cantrell has vowed to appoint a police chief experienced both in reducing crime and developing strong working relationships with the communities they serve, as well as de-prioritize the policing of nonviolent crimes and end the use of traffic cameras.
She has also promised a job creation and training program for underprivileged city residents, frequently noting that "nothing stops a bullet like a job."
Cantrell's two biggest rivals are former municipal Judge Desiree Charbonnet, 48, and former state Judge Charles Bagneris, 67.
Charbonnet has raised more money than Cantrell. But Cantrell is ahead of the pack with a 10 percentage-point lead over Charbonnet, according to a Tulane University poll that came out Friday. But the survey found that more than one-quarter of city voters remained undecided.
Charbonnet, who has been in city politics since the late 1990s enjoys the backing of many powerful players in the Democratic establishment, including Rep. Cedric Richmond (D-La.), a slew of state lawmakers, the local teachers union and the national AFL-CIO labor federation.
In addition to the Working Families Party, Cantrell has picked up the endorsements of the Independent Women's Organization, the local social justice group Step Up Louisiana, and three local newspapers, including the Times-Picayune.
Of course, Cantrell is not without her own baggage-by-association. Her father-in-law, New Orleans magistrate Judge Harry Cantrell is the target of a federal class-action lawsuit alleging that he routinely violates defendants' civil rights by imposing large cash bail payments without regard to their ability to pay.
Cantrell is clearly the most progressive candidate in the race, according to Rosalind Blanco Cook, who teaches political science at Tulane University and leads the state's League of Women Voters. But a win for Cantrell, who was born in Los Angeles, would also mark a milestone for the city's newcomers.
"Some would suggest that Desiree Charbonnet would represent the old New Orleans families," Cook said. "Her family has been in New Orleans for generations, whereas LaToya came here to come for college at Xavier University."
Cantrell would be the first non-native resident of New Orleans to lead the city, according to Cook.
Regardless of the final outcome, however, if Cantrell and Charbonnet make the runoff, the city is guaranteed its first woman mayor, Cook added.
"It'll be historical ... no matter who wins the election," she said.
Support HuffPost
The Stakes Have Never Been Higher
Before You Go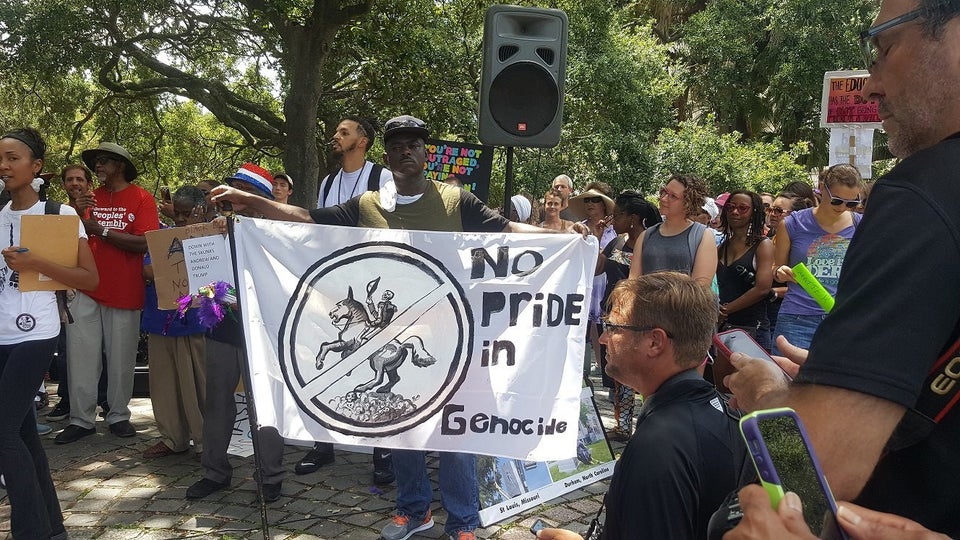 New Orleans March Against White Supremacy
Popular in the Community