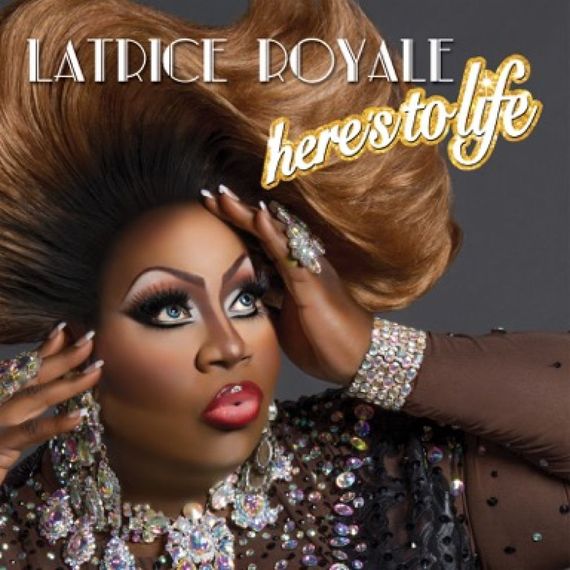 It's hard to describe how loved Latrice Royale is. Part runway stomper, part den mother, the "Oprah of Drag" has toured worldwide spreading her infectious personality with no sign of slowing down. She has taken the time to record several tracks, the throbbing dance track "Weight" and post "All Stars" elimination dance hit "The Chop" (with partner Manila Luzon." Latrice is now stepping into her own light and with her lush album "Here's To Life," Royale has put together a package of classic and intimate tracks. Latrice sat down with us to chat about the inception of "Here's To Life" , who she is loving on this season of "RuPaul's Drag Race," and how her amazing partner Christopher is changing her life; "Here's To Life" indeed...

How did you find time to record such a lush and wonderful EP like "Here's To Life"?
Aww thank you so much! You know, we just really had to make it happen, we really did. We did alot of sacrificing and went out on a limb and on faith and just did it.
I think that the kind of music featured on "Here's To Life" is the kind of music that is sorely missing from the music world right now.
That's what I think! No one is doing this kind of music any more, and it's just kind of lost. I grew up listening to it and you know, it's time to reach and go back, reflect, and it's time to celebrate it.
I was listening to "Here's To Life" and your rendition of "Summertime" is absolutely sublime.
I am so glad to hear that! Everyone has their own favorite, and that is one of them for sure!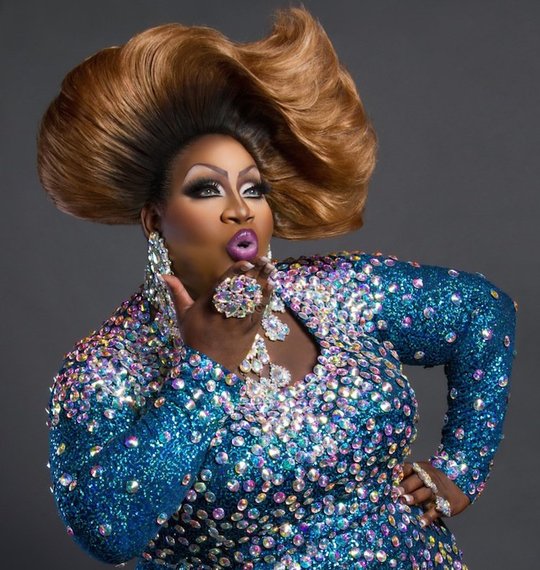 What made you decide to go into such a different direction as opposed to what some of the other girls from "Drag Race" have done when they have entered into the music world?
The biggest thing for me was that I wasn't singing. I knew I could carry a tune when I sang in the car or in the house, but I didn't really consider myself a "singer." So one day, my partner Christopher was tinkering around on the piano and I was cooking, and he started playing "Summertime" and I started singing along. We got through the whole thing because I already know it, and he said to me "you know that you have something here, right"? He's been encouraging me and I just practiced and practiced and we found out what sounded good for me, what fit me, and what my voice could do. It's just a perfect blend and marriage, so to speak.
Was it hard deciding the kind of material you wanted to focus on?
When I started developing my one woman show titled "Here's to Life", the first song that I really wanted to tackle was "Here's To Life"; that and "Summertime." I knew that I would do both of those songs flat out. I started developing the show and then Mimi Imfurst (aka Braden Chapman, "RuPaul's Drag Race Season 3 and fellow "All Stars" competitor) came on as my director. She said to me "you don't need to lip synch, these people are more interested in you. We need more of you"! We went back and started thinking about more music and added more tunes, and now that's what you have, the full album and the one woman show, "Here's To Life"!
Since Mimi Imfurst was one of your fellow "Drag Race" sisters and a competitor on Season One of "RuPaul's Drag Race All-Stars," was it hard working with her in a completely different capacity as your show director?
Not really, because we were used to it. Mimi is the Show Director for the "Drag Stars At Sea" cruise tours that we do with Al & Chuck. She takes care of all the girls, produces the show, all that stuff. She's a brilliant mind; I've seen her work, I know her work. I know that she is very highly underrated and people don't give her the dues that she deserves. She was very honest and she told me that she saw what I was trying to do. She said "I don't have a soul, so for me to be moved by your show and your story, it's a lot"! LOL. She wanted to help see it grow and she gave me some great advice and great direction. It was really her that was pushing the album that made it happen. She told me I needed to do both the album and video actually. I was tired of the "club tracks" I just was thinking like, can't we just sit down for a second? Can't we just chill out for a second? I had done the cabaret shows and there is nothing like it in the world. I've been bit by the bug.
You were an absolute fan favorite on "Drag Race" and you are a true original. It seems that post "Drag Race" you are doing the same thing-being true to yourself and original.
Absolutely. Staying in my own lane!
Speaking of your "own lane," you mentioned that your partner pushed you and encouraged you to really branch out musically. What kind of man does it take to handle Latrice Royale?
Oh my God, can I tell you? It takes a special one. I'm about to get emotional-it takes a very special man to deal with me. To take care of me. We joke sometimes and say we were uniquely prepared for one another long before we even knew each other. All this has come and been so amazingly overwhelming and it seems like a dream sometimes. It takes a very strong person to deal with me and he doesn't even know his own strength. I'm helping him discover his strength every day. He's amazing, supportive and just so many things. I've never been with someone who's just been my everything. I've prayed for a partner in life and he is every bit of that. We run my business together, he is my musical director for my one woman show, and we are really making things happen. I never wanted him to lose himself in me. He plays the piano and I didn't want him to lose his fire and passion for that . The fact that we can do it together is way beyond what either of us could imagine.
I think sometimes, you need someone that is just your home. Not your physical hime, but just your home.
Absolutely. We go on the road together and for example, I got so emotional when I left him today, It shook me because I didn't realize i felt that way. I had to leave the tour to do gigs that were already pre-contracted, but I got really emotional. It's good though, it shows you something, you know? It's really good.
Emotion is something we are seeing lots of on "RuPaul's Drag Race." Are you getting to catch any of it during your fast and furious tour and show schedule?
Absolutely! Let me tell you, I got my DVR set. I got a system set up that I can watch my DVR from my mobile device, so I can watch it right almost as it airs!
Who are your favorites so far?
Bob (the Drag Queen) is my baby and ChiChi (DeVayne) is my baby! They just give me everything that i need as far as television is concerned. Story and heart, everything! Not to be like overshadowing people like Thorgy (Thor), and I am growing really fond of Kim Chi just because of her sweet nature. That is one sweetheart, I just want to hug her! I'm a fan again; it's really proven to be something special.
So in five years, other than still in love, where will Latrice Royale be?
I plan on being married. My business will have grown and blossomed, and I want to be less in the clubs, maybe out of them by then. I want to be selling out theaters and my shows, and hopefully on the big screen somewhere! I really have big aspirations. I have learned that you just keep dreaming and dream big, Bigger and bigger definitely!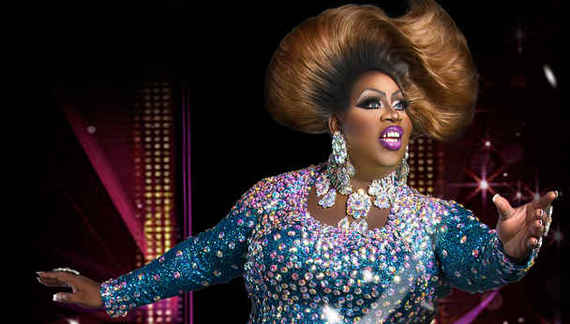 LATRICE ROYALE: HERE'S TO LIFE runs May 12 - 15 at 7pm with an added brunch show on Sunday, May 15 at 1:30pm. The Laurie Beechman Theater (inside West Bank Cafe at 407 West 42nd Street -- at Ninth Avenue, accessible from the A,C,E,N,R,V,F,1,2,3 trains at 42nd Street). Tickets are $22, with a $20 food/drink minimum. A $40 VIP ticket that includes reserved seating and a meet-and-greet are also available. To purchase tickets, call 212-352-3101 or visit www.SpinCycleNYC.com.
Calling all HuffPost superfans!
Sign up for membership to become a founding member and help shape HuffPost's next chapter