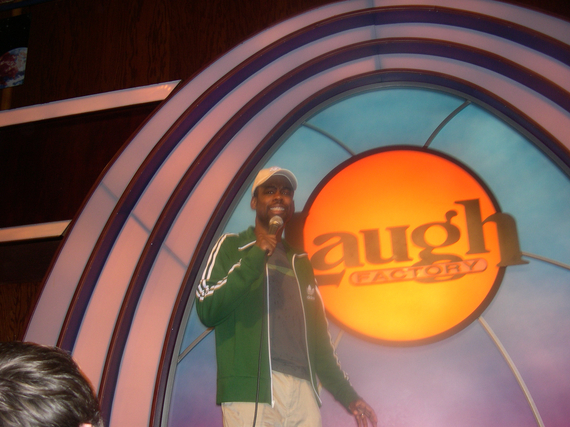 I've been booking comedians for the past 35 years and I have always had the same requirement: They need to be funny. Gender, skin pigment, sexual orientation, religion, or age, have never factored into who gets on my stage. Consequently, I am pleased that Chris Rock has decided not to join the publicized boycott of the Oscars. I am glad that he is not depriving almost a billion viewers around the world of his talent. He is one of the world's greatest comics, and in a world of terror threats, discrimination, inequality and poverty, laughter is much needed. All of the comedians at the Laugh Factory have saluted him for his ability, and now they have saluted his commitment as the host of the Academy Awards. He is truly a "doctor of the soul."

The ability to be funny - may or may not be - a result of race or gender or national identity, but many African-Americans have succeeded within a largely European-American culture. And they have been honored because of their ability, not because of their background or genes.
Eddie Murphy, Richard Pryor, Whoopi Goldberg and others have each been honored with the Kennedy Center's Mark Twain award. A lot of the recipients of the Kennedy Center Honors have gone to African Americans. Eddie Murphy, Whoopi Goldberg (won), Jamie Foxx (won), Mo'nique (won) have been nominated for Academy Awards. None of these recipients received these honors because of the color of their skin. They received them because of their tremendous talents and achievements.
My sincere hope is that the recent brouhaha over the Oscar nominations do not make these artists feel devalued. There are plenty of issues that are related to race and these could have been the focus of everybody's attention. There is a homeless crisis, mass income inequality, random gun shootings and poisoned water in a major city. Minorities and the poor have been disproportionately affected by these burdens and yet for a week, every news outlet only spoke of who wasn't - not of who was - nominated for acting roles.
Why didn't Jada Pinkett Smith talk about how the 2008 banking crisis had a disparate affect on Black families? Why were minorities deluged with subprime loans that they couldn't repay? Were low-income people targeted for loans with balloon payments they couldn't repay, so that bankers received fees 2 years before their foreclosure? Why were none of the financiers held accountable? Many of these themes were explored in one of the nominated films, "The Big Short," but Will Smith's spouse thought that his lack of recognition was the most important aspect of the issues affecting African Americans. The media jumped as if a topic of widespread concern was broached.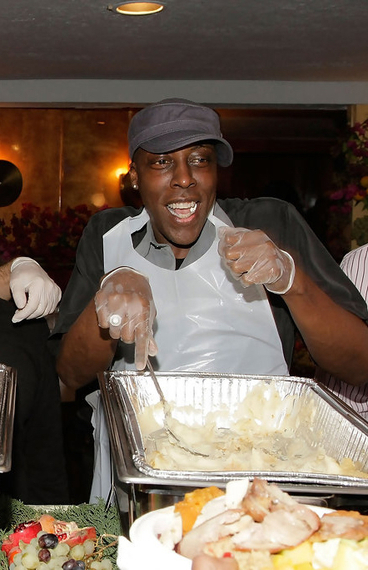 Every year for the past 35 years, the Laugh Factory opens its doors to the homeless and those away from home, for a Holiday meal and show on Thanksgiving and Christmas. We see people just getting by, hoping for a job or a place to sleep. Many haven't had a warm meal in awhile. We have had many comics and entertainers of minority backgrounds - Paul Mooney, Richard Pryor, Arsenio Hall, Dave Chappelle, Paul Rodriguez, Tiffany Haddish, Byron Allen, the Wayans Brothers, and Natalie Cole, among others - join us year after year serving meals to the poor. We have never had the honor of having Will Smith or his wife join us, but I can assure you that most of the underprivileged and lonely people there would not consider it a crisis that a multimillionaire actor wasn't nominated for an award.
It is said that the last refuge of the scoundrel was patriotism. I'm beginning to think that a new refuge is cries of racism. People don't have a meal and Will Smith doesn't have a statue; which is more important? If race was so important to Jada Pinkett Smith, why did her husband not hire a Black director to direct him in "Ali" since he apparently had that choice? He didn't work with Spike Lee, he worked with Michael Mann.
We all remember Halle Berry crying when she won the Oscar and we recall Cuba Gooding jumping all over the stage when he won. It must have meant something to these performers to be acknowledged for their excellence by the people whose careers had been spent in the motion picture business.
It is unfortunate that the focus became about a few people rather than about the bigger issues facing minorities in this country. Whatever concern there might be about minorities working in the motion picture business is a very different issue than who is performing with "excellence" in the motion picture industry. Chris Rock is an excellent comic who will use this issue and others in a way that enlightens us and makes us laugh. That is always the best medicine for the blues.
Calling all HuffPost superfans!
Sign up for membership to become a founding member and help shape HuffPost's next chapter