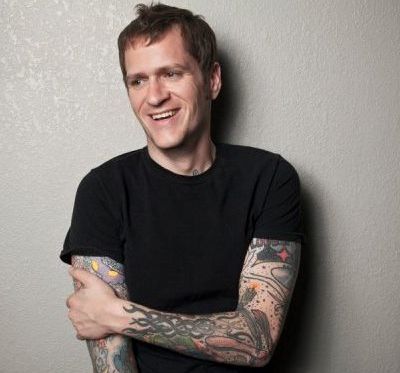 Denver multihyphenate Ben Roy's March calendar includes recording his third stand-up album, appearing at Grand Rapids, Michigan's LaughFest and performing at Austin's South by Southwest with both his punk band Spells and comedy collective The Grawlix. Before taking the stage at LaughFest's Orbit Room, Roy broke down his busy month and upcoming TruTV series with The Grawlix's Adam Cayton-Holland and Andrew Orvedahl.
Let's start with the recent developments regarding your show Those Who Can't.
I think it was back in October or November TruTV acquired the rights for Those Who Can't, which we had originally made as a pilot for Amazon. We went out and re-filmed the pilot around Thanksgiving on a proper budget, edited it all together, it went into post-production, it went into testing, and I guess it did very well. We just found out this past week that TruTV picked it up for ten episodes, which is pretty awesome. The writing starts immediately; we're already kind of in the process of writing. We had written six more scripts for Amazon, so some of those we're going to adapt, then work on other ideas for it. Production will be sometime between July and August in L.A.
All filming will take place in the Los Angeles area, which is kind of a bummer because we wanted to film it in Denver. But we feel confident that we can still use portions of the city much in the same way that other shows represented a city well, like Cheers did with Boston or It's Always Sunny in Philadelphia, which is not filmed in Philadelphia. We want to use exterior shots and as much local stuff as possible to keep that Denver flavor.
TruTV has been awesome to work with, and I don't say that because they're the hand that will be feeding me or anything. They're excited about the project and everybody seems to be extremely on board.
It's been a super-fun process. It's like a dream. There are parts of it where I'm like, "This isn't really my life." I don't think it's fully set in.
You also just completed a taping for your new album.
Yeah, Sunday and yesterday I was taping my third album in three years. I don't think I do it because I'm trying to subscribe to the Louis C.K. model or anything; I just enjoy putting out albums. I like the artistic process of it, and I think comes from the music side of my life. I have a real affection for holding CDs and looking at liner notes. And it allows me to have something to work on until production gets going.
I had heard of it, but not until I received an offer to participate and I looked into it did I realize it's as big as it is. There are some pretty big names here. And Gilda's Club, what an amazing personality you must have had to leave that much of an impact in that short an amount of time.
Why is it important as a performer to give back?
Because you steal a lot from people! I leech off everything, everybody! I roll into town, eat their food, get trucked around, take some of the money out of their local economy and then bail out. We're the pilot fish of the entertainment industry.
Earlier I was always involved with the punk and hardcore scenes, where there was always a sense of activism, like, "Good night! Take care of each other!" With Spells, we donate proceeds from songs to charity. Like right now we have a song called "Bustin' Out," where the proceeds go to Judi's House, a great program in Denver that works with grieving kids who have lost a loved one.
And tomorrow you head to South by Southwest.
I did it once with another band, but not as an official invite. I just went down and played a some of the sides shows years ago. This year, now I'm doing it as both a comic and a musician.
You're probably the first person to do so.
I was trying to figure that out. I wondered if Donald Glover had done it at some point. I don't know if he ever did it as a stand-up or not. I know Childish Gambino had to have played down there. But it's real exciting.
What's your mental gameplan going into SxSW?
Separate the two completely. And thankfully due to production, I will. We're going to go down, do the Grawlix show we're doing at SxSW, then fly to L.A. for some stuff for Those Who Can't. Then I'm flying back on Wednesday for the music portion of SxSW. So it's just going to be non-stop for me. The other guys are going down for the Grawlix show, then go to L.A. and keep working.
That's a lot to keep track of.
But if I don't, I pick at my sutures. I'm a total "idle hands" sort of person, so being busy keeps me sober and focused.
Earlier today The Grawlix announced the end of your monthly Denver show.
It was four years. I feels like it was nine years, because prior to the Grawlix we had another alt show that really led into the Grawlix. "The Grawlix" was already a name from the show we did prior, which was called Los Comicos Super Hilariosos. It was a show we did in a small art gallery in a warehouse district. It's gonna be real sad, because it also ushers in the fact that I'm going to be spending the majority of my time in Los Angeles now. I try not to get emotional talking about it, but I left Maine in '99 a super-confused and angry person. I didn't know who I was, and Denver, it's the place where I figured out who I was and was able to reinvent myself. It's hard to leave that.
I stopped drinking in 2010, right around the time we started doing The Grawlix, and that's really when I started changing how I was writing stand-up, no longer having the crutch of alcohol. So it's a very sentimental thing. It feels like the end of the era in Denver comedy. There's a huge boom and there's so many great shows, so if kind of feels like the right time.
The Doom Room, Fine Gentlemen's Club, people like Mara Wiles; literally there are shows all the time, and it's just crazy. All these guys who were part of OK Party just moved out from Omaha. They put on amazing shows and the Crom Comedy Fest in Omaha, and now they're in Denver. There's this kid Anthony Crawford from the Carolinas, who's a killer onstage. It's becoming this kind of hotbed, so it's an exciting time.
I would rather go out on a high note than have the show end when the scene was falling apart. There's no void to fill anymore. It's not that us leaving will leave a hole. There's plenty of amazing stuff still going on. The music scene in Denver is really exploding, too.
What does your move to L.A. mean for Spells?
I'll come back and forth to play in it. My wife's sisters live there in Denver, so we'll visit a lot. And the band wants to come play L.A., San Diego, Tijuana; areas like that a lot more.
What about personally? How will your life change in L.A.?
There's so many amazing comics out there that I don't know if they need another one. But I do feel good knowing I have a job. My family is really my biggest concern, but my wife is excited. She was born and grew up until she was 12 in Long Beach. She's a photographer and does largely fashion and lingerie photography. She also makes music videos with a small production crew for RuPaul's Drag Race contestants. It gives her a chance to be around more of the stuff she's interested in as well. We want to make sure our son has a good neighborhood, a school he feels comfortable at. He's excited because he's a kid, and thinks that California is everything it's been on vacation. So it's like, "We're going to go to the ocean, eat tacos, ride on roller coasters!" If it was just my wife and I, I would just bounce back and forth for work, but I feel strongly that a kid should have roots and a consistent set of friends. I'd like him to have that.
Popular in the Community