In the art world, the laughs are far and few between. An intellectual-academic howling with a bellyful is as rare as a redneck reciting a haiku. There is no invitation to giggle in a silent white cube with a security guard and a suspicious eye.
Humor in the art world is polarized by the wry, sly deadpan of Ed Ruscha and the Bazooka Joe bubble gum groaner of Richard Prince. Fine Art is a serious business with a brow that is hard to unfurrow. Only an educated outsider would be naïve enough to attempt a punch line.
British born poet John Tottenham has a wit as dry as my martini. His resume reads "After many years of resistance, he finally sold out to the lucrative, fast-paced world of poetry, producing 'The Inertia Variations', an epic and ever-expanding poetic cycle on the subject of work-avoidance, indolence, failure and related topics." [Actor Adam Goldberg has made a series of short 16mm films based on his work. Matt Johnson of The The is making a multi-media interpretation.]
I am a giddy fan of the Variations. When I heard that Tottenham would be showing his visual work at Las Cienegas Projects, I somersaulted over to Culver City, Los Angeles, looking for a laugh. Las Cienegas Projects is the semi-secret collector's hot spot run by Amy Thoner and Steven Hull with backing from a few entertainment and fine art stars. Painting and drawing is not new to the steadfastly primitive Tottenham, for he is a graduate of "the worst art school in London."
The gallery space was appropriately centered with a Victorian tableaux, a symbol of vital forces in decline. A green velvet fainting couch was sandwiched between two period pedestals holding vases of dying red roses. A velvet curtain hung as heavy as a broken heart. A woven Persian rug was thick enough to absorb a river of many tears.
I cannot account for the hours/
That have been smothered into/
Submission. Not only this afternoon/
But day after day, year after year./
Over the wasted course of which time/
I have been repeating this futile lament:/
That I can't go on like this. And this too:/
That it makes no difference.
-- From the Inertia Variations
One wall featured a series of drawings, pen and pencil on paper. Each expert cityscape demonstrates a lonely town in a leafless chill. These are small prairie towns in the gasp of abandonment. The streets are solitary and this viewer began to despair...
The drawings are doodlings says the artist. They are made when Tottenham was lollygagging on the phone. Another wall in the gallery is covered with one thousand, bookmark-sized doodlings. The "Women In My Life" are dressed and coiffed almost identically, yet each offer an individual personality. Clearly, Tottenham has a type. And a very full Little Black Book.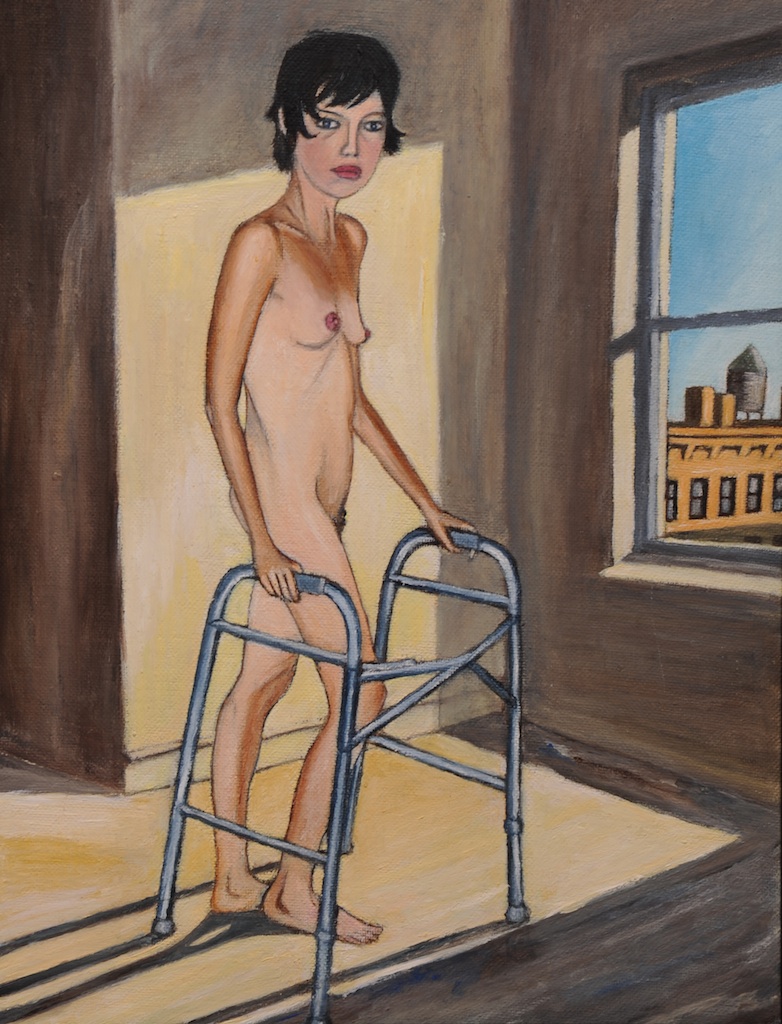 Often, around the middle of a week day afternoon,/
I find myself considering the connection/
Between sexual and creative energy./
Torn by futile lusts, I seek refuge/
From the vagueness of the day/
And the promise of endeavor/
In reliable memories and fantasies/
That spill, reliably, into sleep./
--- Art and Eros
A selection of paintings take us on a lonely and oddly-eroticized journey. Edward Hopper could be our Tour Guide. More cityscapes, industrial towns on the wane, take us to the Depression-era Midwest. These oils are alternated with portraits of nude women and their walkers, alone in a rented furnished room. The single women are not necessarily young or old, but appear relatively healthy. They are too hot to need a walker. It must be the weight of their despair. The cityscapes and the gimpy gals are a funny juxtaposition. Tottenham's skill with a brush is considerable. His coloring is emotional and evocative. There is much detail on a sun-dappled thigh. Now, we begin to understand Tottenham's humor.
Gallery notes read, "Decorative, with possible psychological underpinnings, it is hoped that these (Walker) paintings should promote restful reverie, which is the state they were created in.".
The last collage of paintings are the most primitive. They are also the funniest. Each painting refers to a Victorian-era postcard of a romantic interlude. A young courting couple, in their Sunday-best, are embraced in a bucolic setting against sunny skies. It is sweetly romantic. In every painting, the guy has his hand in the girl's mouth. The sordid innocence makes you laugh loudly.
Nervously, I asked the artist if there was a fetish involved. Much to my relief, he replied, "No. I just thought it was funny" and then he laughed heartily and wickedly. And so did I.
Dulling my senses with baths, naps,/
Assorted languishings. For many years/
I have sat down to do the work/
That the world will be no worse off/
Without, and I have not done the work./
And the world is no worse off. Just because/
I haven't done anything with my life,/
Does that make me a lesser man?/
--- Anomic Otiosity
John Tottenham has produced a very solid solo debut, outstanding for a self-professed Sunday painter and educated outsider. Together with his poetry and deadpan comedic timing, Tottenham offers us a package of despair and delight that will make you laugh out loud. This artist is worth our wry eye.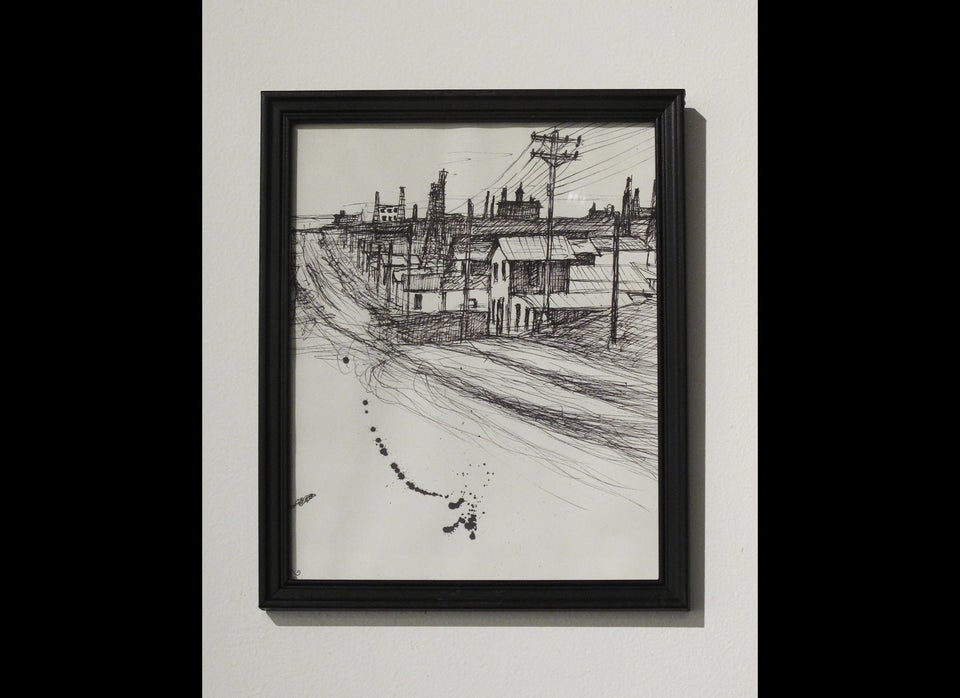 John Tottenham: Educated Outsider
Photos courtesy of La Cienega Projects and John Tottenham.
-----------------------------------
GORDY GRUNDY is a Los Angeles based artist. His visual and literary works can be found at www.GordyGrundy.com. Get ready for the New Age of Aquarius, the Modern Era of Marvel and the Revolution of Reason! His Disneyesque conceptual work, the Fellowship of Fortuna, can be found at www.FortunaNow.com

Related
Popular in the Community