WASHINGTON ― A woman who was convicted after laughing at Attorney General Jeff Sessions during his confirmation hearing is asking a judge to throw out the jury's verdict in her case, contending the jury "was not reasonable in its evaluation of the evidence."
An attorney for Desiree Fairooz argued there is no evidence that her laughter disrupted or disturbed the hearing, and that she shouldn't be convicted for questioning the reason for her arrest after she was taken into custody.
"Ms. Fairooz's brief reflexive burst of noise, be it laughter or an audible gasp, clearly cannot sustain a conviction for either of the counts in the information," her lawyer, Sam Bogash, wrote. "So the only other basis for her conviction to anything are her statements after the U.S. Capitol Police arrested her for that laughing. Those statements merely expressed surprise at being arrested."
A rookie Capitol Hill Police officer arrested Fairooz, a protester affiliated with the group Code Pink, after she laughed when Sen. Richard Shelby (R-Ala.) said Sessions had a "clear and well-documented" record of "treating all Americans equally under the law." (The Senate rejected Sessions' nomination as a federal judge in the 1980s due to concerns about his record on race.)
The jury convicted Fairooz on two counts: one for engaging in "disorderly or disruptive conduct" with the intent to disrupt congressional proceedings and another for parading, demonstrating or picketing on the grounds of the Capitol. Neither charge should stand, her lawyer said.
"The evidence presented by the government during the trial simply does not support a conviction of Ms. Fairooz to either disorderly or disruptive behavior on Capitol grounds or demonstrating, parading, or picketing in the Capitol," he wrote. "She asks the court to vacate the jury's guilty verdicts against her and acquit her on both counts in the information."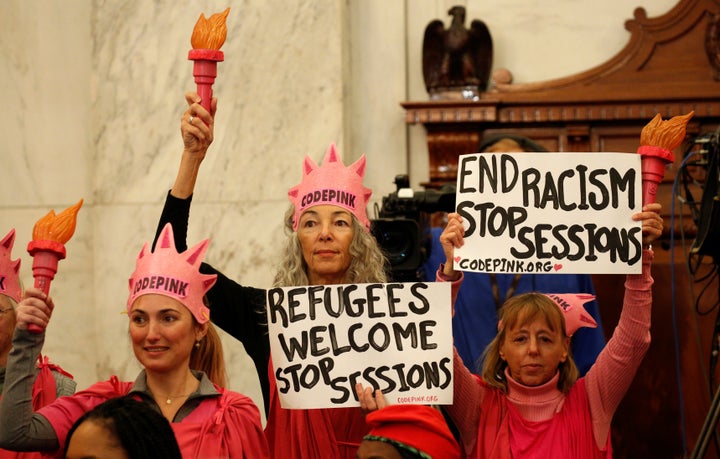 Bogash, the attorney, said "there is no evidence" Shelby even heard the laughter, and that it didn't interrupt the hearing.
"Yet on the basis of that burst of three or four laughs USPC Officer Coronado immediately made the decision to initiate the arrest of Ms. Fairooz," he wrote. "Even if the brief noise was heard by those seated in close proximity to her, there is no evidence that it disturbed them. And even if it did, that is not an arrestable, let alone a chargeable, offense. Briefly bothering someone seated next to you is not interfering with, or disrupting, a session of Congress."
Ms. Fairooz was not informed why she was being ejected from the hearing room. She appeared confused. She was surrounded by up to four U.S. Capitol Police Officers who start to use forced to remove her from the hearing room, never telling her why they were doing so. At this point Ms. Fairooz questioned the reason for her ejection, asking what is was that she did. It was Ms. Fairooz's questioning the reasons for the U.S. Capitol Police treatment of her which caused Senator Collins to pause in the delivery of the statement.
Fairooz was supposed to be sentenced this week, but the hearing was pushed to July. In an interview with Jezebel after her conviction, Fairooz said the judge "kind of intimated" that their lawyers should file motions to have the judgement vacated.
Before You Go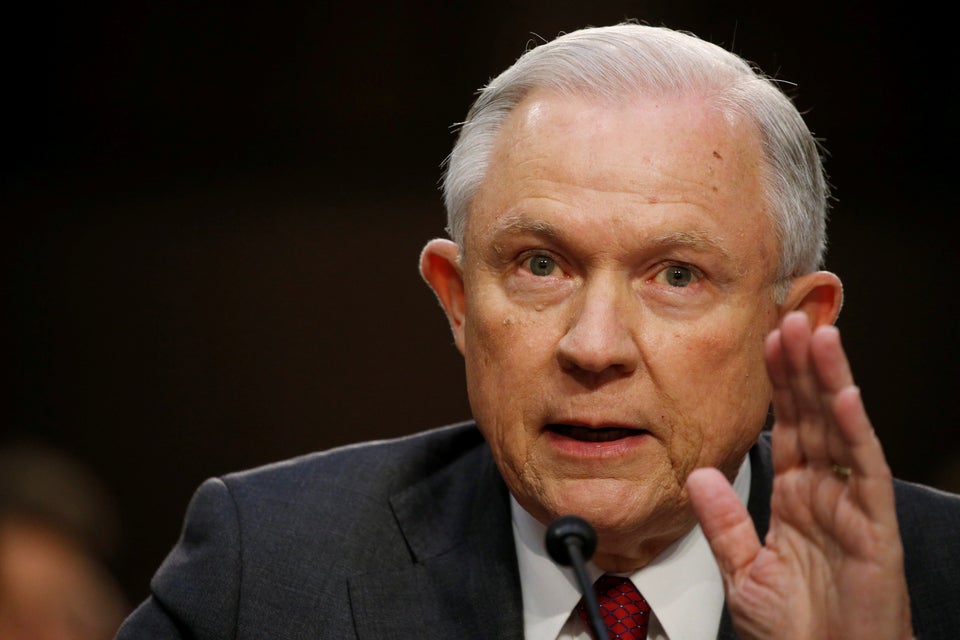 Jeff Sessions Speaks Before Senate Intelligence Committee
Popular in the Community