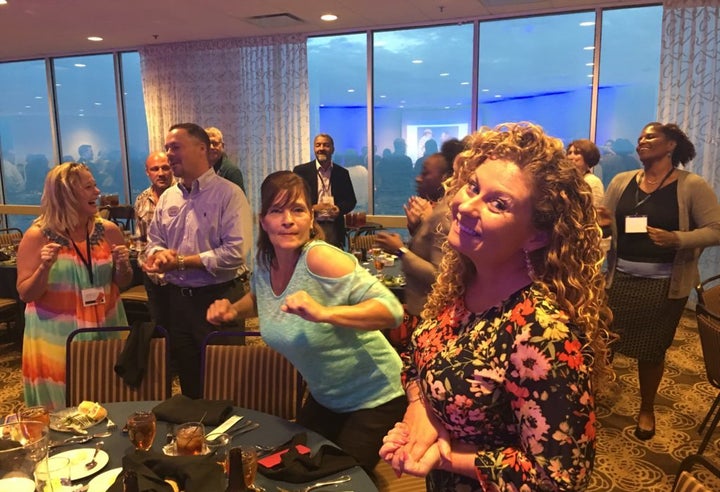 I had the pleasure to interview Breeda Miller, CEO of Breeda Miller Speaking, for our Caregiver Smile Summit. A sandwich generation caregiver, she shared insights on how to relieve the caregiver burden with humor and laughter.
In the very serious industry of healthcare, it is often hard to bring humor into the situation. Yet the benefits of humor and laughing can be as good as spending that forty-five minutes on the treadmill. So, get off the treadmill and laugh a little.
Take the Caregiver Role Seriously but Not Yourself
Caregiving is a profound purpose. And we should treat it that way. We always want the loved ones we care for to be treated with dignity and respect. As a caregiver, we are often inundated with advice, comments, observations from others about our caregiving. Yes, they are well meaning. But often, these "helpful" folks can add one more layer of stress to our lives. Don't let it. Don't take those comments personally. Don't beat yourself up. Chances are you're doing a great job as a caregiver. I had doubts when I was in the midst of it too but looking back I realize I did the best I could under the circumstances and also found the humor in the situations we found ourselves.
Breeda joked that she was recently car shopping and she was buying a Subaru, a brand she never owned before and was not as familiar. All of a sudden, every other car on the road was a Subaru. They were always there. She just did not see them. It's the same with humor. It's there, even amongst the stress and burden of caregiving.
She says that even a chuckle can help. Look for the irony. Breeda's mom always insisted on drinking her coffee from a cup and saucer. But there came a time when she could not handle a saucer anymore. So Breeda had a mug developed that had pictures of cups and saucers on it. It made her mom feel good. It gave Breeda a laugh. And now with her mom gone, she smiles every time she picks up her mug!
I am writing my second book and it consists of crazy things my mother said and did over her life. It's laugh out loud funny. Breeda suggests we keep a journal of all the funny and outrageous things that we do as caregivers and that our loved ones do as well. It may bring a chuckle in the moment and most certainly will bring a smile and perhaps some tears when you look at it after the caregiving is over. Just remind yourself every day – "I need to write this down because no one will believe it."
Finding humor in caregiving can relieve stress and we know that stress leads to inflammation and disease in the body. And many caregivers pre-decease the one for whom they are caring. If you can control your attitude and your perception of what is going on around you, it can go a long way in making you feel better. Part of that is recognizing what is not in your control. You don't have control over your loved one's decline or how medical professionals treat them (to an extent). But you can control your attitude and mindset.
It is sometime predictable what loved ones will say or do in a given situation. A trigger for me that drove me crazy was my mom saying "what took you so long" even if I was on time to pick her up for something. Breeda had this frustration as well so she invented Mental Bingo. She thought of five or six things that her mother would invariably say during the course of a day. She made a mental note. Anytime one of the irritating behaviors, sayings or phrases was uttered by her mother, instead of getting angry, she made a mental note! When her mother inevitably uttered all of them, Breeda declared BINGO to herself. She made this into a win!
If you can't get to the humor, revert to the silly. She once bought fairy princess wands and crowns and her and her mother sat there and imagined different things they would use their wands on to fix things. In my keynote, The Meaning of Life, I talk to health providers all the time about the need to be silly once in a while and I have them tweeting like birds and flapping their wings to the tune of Rockin Robin. Works every time and it's remembered! So get silly.
I learned early on singing in senior places that you learn how to accept people with dementia. If someone came up to me and wanted to sing or look at my music, go ahead. Wanted to dance? Fine. Talk to me about their long-passed mother as if she is still alive and you see her? Fine too. I just enter their reality and conversation. I never thought of it as improvisation but Breeda correctly characterized as such. So just think, you may have a future place on "Whose Line is It Anyway?"
· Give yourself permission to be silly.
· Find an external break. Call a friend. Take a walk. Go to the library. Borrow some funny books or videos. Netflix is a sure-bet for some quick relief too.
· Do something just for you.
Related
Popular in the Community