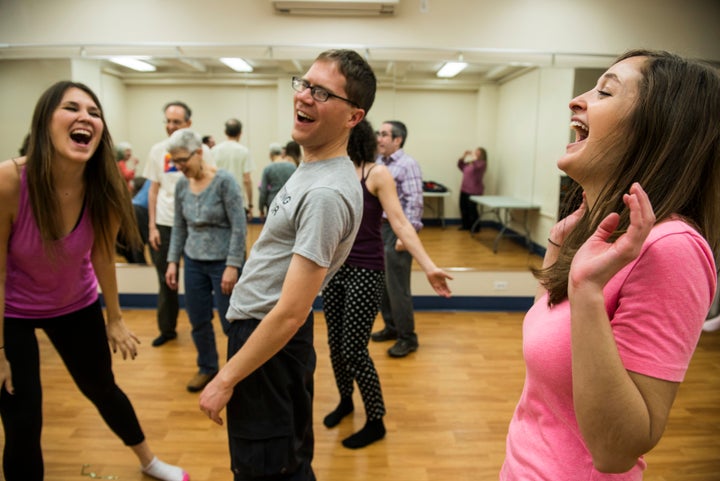 Do you remember that carefree feeling you had as a child, when there wasn't a worry in the world? Well, honestly, it had been a while since I'd felt that… until I tried laughter yoga.
The practice is a combination of laughing exercises and yoga breathing in a group setting. It's based on voluntary laughing, which often induces real laughter. Laughing is known to have several health benefits, including improving your immune system, relieving pain, reducing stress and boosting your mood.
"Children laugh hundreds of times a day. And as adults, we laugh only 12 times a day," Francine Shore of The Laughter Yoga Salon NYC told me after the class. "That's because children live in their hearts and as adults we're in our heads."
And that's exactly what laughter yoga allowed me to do: Stop thinking so much and allow myself to be playful.
When I agreed to attend a laughter yoga session as a part of the HuffPost #30Up Happiness Challenge, I had no idea what I was getting into. Would we be doing complicated yoga poses? What if I couldn't laugh on command?
As soon as I walked into the room, it felt like a totally different world. Everyone in the class was smiling and making eye contact (pretty much the opposite of what I am used to in New York City). I felt instantly welcomed into the group -- all judgments were left at the door.
Though I admit I felt a little awkward at first, I forced myself to jump into the laughter exercises. After a few minutes, I was no longer thinking about the frustrations of my day or worrying about tomorrow. Instead, I was in play mode.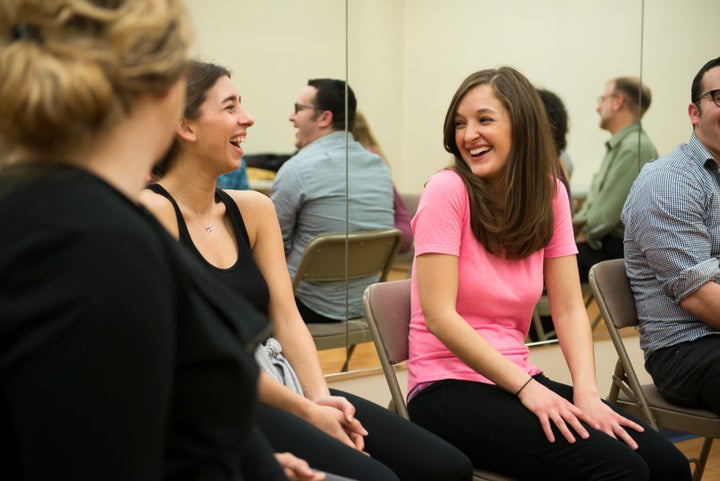 We formed a laughter train, where we marched around the room and laughed to the tune of "I've Been Working On The Railroad." We played "Great Balls Of Laughter," where we threw balls to each other and burst out in giggles every time the music stopped. We even practiced silent laughter, pretending we heard the funniest joke on the phone but couldn't make any noise.
Sometimes my laughter was fake. Sometimes it was real. But it didn't matter. It all made me feel good.
"The body doesn't know the difference between simulated laughter or spontaneous laughter," Shore explained. "The body is still going to respond and release the endorphins and lower the stress hormones."
At the end of the class, everyone shared how they felt before the class compared to how they felt after. Some said it released physical pain. Others noticed it boosted their moods. But everyone agreed they felt less stressed.
Most importantly for me, it gave me a new mindset. It reminded me that while it's easy to get wrapped up in the whirlwind of adult life, it's important to take yourself back to your childhood days. Live in the present, let go and give yourself permission to play.
Check out the video and photos from the laughter yoga class below.
Video shot by: Damon Dahlen
Video edited by: Tiara Chiaramonte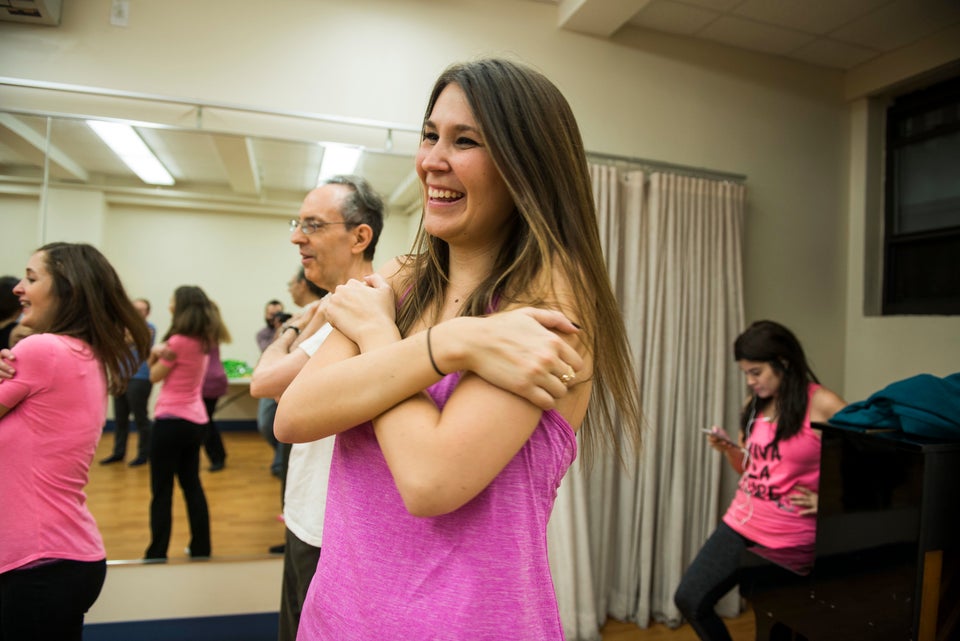 Laughter Yoga
Related