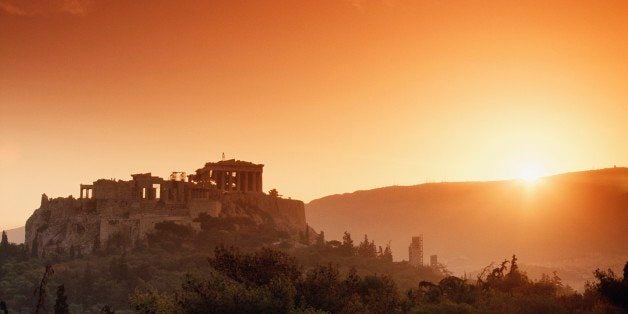 Ever since the time of Alexander the Great, certain moments in Greek history have reminded us of the great reach of Greek culture throughout the world. There was the moment, in 1900, when archaeological divers dove into the shipwreck off the Greek island of Antikythera, and brought to light the famed Antikythera Mechanism from antiquity, the world's very first computer. And the discovery a few weeks ago of an ancient tomb in Amphipolis in Northern Greece. And this, symbolically speaking, is the moment in our modern, computerized world when we deliver Greek news and culture throughout Greece and to the rest of the world by launching Huffington Post Greece.
I welcome you then to The Huffington Post, America's most popular news website, which, in partnership with Greece's largest digital media publisher, 24MEDIA, begins its journey in Greece today. This is a journey we hope will include the voices of all Greeks, from the farthest-flung islands in the Aegean and Ionian Seas to the major cities to the mountain villages.
Our goal is not just to provide you with all the breaking news. We intend to relentlessly follow the big issues of the day, to analyze events with fresh eyes, courage and humor, too. In short, we are striving to discover new people and ideas, new standards and sights.
Our chief aim, though, is for Huffington Post Greece to become your voice. We will be a platform for bloggers, both established and up-and-coming, to start a dialogue about the issues that interest them, with an eye always firmly fixed on the future. Our relationship will not end with a single post, but will continue in the modern version of the dialectical method (as our ancestors would say) that the Internet and social media now afford us.
It's this platform for communication and conversation that makes Huffington Post Greece unique. Thanks to our partnership with not only the American edition but the other 11 international Huffington Post editions located throughout Europe, Asia, Africa and South America, the voices of Greece will be heard by the rest of the world. All of us who work for Huffington Post Greece believe that this is the ideal moment for everyone to come together to shape a civil online dialogue.
And since today we do not have to run all the way from Marathon to Athens to Sparta like the ancient runner Pheidippides did just to carry the news -- except when we feel like running, of course -- we invite you to visit Huffington Post Greece starting today.
We are inviting all Greeks, wherever you might be in the world, as well as Cypriots, expatriates, and general philhellenes to join us in this endeavor. I thank you on behalf of our entire, dynamic team: Nick Agouro, Paul Tsima, Fotis Nakos, Despina Trivolis, Marina Demertzian, Anna Katti, Angeliki Kougiannou, Costas Mafraganni, Katerina Nanopoulou, Stefano Nikita, Giannis Belegrini, Katerina Prifti, Giannis Pittara and Anita Stefanou.
Calling all HuffPost superfans!
Sign up for membership to become a founding member and help shape HuffPost's next chapter