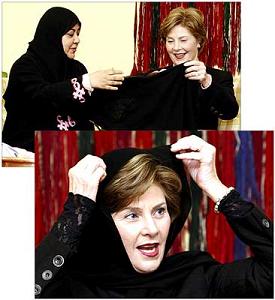 Yesterday, while, on tour in the Middle East raising breast cancer awareness (as well as working to "[restore] Washington's image in the region"), FLOTUS Laura Bush put on a traditional hijab given to her by Saudi doctor Samia al-Amudi.
Naturally, you might be wondering if you should brace yourselves for a coming torrent of outrage! After all, when Nancy Pelosi did the exact same thing back in April, the slings and arrows flew hot and heavy!
Mitt Romney, in the

New York Post

: "Her going to a state which is, without question, a sponsor of terror, and having her picture taken with Assad and being seen in a head scarf and so forth is sending the wrong signal to the people of Syria and to the people of the Middle East." [Note: Pelosi didn't wear the headscarf during her meeting with Assad.]

Investor's Business Daily: "Anyone who thinks Nancy Pelosi showing up wearing a scarf around her head visiting a mosque...won't even make janitor in the foreign service."

Hot Air: "It pains the left too, I'm sure, to see the most powerful woman in America having to yield, however slightly, to a misogynistic culture's expectations..."

Instapundit: "FEMINIST IN AMERICA, subservient in Syria."

Syrian Reform Party: "No one will ever know how many women took the Hijab on after seeing Pelosi wearing it. The damage Speaker Pelosi is causing with her visit to Syria will be felt for many years to come."

Clipmarks: "Pelosi just reversed the work of the Syrian civil society and those who aspire for women's freedom in the Muslim countries many years back with her visual statement. Her lack of experience of the Middle East is showing."

The New Editor: "This picture disgusts me. What message is Nancy Pelosi trying to send?"
Calling all HuffPost superfans!
Sign up for membership to become a founding member and help shape HuffPost's next chapter