Laura Cobb proves a sense of humor and a resilient attitude can get you through anything.
The bright 27-year-old from St. Louis has taken to YouTube to share a humorous and informative video about what it's like to live with expressive aphasia, a language impairment affecting speech, comprehension and writing skills, often as a result of a stroke or head trauma.
Cobb was in a coma for three weeks after being hit by a drunk driver in September 2008. She suffered a stroke and hearing damage and now has aphasia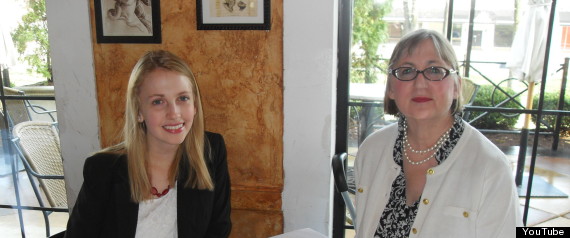 Laura with her mother, Lucinda
In a phone conversation with The Huffington Post, Cobb's father, Ron, said the condition has affected only parts of her brain.
"Laura does speech therapy, and the aphasia limits her ability to speak and write. It affects her grasp of numbers, and spatial abilities, but the amazing thing is that other parts of her brain were unaffected. Like a tornado that completely destroys one house and leaves another untouched."
HuffPost spoke further to Cobb via her mother, Lucinda, in an email.
HuffPost: Clearly you have a willingness to share your experiences, but are there any questions people ask about your condition that bother you, or that you find annoying?
Lucinda: Right off the bat, Laura says she is most annoyed when people treat her as if she is about 9 years old. "I'm 27," she says emphatically. It's all part of talking down to someone with disabilities.
Another pet peeve is taken right from the video: Being asked "salad, or salmon, or tacos, or beef... just STOP! 'Salad?' Stop. 'No.' 'Salmon?' Stop. 'No.' 'Tacos?' Stop. 'Yes!'" Most people with aphasia have trouble processing what is being said to them and need time to turn those messages around into an appropriate response.
HP: That being said, are there any questions you wish people would ask you?
Lucinda: Items on Laura's wish list include written instructions, appointment times, directions and the like. It is hard for people with aphasia to keep numbers and logistics in their heads. Likewise, handling money is often a challenge. Laura says don't worry that you'll hurt someone's feelings by offering to help calculate a tip in a restaurant. More often than not, the person with aphasia will be very grateful.
HP: It must get pretty repetitive explaining all these things to strangers. Is that part of the reason why you made this video?
Lucinda: She said it was really out of a sense of frustration. She said, friends don't know how to carry on a conversation with her, largely because she is limited in the number and length of her responses. Some friendships have suffered because of it.
HP: Your father told us you were a Dean's list student at Washington University with plans to go to grad school. Have your professional plans or goals changed?
Another development for Laura during her recovery has been a professional interest in aphasia. At the time of the accident, she was in the Psychology department at Washington University in St. Louis, working toward a goal of graduate studies in autism. Now she has added aphasia to her list of topics she would one day like to research. Her interests have not gone unnoticed, either. A local doctor has discussed with Laura the possibility of starting a support group for young people with aphasia.
HP: Has your experience changed how you go about relationships, friendships or even your daily routines?
Lucinda: If it were not for aphasia, Laura would never have met her boyfriend, Simon Meyer, 30, who also has aphasia. Simon, who lives in Melbourne, Australia, suffered a stroke as a result a football injury. He and Laura began corresponding online nearly two years ago, and finally met in person last spring in Chicago. "We understand each other," Laura says, and they cheer each other on in their respective achievements.
Cobb's father told The Huffington Post that there are varying degrees of aphasia, and the recovery process is different for everyone. "She can speak in three or four word phrases, but can't tell a story. It's too hard." She hopes to continue working and improving with speech therapy, and has already made progress in speaking and writing.
Her daily routine is now focused on recovery, whether it be her daily workout, speech therapy or playing with her dog, Maddy. Every day is a new opportunity for improvement. In October, Laura participated in a local charity race called the "Stampede for Stroke," and brought home a medal emblazoned with words to live by: "I'll Never Give Up."
CORRECTION: A previous version of this article stated that Laura is from Washington. She is from St. Louis, Missouri.

Popular in the Community