Move over Star Wars Rebellion, there's a new boss in town, and it's screen icon Laura Dern.  Vice Admiral Amilyn Holdo in all her glorious purple-haired wonder is played by Laura Dern in STAR WARS: THE LAST JEDI, and she is the Resistance leader against the First Order. We sat down with film legend Laura Dern, and she shared how she ended up in the Star Wars Galaxy.  Continue reading for her thoughts on creating strong female characters from independent films, to Jurassic Park, and now Star Wars: The Last Jedi (which she said felt more like an independent film).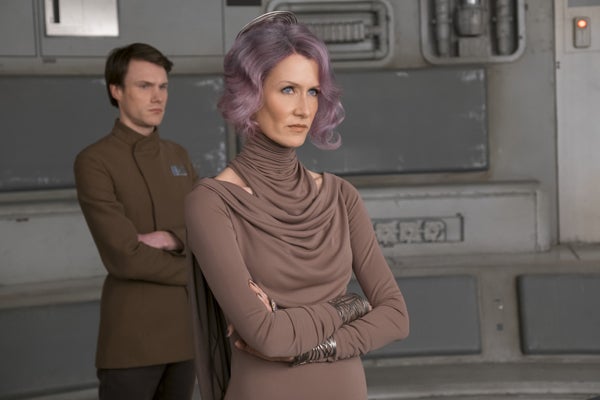 Two-time Academy Award-nominated actress Laura Dern has starred in acclaimed independent films such as David Lynch's Blue Velvet and Wild At Heart, as well as Rambling Rose (1991) with her mother Diane Ladd (where they both received Oscar nominations).  Dern's work in television has been equally provocative guest-starring on Ellen, as the woman Ellen comes out to as gay, the 2017 revival of Twin Peaks, and HBO's Big Little Lies for which she won an Emmy Award.  Of course, Laura Dern may be best known for playing paleobotanist Dr. Ellie Sattler in Steven Spielberg's summer blockbusters Jurassic Park and Jurassic Park III.  Laura Dern has done it all – so how does she end up in Star Wars: The Last Jedi?  "Rian Johnson (director) called to ask me to lunch and talk about something," Dern explain, "and then Kathleen Kennedy (producer) also called and I knew something was up."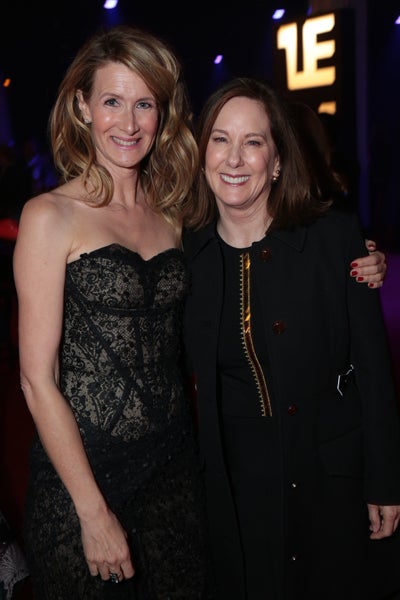 During this lunch meeting, Rian Johnson explained to Dern that the world he was creating for The Last Jedi explored the complexity of light and dark.  "It is like what independent filmmakers that I have worked with love to explore," Dern said, "that's what George Lucas invented.  That's why it [Star Wars] stands the test of time.  It's not a franchise.  It's a legacy of the deepest story telling we have."  During the making of The Last Jedi, she added, "we were stunned we were in a massive environment, but it seemed like we were in an indy movie – exploring the light and the dark within each character."  That pleased Rian Johnson, "if Laura Dern's telling you that it feels like an independent film, you may be on the right track," he said.
So who is Vice Admiral Amilyn Holdo?  Neither Laura Dern nor Rian Johnson revealed too much more about Star Wars: The Last Jedi except to say Holdo is a strong female character with elegance and beauty.  "Rian is one of the most brilliantly subversive filmmakers," Dern replied, "he wanted Holdo's strength to lead with deep femininity and move away from the stereotype of what strong female characters must be."  Laura Dern mentioned her movie star parents (mother Diane Ladd and father Bruce Dern) are excited about the film and the look of Vice Admiral Holdo.  Although Laura mentioned her dad quipped, "I didn't know you got jewelry in space." To which Laura Dern replied, "yes, and you get nail color too."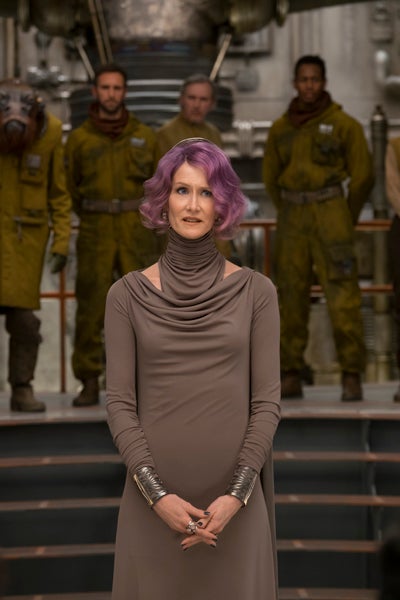 Star Wars is a family experience, with many fans brought to the theater by their parents, and Laura Dern was no different.  She remembers her parents taking her to Star Wars when she was a little girl.  Dern noted, "it was the first time I stood in line for a movie at the Cinerama Dome, and it was profound for me."  Laura's father had a particular connection to Star Wars.  "My Dad (Bruce Dern) had done an independent film called Silent Running that was a great influence on George Lucas," Dern explained, "in Silent Running, Dad was alone in space with two droids, said to be the inspiration for R2-D2 and C-3PO."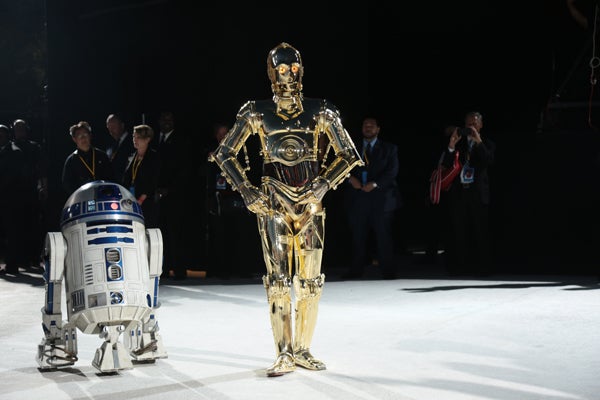 Laura Dern grew up with movies, in movies, and loves movies – from small independent film to super-blockbusters, and Star Wars: The Last Jedi has aspects of both.  "When I'm having coffee with Benicio Del Toro and Oscar Issac, it feels like an independent film," Dern says, "but then I walk on set and Chewbacca gives me a hug, and I cry because it was so moving."  Dern says you have your "fan freakout" moments with Star Wars, but then you have to settle down, relax, and play your part.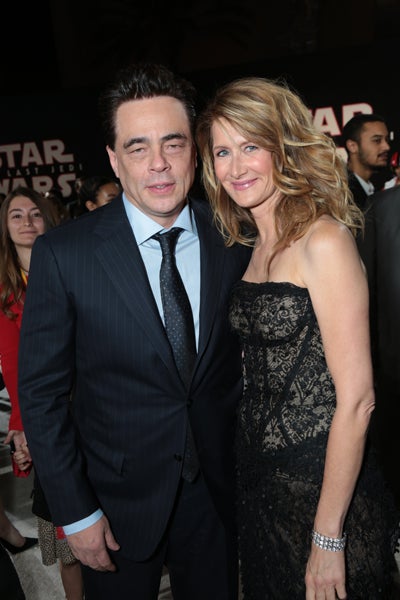 Speaking of parts, we couldn't resist asking whether we'd see Laura Dern reprise her role of Dr. Ellie Sattler in the Jurassic World series.  She shrugged with a wink and said, "I like your thinking."  Dern then went back to Star Wars saying how Carrie Fisher's Princess Leia was a sassy bold female and, "Steven Spielberg and I were talking the other day that Sattler was such a feminist."  Princess Leia, Dr. Ellie Sattler, and now Vice Admiral Holdo – seems like Laura Dern is doing her part for little girls to have characters they look up to.
We learn more about Vice Admiral Amilyn Holdo when Star Wars: The Last Jedi opens in theaters on December 15th.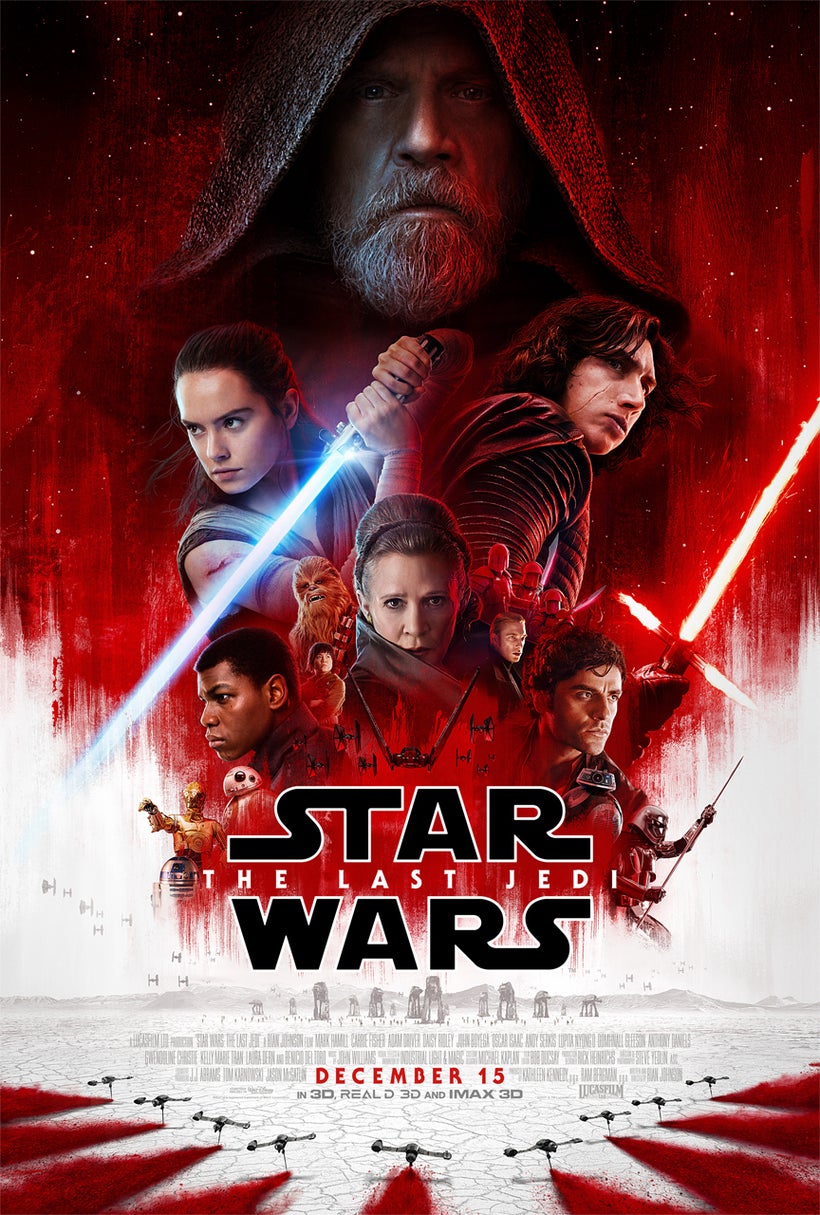 Calling all HuffPost superfans!
Sign up for membership to become a founding member and help shape HuffPost's next chapter
This post was published on the now-closed HuffPost Contributor platform. Contributors control their own work and posted freely to our site. If you need to flag this entry as abusive,
send us an email
.