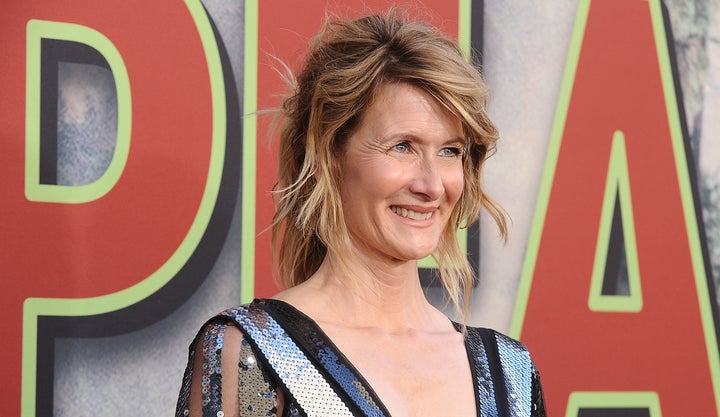 Laura Dern really is *just like us* ― she loves a good feminist movie scene. 
In an Aug. 28 interview, the "Big Little Lies" actress spoke with WWD about being a single mother to her two children and, of course, "Wonder Woman."
"I loved seeing it — and I really loved seeing it with my 12-year-old daughter," Dern said of the box-office smash "Wonder Woman." "People are like, 'Well, you can't turn this kind of film into a statement.' It's like, no. You infiltrate every story that you tell. It can be a traditional movie, but you respond to something different."
Dern added that she got to do just that for her role in the 1993 "Jurassic Park" opposite of Jeff Goldblum.   
"We did it on 'Jurassic Park' ― there was a rather feminist line in response to something Jeff Goldblum says about 'man creates dinosaurs, and dinosaurs eat man.' Something like that. And then I look back and say the line, 'Yeah ― and woman inherits the earth' and that was such a big deal," Dern said. "It was like here it is, we're in this formulaic, big movie and it's this fabulous, fun, feminist moment."
Watch the "Jurassic Park" clip Dern is referring to below.  
Dern explained to WWD that 12-year-old girls, like her daughter, were watching "Jurassic Park" and heard that subtle feminist line ― and that's important. 
"Then there are 12-year-old girls watching the movie and they hear that, and it's one line," Dern said. "For years it was 'Oh, well that's more for boys, because it's a dinosaur movie,' and that's what they used to say about 'Star Wars,' and now because there are female icons in it, all the girls want to see it as much as boys. So yeah, it's really exciting to consider with every story that you tell. Every film I get to be part of, [I consider] how we can make it truly relatable, to all of us."
Head over to WWD to read Dern's full interview. 
REAL LIFE. REAL NEWS. REAL VOICES.
Help us tell more of the stories that matter from voices that too often remain unheard.
BEFORE YOU GO
PHOTO GALLERY
21 Fierce Black Feminists To Follow On Instagram