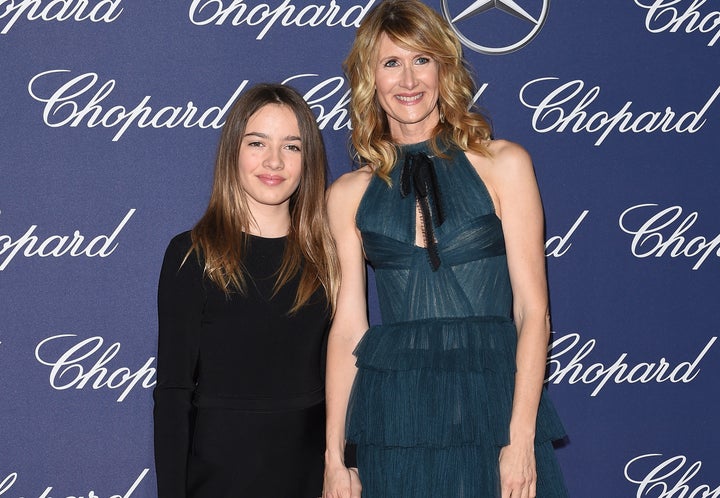 In a thoughtful open letter, actress Laura Dern summed up her hopes and dreams, as well as her worries and fears, for her 12-year-old daughter.
Published in InStyle's September issue, the letter Dern wrote is addressed to her youngest child, Jaya. The Academy Award nominee wrote how she watched women throughout her life (including former Secretary of State Hillary Clinton during her presidential run) face doubt and criticism from others for wanting to be more than just a wife and mother. Seeing this skepticism, Dern had convinced herself to focus on only one thing at a time to avoid failure.
"I've spent a lot of my life going, 'OK, I'm going to be an actress, but I have to give it everything, so I probably won't be able to also have a successful relationship,' or 'I'm about to be a mother, so I'll give up my acting,' or 'I'm married, so I'm going to put my career on hold and be 'a good wife' and support him,'" she wrote in the letter.
Dern realized her way of thinking had been hindering her and encouraged Jaya to pursue all of her interests with all of her might.
The actress also wrote about beauty standards and the damaging effects of social media. Dern warned Jaya that beauty isn't measured in followers or likes, but something much deeper.
"The beauty of being a woman today is in savoring the minutiae of life, all the moments that add up to you," she wrote. "The joy you'll find in being in your body, in sexuality and sensuality, in service, in art, in mothering."
Dern's biggest wish for her daughter is for her to write her own story and to be her "own delicious mess." And she wrote to Jaya that along the way, she shouldn't be afraid to fail.
"You will succeed and fail in equal measure. Both experiences are worthwhile. They will both define you," Dern wrote. "The truth is, the minute I surrendered to the flow of the mess of life, everything came together magnificently: my longing for art, my skill as an actor, and my capacities as a friend and mother."