Fox News host Laura Ingraham featured white supremacist Paul Nehlen in a graphic of "prominent voices censored on social media" on her show "The Ingraham Angle" on Thursday night, and some are outraged.
In one segment, Ingraham claims that recent criticisms from House Speaker Nancy Pelosi (D-Calif.) and former Secretary of State Hillary Clinton about Facebook proliferating doctored videos are part of a plan by liberals to "silence conservative voices" ahead of the 2020 election.
Ingraham talked about this claim with conservative commentator Candace Owens, who said that this is "just the way the internet works" and insisted that Clinton's and Pelosi's remarks are an attempt to silence voters.
Owens went on to say that silencing and banning conservatives "works for us," because "when you ban somebody's favorite political commentator ... they double down and dig their heels in."
Ingraham then featured a graphic of "prominent voices censored on social media" that included Alex Jones, Milo Yiannopoulos, Laura Loomer, Owens, Michelle Malkin, Dan Scavino, James Woods and Nehlen.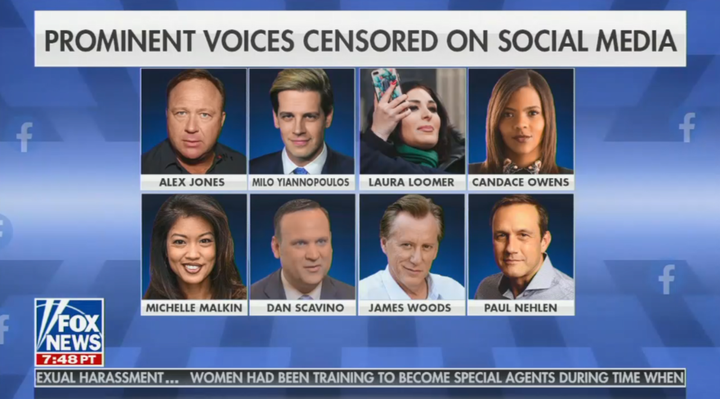 HuffPost was the first to confront Nehlen about his open embrace of explicit white nationalism back in 2017, and as of April 2018, The Daily Beast declared that he was becoming one of the highest-profile white nationalists in America.
It's unclear whether Ingraham's inclusion of Nehlen will spark advertisers to leave her show, which has happened before.
HuffPost has reached out to Ingraham's advertisers and will update this report accordingly.
Thus far, Netsuite has declined to comment on its status with Ingraham and her show.
A spokesperson for the Starkist tuna brand said: "We do not endorse individual opinions. Our television ads appear on a number of cable networks as part of our national media buy."
Abhi Lokesh, CEO of the photo printing service Fracture, published a blog post Friday saying the company would cease running advertisements on Ingraham's show.
"Last night one of our ads aired during an episode of The Ingraham Angle during which Laura Ingraham expressed alarming views that run entirely counter to the values that we hold as a company. We are taking this matter very seriously and as a result we are taking swift action," the post says.
Lokesh also added that the company believes in "freedom of speech, but we certainly don't have to support hate speech with our advertising dollars."
UPDATE: 2:15 p.m. — Fox News defended the segment in a statement released Friday, saying that "it is obscene to suggest that Laura Ingraham was defending Paul Nehlen's despicable actions."
This story has been updated with statements from Starkist and Fracture.
Related
Popular in the Community