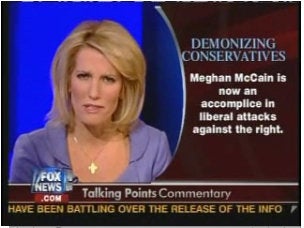 While filling in for Bill O'Reilly on Fox News Wednesday night, conservative commenter Laura Ingraham denied having insulted Meghan McCain's weight.
"Let the record show: I never called Meghan McCain fat! She isn't!" Ingraham said. "And as I have repeatedly said on my radio show and on Fox, she is an attractive young woman. If that throwaway comic line highlighted anything, it was Hollywood's obsession with stick-figure women!" Later, she added, "This diversion about -- 'Oh, it's about her weight' -- my point was that she has no real world political experience to make the case for moderation."
On her radio show last Thursday, Ingraham mocked McCain, saying she didn't get a "role in the Real World" because "they don't like plus-sized models."
"Ok, I was really hoping that I was going to get that role in the Real World, but then I realized that, well, they don't like plus-sized models," Ingraham imagined McCain saying. "They only like the women who look a certain way. And on this 50th anniversary of Barbie, I really have something to say."
Popular in the Community