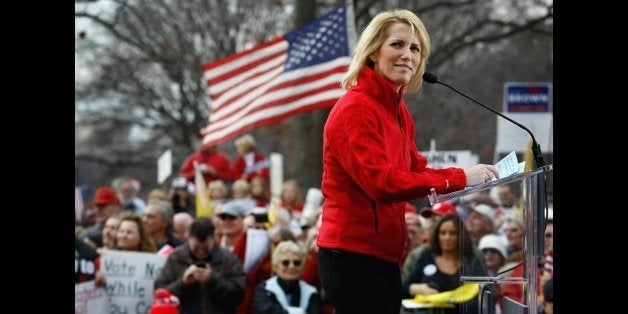 WASHINGTON -- Conservative radio host Laura Ingraham is on a crusade to prevent immigration reform talks between the Senate and the House.
For more than a month, she has tried to pressure House Republican lawmakers appearing on her show -- "dozens," by her own estimate -- into acquiescing to her current obsession: the rejection of any conference committee with the Senate on comprehensive immigration legislation.
Ingraham has made a routine of asking House Republican guests, "Will you go to conference on immigration, yes or no?" Even interviews about health care or the government shutdown have ended with her grilling guests about their immigration stance and asking them for a commitment not to go to conference. Ingraham repeatedly warns that a bill coming out of conference could include a path to citizenship for undocumented immigrants -- a proposal she rails against on her show.
The Senate passed a comprehensive immigration reform bill in June by a 68-32 vote, including 14 Republican "ayes." Despite that bipartisan credential, the legislation was dead on arrival in the House. But GOP House leaders have said they will attempt to pass narrower measures to address some immigration issues. If anything is passed, a Senate-House conference committee could be created to find common ground between the two chambers' bills.
"It's a political death wish to push for this immigration reform," Ingraham told Rep. Marsha Blackburn (R-Tenn.) on Monday after the congresswoman did not outright commit to rejecting a conference committee. Ingraham added that providing a path to citizenship would only enlarge the liberal-leaning electorate, telling Blackburn that "you guys are going to give Obama exactly what he needs, and Hillary in 2016."
President Barack Obama has signaled that immigration reform is a major priority in his second term and has tried to rally support around the Senate's comprehensive bill.
Ingraham has tried to rally support against it. She insists that any effort to push immigration reform under Obama is doomed to harm Republicans.
"There is no debating that the people coming into the country, especially the people who have been here illegally, tend to be more liberal in their economic views and increasingly in their social views," Ingraham said while interviewing Sen. Jeff Sessions (R-Ala.) in late October.
Several of Ingraham's guests have agreed with her vehement opposition to conference.
Rep. Michael McCaul (R-Texas) told Ingraham last week that he declined the president's invitation to discuss immigration at the White House because he "saw it as a political trap." McCaul, chair of the House Homeland Security Committee, said he has advised Speaker John Boehner (R-Ohio) that the House should avoid conference with the Senate on this issue.
Rep. Raul Labrador (R-Idaho) told Ingraham earlier in October that he thinks "it would be crazy for Republicans to pass immigration reform and go to a conference."
Other guests, like Blackburn, have been more cautious and equivocal.
"What you all really are for is comprehensive immigration reform," Ingraham told Blackburn after the congresswoman suggested the House take a step-by-step approach. "You think this a gateway issue to the Latino vote. That's what I surmise here."
Last week, Ingraham chided Rep. Matt Salmon (R-Ariz.) for waffling.
"Where do you come out on the issue of going to conference? And we have a cliché-free zone here on the program, so just don't bother saying, 'The system's broken' or 'People need to come out of the shadows' or 'We're not going to deport 12 million people,'" Ingraham said. "Just tell us, on the issue of conference: Yes or no?"
When Salmon gave her an unclear answer, Ingraham pressed him further. "We've had dozens of your colleagues on, and we've gotten a crystal-clear answer from them in the end," she said.
Later, Ingraham's staff blog skewered Salmon, saying he "did nothing but waffle, waver, and walk back comments in his discussion with Laura on immigration reform -- revealing his naiveté to both the political realities facing the House, and the market realities which confront struggling American workers."
Rep. Jason Chaffetz (R-Utah) came on the show to discuss the Obamacare rollout in late October, but couldn't escape Ingraham's preferred topic.
"Don't waste another second on this immigration law as long as you have these people in office -- that's my point," she said, arguing that reform should wait for a Republican president.
Chaffetz said he liked the piecemeal bills that have come out of committee in the House and would like to see those become law. He said he didn't want to go to conference until he received direction from Boehner.
"You're opening a window -- just a crack -- for going to conference," Ingraham responded, adding that she thinks the House's multiple small bills will add up to the comprehensive reform she opposes. "This piece-by-piece approach is a Trojan horse."
Popular in the Community