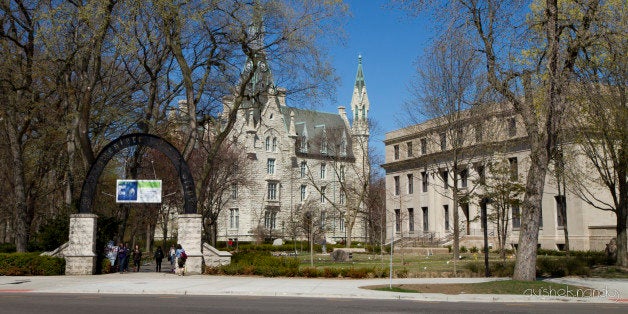 Northwestern University film professor Laura Kipnis was cleared in a Title IX investigation by the university on Friday, following graduate student complaints over an essay she published in February in the Chronicle of Higher Education.
The article, titled "Sexual Paranoia Strikes Academe," discussed university policies governing sexual misconduct, student-faculty relationships and speech on campuses. It described lawsuits between a Northwestern philosophy professor and two students who accused him of sexual assault.
Students took issue with the piece, saying Kipnis was describing a real-life scenario and that her facts were off. They accused Kipnis of retaliatory behavior and creating a hostile environment, and the school opened an investigation into the case.
Complainants in the case told The Huffington Post that they reached out to Kipnis about their concerns, and she did not offer to correct her piece. They then turned to the Chronicle and asked for specific corrections. One sticking point was Kipnis' assertion that in the second case she described, the unnamed professor and the graduate student were dating. In a similar case on campus, the student in question has said she was not dating the professor. The Chronicle has since changed its wording to say that "according to his complaint," the professor and student had previously dated.
On Friday, Northwestern told the parties they were clearing the charges against Kipnis, meaning the evidence did not reach a preponderance of evidence to support the allegations. The complainants told HuffPost that university investigators declined to provide them a copy of the full investigation report.
The investigation became public prior to its conclusion thanks to another Kipnis essay published Friday in the Chronicle of Higher Education. In that piece, Kipnis described the reaction to her first piece and the charges brought against her.
Some in the academic community worried that Kipnis' critique of university policies around sexual misconduct could result in a Title IX investigation that could have put her status as a tenured professor in jeopardy. Title IX is a requirement that colleges address and prevent discrimination and harassment on campus, as well as sexual assault involving students.
However, the students who made the complaints about the February essay said they were mainly concerned with alleged errors in Kipnis' essay. They're also upset about a tweet from Kipnis suggesting dating was being redefined as rape.
Students thought the tweet was directed at a specific student on campus who has accused a philosophy professor of sexual assault. Kipnis told The Huffington Post that it wasn't about anyone in particular.
"[The complaint] was just about the factual inaccuracies," one of the graduate students who filed the complaints told The Huffington Post. "The basis of our complaint was that she said things that were false and she refused to correct them. I'm not even sure I support the ban on faculty-student relationships."
The Chronicle added some corrections to the original piece after students contacted the publication.
Both experts and Kipnis have pointed out that had she not been an employee of Northwestern, she would not have been responsible for answering to the students' complaints.
In her latest essay, Kipnis questioned "why a professor can't write about a legal case that's been nationally reported, precisely because she's employed by the university where the events took place." Such a block would suggest that "academic freedom doesn't extend to academics discussing matters involving their own workplace," Kipnis said.
"It doesn't serve the institutions and the entire academic community if they feel like they have to talk about the issue on eggshells," said Joe Cohn, legislative and policy director at the civil liberties group the Foundation for Individual Rights in Education.
Cohn argued that there should have been a mechanism where Northwestern could have quickly dismissed the complaints against Kipnis prior to the investigation -- similar to how a court can dismiss a lawsuit.
"Administrators who receive complaints should always read them to see if there is something to this, but when a complaint falls so far out of what is appropriate, [administrators] should as quickly as possible say so," he said.
"I think what people don't really realize with this Title IX apparatus, and what's coming out in this case, is that it makes faculty more vulnerable to [self-censorship], really, because these cases are possible," Kipnis told HuffPost.
Kipnis said she decided to write a second essay because she got the sense from other faculty members that they were afraid to voice concerns about criticizing Title IX issues, and because she believes the investigation process for student complaints should be more transparent.
She said she had not been deeply reviewing everything about campus sexual assault and Title IX, and didn't until recently know of groups like Know Your IX and FIRE, which are active in the debate over campus sexual assault and harassment. Suddenly, she said, she found herself put on trial by Northwestern under this law.
Kipnis also said that investigators from the school approached her about mediation. According to Kipnis, they told her the complainants were willing to drop the case if she would apologize and promise to never write about the issue again.
The complainants say they never made such an offer to investigators or anyone else.
"That never happened," the graduate student told HuffPost. "We never offered to withdraw our complaints, we never asked her to apologize, we never asked that she never write about this again."
One of the other complainants also wrote to the investigators about the mediation offer after Kipnis' second essay was published: "I would like to make unequivocally clear that is is absolutely false," she said in an email shared with HuffPost. The complainants said they have not heard a response from the investigators.
The complainants said they side with Kipnis on a number of issues she raised about the Title IX procedure in her essay. For example, they don't understand why Kipnis had to jump through hoops to find out the charges against her and couldn't get them in writing, or why it took two weeks to inform her of the complaint. They were similarly upset that the investigators prohibited recording interviews.
"I don't get why they're so insistent on that, it adds protection for everybody," the graduate student said, noting she also found errors in the notes taken by investigators.
Kipnis offered a more succinct remark about the control against transparency by investigators: "Secrecy invites abuses."
"Northwestern University is firmly committed both to academic freedom and to free speech, but it is also required to investigate and respond to allegations made by complainants that particular actions or statements might violate Title IX," Alan Cubbage, vice president for university relations, said in a statement. "Northwestern is confident that its policies and procedures comport with the law and that they were followed here."
As for grad students' concerns that Kipnis' alleged errors in her first essay would have a "chilling" effect, preventing other students from reporting assaults to Northwestern, neither side seems to find common ground.
Kipnis and Cohn questioned what would establish a preponderance of evidence that students have really been dissuaded from coming forward with future complaints.
Asked the grad student in response, "What reasonable person would want to report their assault if it meant a professor of their own university would take to the Chronicle of Higher Education to publicly misrepresent some of the most traumatizing events in your life?"
CLARIFICATION: This article previously stated investigators had reached a conclusion of "no findings" against Laura Kipnis, when it is more accurate to say they had no findings against Kipnis in the charges.
Related
Popular in the Community