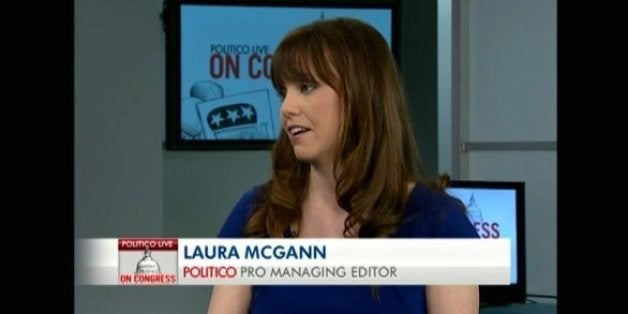 NEW YORK -- Politico deputy managing editor Laura McGann is joining Vox as the site's first political editor.
In an interview with The Huffington Post, McGann suggested that Vox, the general-interest site founded earlier this year by Ezra Klein, Melissa Bell and Matt Yglesias, could make its coverage of the 2016 elections "distinct" by emphasizing candidates' policy positions and offering readers contextual information beyond the latest stump speech.
"You don't need to write a brand-new story every time a candidate says something," McGann said.
Yet that's increasingly what happens during a presidential campaign, with embedded TV producers and political reporters live-tweeting a candidate's remarks and immediately filing stories online. The 2012 presidential cycle seemed defined, at times, by excessive coverage of candidate "gaffes" and fleeting outrage on Twitter.
Vox's expansion of its political coverage is expected to keep in line with the site's core mission of explaining the news. Stories on Vox often include a set of supplementary "index cards" that explain the context of a debate or news event currently making headlines.
Similarly, McGann, who will start at Vox on Jan. 5, suggested the site would create political content of value to readers beyond the campaign story of the moment. For instance, she noted that Hillary Clinton, the presumed 2016 Democratic front-runner, has been expressing views on foreign policy for decades. So in covering Clinton's latest foreign policy statement, Vox would presumably offer additional resources, like the index cards or other online tools, in an attempt to explain how Clinton's most recent remarks exist within a broader worldview. That supplemental material can be updated and used in future stories.
In interviews, Klein, a former blogger and columnist for The Washington Post, has described such content as "persistent," meaning that it has a longer lifespan than just the latest news cycle. McGann also used the term in discussing the site's political coverage plans.
For its 2016 coverage, McGann said Vox intends "to explain to the reader what is significant about these candidates' policy perspectives" and "why they should be paying attention to specific candidates."
Currently, Vox's politics and policy team includes seven reporters, but McGann said it's expected to grow. She also stressed that Vox, unlike some news organizations, doesn't draw sharp distinctions between covering politics and policy. "We don't want politics and policy reporters to live in separate silos, as they have in other newsrooms," she said.
In a statement, Klein described McGann as "one of the most visionary editors in the business, and one of the best political minds in Washington."
"She has big plans for Vox Politics," said Klein. "Under her direction, we're really going to be able to give our audience a political resource unlike what they can get anywhere else."
McGann, who spent four years at Politico, has also reported and edited at Talking Points Memo, Nieman Journalism Lab, MSNBC and The Washington Independent, a nonprofit news site that shuttered in 2010.
She's the third high-ranking Politico editor to leave in the past week, with White House editor Dan Berman joining National Journal and deputy managing editor Gregg Birnbaum heading to the New York Daily News. On Friday, Politico editor Susan Glasser touted several recent hires and said the company is going through a period of "growth and rising ambition."

Vox's approach to 2016 coverage will surely be different from that of Politico, which upped the metabolism of political reporting during the 2008 election by breaking any and all campaign news online. While Vox's focus may be on explaining the news, McGann indicated the site will also try breaking some stories. For example, McGann said she'd like Vox to compete on first getting details when a campaign is rolling out a new policy proposal.
Some aspects of Vox's 2016 coverage have yet to be determined, such as whether or not the site will assign reporters to follow candidates on the campaign trail. McGann said "there's room there to experiment" and the site will figure out how, and when, stories can enhanced by having reporters on the ground.
"We are definitely interested in travel," she said, "but we're not sure if a traditional approach, to stick someone on the plane, is the best idea."