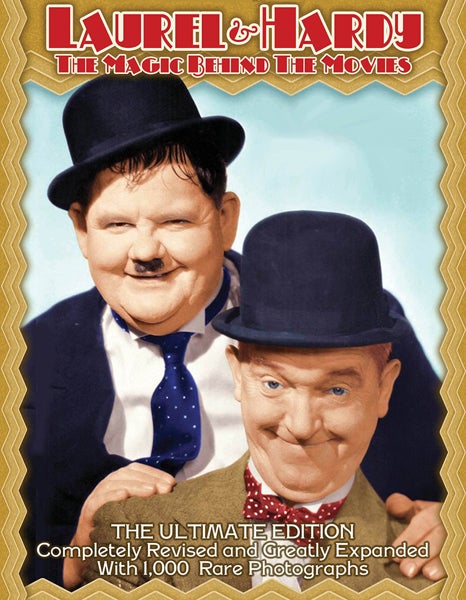 Did you know that Laurel & Hardy are pictured on the cover of the Beatles' Sgt. Pepper album, and that Paul McCartney gave Oliver Hardy a shout-out on his hit single, "Junior's Farm."
What's more, actor Mark Hamill (of Star Wars fame) is a passionate and knowledgeable Laurel & Hardy buff, and so is John Fogerty of Creedence Clearwater Revival, who wrote about the comedians in his autobiography. And so was the singer / songwriter Harry Nilsson, whose lyrics referenced the duo. Famed critic Kenneth Tynan thought they influenced Samuel Beckett.
Among other prominent fans were Winston Churchill and John F. Kennedy. The late President once sent Stan Laurel an autographed photograph; Laurel hadn't asked for it, it "just came in the mail one day." Other devotees include Dick Cavett, Marcel Marceau, Peter Sellers, and Johnny Carson—each of whom visited Laurel late in his life. Add to this roster the singer and pianist Michael Feinstein, comedians Jerry Lewis and Ricky Gervais, and the legendary Dick Van Dyke. There are others. In fact, famous or not, Laurel and Hardy fans are legion.
There is an international Laurel & Hardy society called the Sons of the Desert (the name is taken from one of their films) which is devoted to keeping Stan Laurel and Oliver Hardy before the public, and to have a good time doing it. At last count, there are some 100 chapters of the Sons of the Desert all around the world, with many members in each chapter.
One of Laurel & Hardy's most devoted fans / buff / scholar is entertainment historian Randy Skretvedt, author of the recently published Laurel & Hardy: The Magic Behind the Movies (Bonaventure Press). This detailed account of how the beloved comedy team made their many classic films is also an impressive 632 page, 8.5" by 11" hardcover work which stands as one of the most comprehensive books ever issued on any actor or team. And by the way, it's about 1.5" thick and weighs nearly six pounds.
When Skretvedt's book was first published in 1987, it was hailed by Kirkus Reviews as the "best book on Laurel and Hardy ever assembled," and by the New York Times as "exhaustively researched." But as someone once said, you ain't seen nothing yet.
Over the last 20-plus years, Skretvedt has worked hard to compile an "ultimate edition" of this labor of love, with twice the text and four times as many photos. With this new edition, he has succeeded, and how.
The text of this new edition is based on interviews done in the 1970s and early 1980s with 65 of Laurel & Hardy's associates (including legendary producer Hal Roach), as well as scripts, studio files, and vintage newspaper and magazine clippings. The amount of detail is impressive. There is full cast and credit information for each film, details about the locations where the team filmed many of their most famous scenes, along with detailed accounts of unused scenes culled from original scripts.
There is also a who's who of regular supporting actors such as Mae Busch, Edgar Kennedy, and Thelma Todd, collaborators like Harry Langdon, and directors such as Clyde Bruckman, Leo McCarey, Malcolm St. Clair, and George Stevens. And, there is information on the Laurel & Hardy films which are still missing, as well as a section about the short subjects created for TV (where many of us, no doubt, first encountered this unlikely pair).
Most impressively, there are now 1,000 photographs in this wholly revised and greatly expanded new edition of Laurel & Hardy: The Magic Behind the Movies. Close to 800 of the images are new, among them many never-before-published, including one-of-a-kind pictures from Oliver Hardy's personal collection.
The joy in reading this book is found in the often surprising detail. Like the fact that sultry Jean Harlow had a small role in the Laurel & Hardy short Double Whoopee (1929) as well as two other films early in her career. And so did Peter Cushing, who had a role in A Chump at Oxford (1939), well before becoming a star in the Hammer horror films. Others who appeared in the comedy team's 107 films (that's 32 short silent films, 40 short sound films, 23 full-length feature films, and 12 guest or cameo appearances) include everyone from cross-eyed actor Ben Turpin to the Mexican spitfire Lupe Vélez.
And did you know that Fay Lanphier, the 1925 Miss America who was named the 1926 Queen of the Tournament of Roses Parade (the only person to hold both titles simultaneously) appeared in the Laurel & Hardy short, Flying Elephants (1927)? The delight is in the details.
Laurel & Hardy: The Magic Behind the Movies also pays special attention to the music behind the movies, with comprehensive information on the musical scores of each film, including the titles of all cues and names of composers. For example, the duo's famous signature tune, known variously as "The Cuckoo Song" or "The Dance of the Cuckoos," was composed by Hal Roach musical director Marvin Hatley as the on-the-hour chime for the Roach studio radio station. As noted in Skretvedt's book, Laurel heard the tune, and asked if they could use it as their theme song. And the rest, as they say, is musical history. Until… a compilation of music from their films was released in 1975. Remarkably, one track was released as a single in the UK and reached #2 in the charts.
This edition, Skretvedt thinks, is the third and last. Aside from some minor corrections in a future soft cover edition, Skretvedt feels he has done as much as he can with the subject. As Oliver Hardy once said on film, "A task slowly done is surely done." Laurel & Hardy: The Magic Behind the Movies, which blends fandom with scholarship, is a surely done, monumental achievement. If you love Stan and Ollie, this is it.
Thomas Gladysz is an arts and entertainment writer who has been contributing to the Huffington Post since 2010. He is also the founding director of the Louise Brooks Society, an online archive and international fan club begun in 1995. Gladysz is currently working on The Films of Louise Brooks, a book he hopes will turn out something like Laurel & Hardy: The Magic Behind the Movies.
Popular in the Community