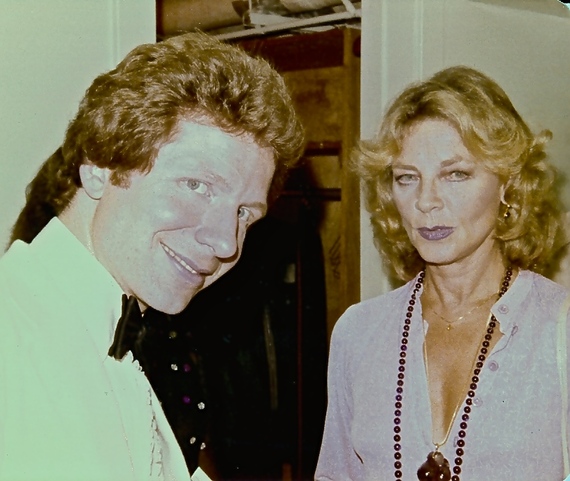 Inadvertent angels come in many sizes and shapes. They are not always angels of mercy, and -- as many can attest -- Lauren Bacall was no Mother Teresa. And yet there was at least one lesson to be learned from knowing her a little.
During my 18 years working with Leonard Bernstein (1972-1990), many famous people became part of the environment that surrounded him. I well remember Lenny's 54th birthday party on August 25, 1972, when I first assisted him as he prepared for a new production of Carmen to open the Metropolitan Opera's season. My wife, Betty, and I were invited to the Bernstein country house in Fairfield. We expected hundreds of people but instead found the Bernstein family and Aaron Copland there ("Please call me Aaron.") ... but that is another story.
Lauren Bacall was one of the three Bernstein Bettys from those days: Betty Comden, Betty Bacall, and Betty Mauceri. We saw Bacall only occasionally, but always memorably. Her deep voice alone seemed to dominate any room in which the rest of her was present. What made her such an important voice in my life was her ability to poke fun at Lenny.
Lenny was the funniest person I ever met, far funnier than Danny Kaye, for whom jokes and humor were his business -- and a very serious business it was for Danny. For Lenny, humor was just the way he and his brother and sister thought and spoke. He was also a master joke-teller, spinning long tales. I called them "life jokes" because, funny or not, they always carried a message -- and they seemed to take a lifetime in the telling (and of course always with a maestro's sense of timing). But, while Lenny was fundamentally funny, with wit always waiting at the end of any and every sentence, he generally took himself terribly seriously. That's where Betty Bacall came on the scene, turning mountains into molehills.
"Lenny moved himself again" was one of her funniest barbs, as she watched Maestro Bernstein give one of his enormously distended "Jewish upbeats" (my term). [When I first conducted Bernstein's Mass in 1973, Lenny gave me a note about my Jewish upbeats. He said, "Your Jewish upbeats have become positively anti-Semitic." That's how funny he was.]
In 1988, there was a big Bernstein 70th birthday event at Tanglewood -- at which the Boston Symphony was conducted by four of us: Seiji Ozawa, the orchestra's music director, John Williams, the Boston Pops' conductor, Michael Tilson Thomas, and myself. It was a huge event, with many soloists, in a concert that went on for close to four hours (and cut down to size for a PBS broadcast; perhaps someday the entire concert will be seen again).
When it all came to an end, and the myriad of guest artists, along with the orchestra and chorus, filled the stage for a final salute to Leonard Bernstein, Lenny came onstage from his place in the audience. He was rubbing his eyes with his fists, making circular gestures, and Betty Bacall, watching the ritual, took it all in and said in her ineffable baritone, "Lenny is trying to cry."
My Betty, who was within earshot, carefully reported this perfectly aimed poisoned dart at her friend, Lenny, for the not-so-innocent merriment of all who were near. The balloon was burst and Bacall seemed intent on resetting the world to neutral, even as the cameras were rolling and cheers were ringing through the evening air of the Berkshire Mountains.
Bacall was unique among the famous colleagues, acolytes, and friends who surrounded Leonard Bernstein, because she alone could put him and all of us in our place with four or five words, applied with a master executioner's skill. It only stung for a moment, but the effect was lethal.
The last time I saw her, she was rushing through the lobby of the Beverly Hills Hotel. As she passed by, I said, "Betty! It's John Mauceri. How are you?" She looked at me for a second, probably trying to figure out just who the hell I was, and bellowed, "I'm late for a shooting." That was it. I was not -- and never had been -- in her life. She was in mine. Lenny was gone. No need for me. I was simply another faceless and annoying fan, not a colleague.
At first I was insulted, of course. She was just so damned rude -- and LOUD! And then I realized she had inadvertently given me one lasting lesson. "John thinks he's important."
John Mauceri
August 14, 2014
Popular in the Community