Lauren Bush is President George Herbert Walker Bush's granddaughter, "W"s niece, a model, fashion designer, photographer and soon to be daughter-in-law of fashion legend Ralph Lauren. Bush is also the CEO and co-founder of FEED Projects LLC and the Chairman of the Board of the FEED Foundation. In 2006, somehow she found the time to design a bag to benefit the United Nations World Food Program's (WFP) School Feeding operations. Bush, a WFP Honorary Spokesperson, had visited eight WFP food aid operations around the world, and was inspired by the plight of the people she met on her travels. She took a special interest in the needs of hungry children.
Inspired by the aesthetic of the bags of food distributed by the UN, she created the FEED 1 bag, a reversible burlap and cotton bag stamped with "FEED the children of the world" and the number "1" to signify that each bag feeds one child in school for one year. The rest is history.
I caught up with 26 -year-old Bush at Capitol File Magazine's 5 Year Anniversary Party at The Collection at Chevy Chase, just a stone's throw from where her aunt, Doro Bush Koch, and several of the Bush family members call home. Bush came to the party after she had visited a local boutique and went nearby to grab a salad. No entourage or publicist. She was so damn normal and I loved her for it.
Four years after FEED was created, the organization has sold 506,898 bags and provided 59,338,292 meals (Numbers at press time -- they have a "ticker" on the site that is constantly updated.) Yes, almost 60 million meals. Bush says we can and should do more. "There are tangible ways people can get involved," says Bush, "we have the retail side where you can buy bags and they'll feed a child for a year. But we also have people doing wonderful things like 'instead of presents for my birthday, please donate to FEED.' It's amazing."
You can also help by using your social marketing mojo to spread FEED's news and need to your online tweeps or volunteer. I told her my kids love doing lemonade sales for causes and apparently when neighbors see cute toddlers with their version of a food truck and handmade signs, the money rolls in. "Yes, that is so great; we love to have children involved." Guess what my brood is doing this weekend?
In addition, FEED is now doing custom bags for events, corporations, goodie bags and weddings. How fabulous is that? If you're going to do a giveaway bag, why wouldn't also make it eco-friendly, fair trade with the sugar on top of feeding hungry children throughout the world? Duh!
In the middle of our chat, she breaks off, apologizes for interrupting and asks if I wouldn't mind waiting just one minute. "I want to say goodbye to my aunts" (Doro and Tricia Koch). The three Bush ladies hug, laugh, chat and kiss goodbye. It is so warm and loving I realize I'm missing my own mom. "Can you take a photo of us together for me please?" Bush asks while handing me her iPhone. I'm sweating a bit since I'm a blackberry user (I know, I know.) I take a couple photos of the Bush trio smiling holding FEED bags, the aunts beaming with pride.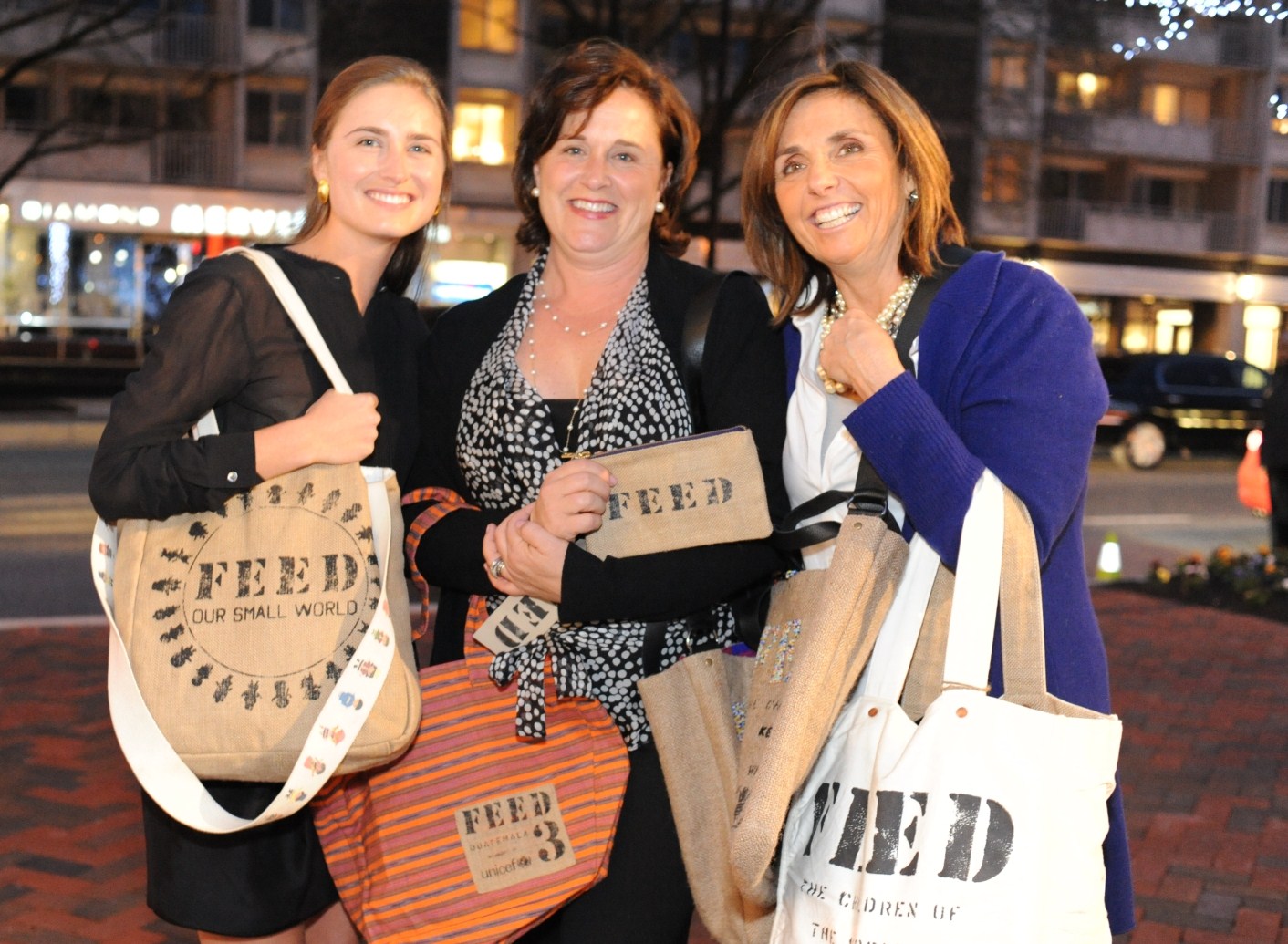 photo credit: Daniel Swartz / REVAMP.com
Bush is engaged to David Lauren, a senior executive at Polo Ralph Lauren and Ralph Lauren's son. I ask her about how wedding plans are coming and she blushes a tiny bit. "We're working on it," she says with a smile. Yes they will live in New York where she can continue focusing on her fashion line, Lauren Pierce and focus on ensuring that everyone has the right to basic human necessities, such as healthy and nutritious meals. Won't you buy a reusable FEED bag and give a hungry child the best present of all - a warm meal?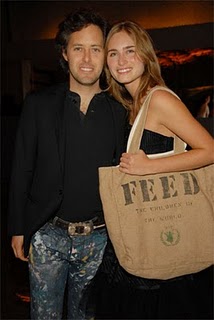 You can learn more about FEED Projects and the FEED Foundation here:
Popular in the Community