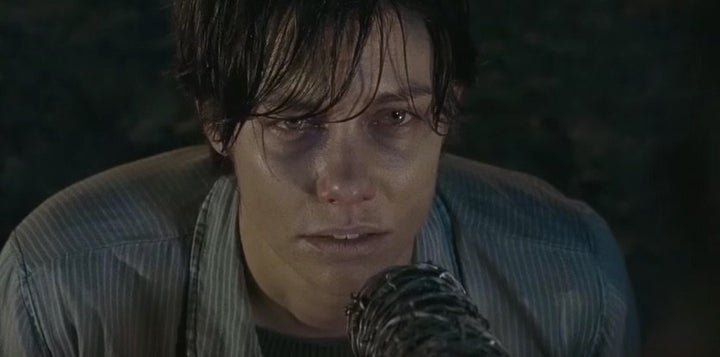 Wake up, "Walking Dead" fans, Maggie has something to say to you.
The "Walking Dead" Season 6 finale had some fans feeling like the new villain bashed them in the head thanks to a massive cliffhanger. As Negan (Jeffrey Dean Morgan) swung his barbed-wire-covered bat down at some unknown victim, the screen went black, and we were all left wondering, "Wait! Who died!?"
Fans of the show have combed through the footage looking for clues about the victim, and now, thanks to some insider input from Maggie herself (Lauren Cohan), it looks like they might've actually found something. So no offense to Negan, but Cohan is our real Savior.
If you listen to the slowed down audio after the screen goes black in the finale, fans say you can hear someone saying "Mag" or "Maggie," aka Glenn's dying words in the comics. There's also a scream that fans have matched up to Cohan's, which may further indicate Glenn is the victim.
If you listen closely, you can hear something similar to this during the regular audio, too. Alert, there's some disturbing sounds below:
This would basically prove it's goodbye for Glenn, right? But did Steven Yeun actually say "Mag"?
According to Cohan, it's possible.
The actress told The Huffington Post that the actors weren't even present when Negan swung his bat in that final scene.
"Here's a good piece of intel," Cohan said. "We shot the scene, and then individually went into a [sound] booth privately to record audio, so I don't know."
She continued, "Nobody knows what anybody else said."
So could Yeun have said, "Mag"? Sure. And could that scream belong to Cohan? Yep. It's possible.
Cohan's been busy since the finale. In addition to being bombarded with questions on Season 6, the actress recently teamed up with Subway in honor of the new Carved Turkey sub and handed out sandwiches to hungry New Yorkers on Thursday, even dropping off sandwich platters to deserving families around the city through the GOOD+ Foundation.
"We are bringing Subway sandwiches and gift certificates and some awareness to GOOD+, which is here in New York City, so we're having two celebrations of New York in one place," said Cohan.
The actress opened up to HuffPost about all those unanswered questions from the finale, hinted Subway could be the secret cure for the zombie virus (duh) and somehow wound up getting the free Subway for Life card during the interview. Like, what?
What's it been like since the finale?
We knew that it was gonna have a giant impact, and I think that our creators knew that this was going to get people sort of a little hot under the collar. And we're just looking forward to coming back, to be honest.
You and Negan (Jeffrey Dean Morgan) play Batman's parents in "Batman v Superman." What? How did that happen?
I know. It was so random. This was before he was cast as Negan because we shot the film almost two years ago.
No, and we knew it would be crazy, too. Because once he was cast, he came out to set and we were just laughing because the context of which we worked together last time and then the context of this just couldn't be more different.
What do you think about the strong fan reaction to the finale?
I don't think there would be such a deep reaction if people didn't care so much and our creators hadn't built this relationship between the fans and the show. I feel bad that it's so tentative, but I'm also glad that you're going to be on this journey with us.
And if it's any consolation, we're all in the same boat. But I think that's exciting. It's incredibly infuriating. It's like anything else. It's like, I can't make Santa come two days before Christmas. He comes on Christmas Day! Negan is not Santa by the way [laugh].
Was it always a cliffhanger in the script?
Yeah, we knew it was going to end with a lot of uncertainty. And we don't know. Like, we have possibilities, but we don't know what's actually happening.
So you're going to have to film the scene again?
Maybe. It's just without knowing exactly what the timeline is going to be. It's still an unresolved thing. I mean, obviously our showrunners know what's going to happen, but I think they like to make it easier for us to not have to. For once.
Does that mean you're cutting your hair again?
Yeah, I mean it's only a couple inches. Yeah. If I go back ...
I know! It's just so -- I see what you're doing [laugh].
What was it like actually shooting that final scene?
We knew we were going to be all lined up, and it was going to end on "eeny, meeny, miny, moe." It's chilling when you read it, but it wasn't really until the day -- I literally have like PTSD thinking about the place your mind and your body are at.
Did Negan add in some of his language from the comic?
Yeah, so we did the PG and the R-rated version. I feel like such a dork saying PG and R-rated. But yeah, definitely. It's on the DVD and it's on the Blu-ray.
OK, but were there any dumpsters to hide under out there?
No, but they could've hid under the car I suppose.
Why did Maggie get her hair cut?
I want people to kind of take their own thing. I think with women, maybe more than men, I think haircutting is a symbolic evolution. Whether it's cutting it all off or shaving it. I wanted to shave it by the way, but this is not really the right intention or tone, I should say. It's a preparation. It's a suiting up.
Does she fall to the ground because there's something wrong with the baby, or is it just a bad haircut?
[Laugh] No, she's definitely in a lot of pain. There was a line that we actually took out, where Enid says, "What's going on?" And [Maggie] says, "Something's wrong," and then we cut to those guys being captured, so it was sort of an intuitive instinct but also a physical pain. You can take it a million different ways.
Will Enid ever get out of that closet?
I know! How unfair! I mean, I kind of get it. But I'm so frustrated with Carl right now.
Yeah, he just locks her in and leaves.
What if nobody makes it back!
She's gonna be in there a really long time.
I don't know how long you live in a closet. She's gonna have to eat. Are there clothes in there? And Enid's an asset, too. She's definitely wily. If Enid had followed us to the woods and was somehow hiding out and protective and invisible ... she's not, so whatever. Dreams, dreams.
Also, what happened to Jesus? He disappeared, too.
Yeah. Jesus, Carol ... Morgan, Enid, Heath, Tara. We've got a handful of people that we didn't see at the end ...
What would a zombie get from Subway?
They would get better [laugh].
I'm just kidding. I think we're better off if we take the Subway to the zombies, just because we don't want to scare people off.
Would Subway make it through a zombie apocalypse?
No, because it's so fresh.
In "Happy Gilmore," Adam Sandler gets a Free Subway for Life card. Does this exist and have you used it yet?
I will get this card at the end of today.
Extra cheese, extra turkey, you don't have to wait in line. This isn't real, so don't put this in [laugh].
[NOTE: The following events are unbelievable, but they are recalled to the best of my ability.]
As Cohan and I chatted about the unattainable bliss of a Subway for Life card, the publicist chimes in and tells Lauren, "We actually do have a Subway Black Card we can give you. They're not like Subway for Life cards, but they essentially are because you can just refill them." Cohan then whispers to me, "I'll share it with you."
This is about the time I blacked out. It also strangely coincides with the same time I heard angels singing. Thoughts of being in sandwich heaven are just too much for yo boi.
So yep. Lauren Cohan is definitely a savior.
Before You Go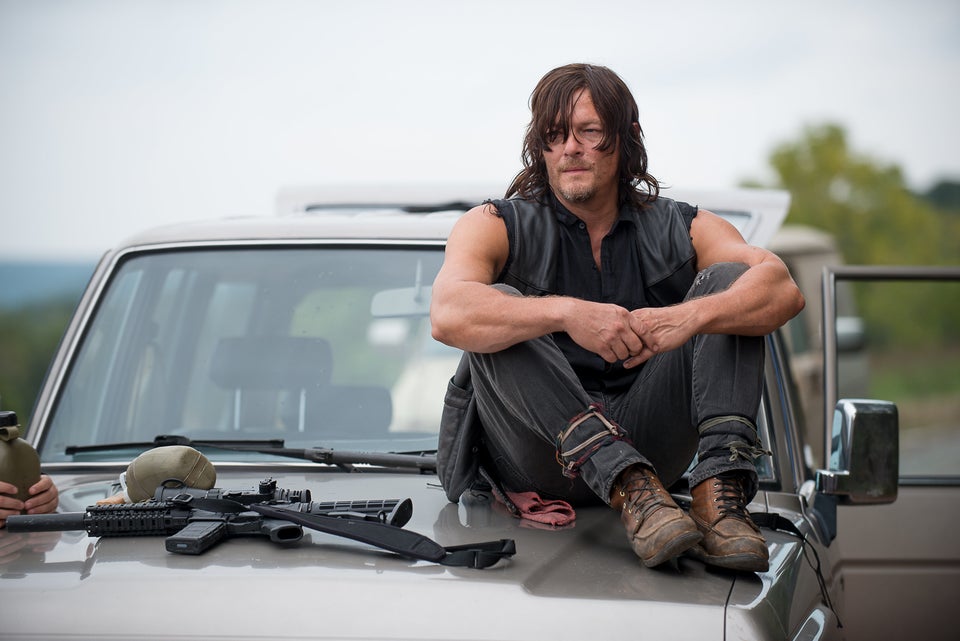 The Walking Dead
Popular in the Community