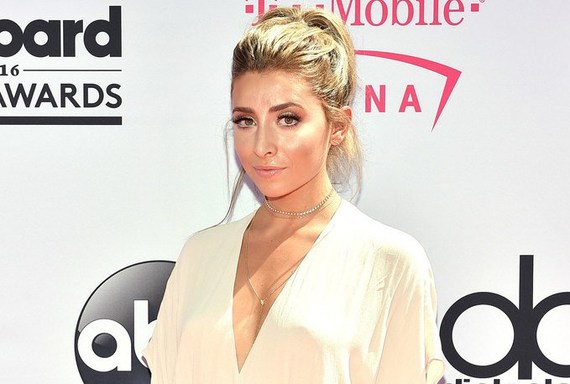 With the craving to be a social media star at an all time high, it's hard to differentiate the one-hit wonders and the folks with real talent. Luckily for Lauren Elizabeth, she's one of the very few who get to call themselves a true socialite.
Hailing from Los Angeles, Lauren first started out as a simple blogger. Since then, she has nurtured her brand into the powerhouse it is today. Having garnished well over 4 million followers, it's hard to believe that a 21 year-old could produce as much success as she has. When Lauren's not creating episodes for her YouTube channel, you can usually find her reading a script or posting content on her new self-named app.
Celeb Secrets recently caught up with the internet mogul to talk about her cameo in the upcoming film Airplane Mode, the new Lauren Elizabeth app, her decision to move into a new apartment without her BFF, getting back to her roots, and more!
CelebSecrets: Are you currently obsessed with any songs and/or shows right now?
Lauren Elizabeth: "For songs, I'm obsessed with the new Ariana Grande album. She's been releasing singles off of it and I really need to download it. For shows, I haven't really had time to watch TV lately. But I am excited for the new season of Scandal and The Bachelorette. Those are my Monday night plans."
CelebSecrets: Being a beauty blogger and all, you probably see some crazy trends everyday! What is the weirdest one you've seen yet?
Lauren Elizabeth: "I think the craziest beauty trend right now is the stuff with eyebrows. Everyone is bleaching their eyebrows! I would be so afraid to bleach mine. Not only would I look awful, but I'd be so afraid that something bad would happen like they would fall off or wouldn't go back to normal again. People are also putting glitter in them now. I would never mess with mine. Maybe my eye shadow, but not my eyebrows. The eyebrows really frame the face."
CelebSecrets: Other than your app, what 3 apps can you not live without?
Lauren Elizabeth: "Instagram, Twitter, and Google Maps. I can't get anywhere without the Google Maps app. If I had to choose three, that would definitely be my third. I don't really need iMessage since I can talk to people through Twitter so I just really need my Google maps so I can get around and not gett lost 24/7."
Celeb Secrets: What are your thoughts on the new Instagram icon?
Lauren Elizabeth: "I honestly didn't think it was a big deal at first. I was like, "Oh, cool." But then everyone on the internet went crazy about it! I guess it's the new cool thing to dislike the Instagram logo. However, I did see that meme that compared it to a PowerPoint presentation - that ruined it for me. At first I didn't hate it, but after I saw that comparison I just kept asking myself "How did this happen?" I love the new layout though. It matches my theme, it's clean, and aesthetically pleasing."
Celeb Secrets: Can you tell us more about the Lauren Elizabeth app and what fans can expect from it?
Lauren Elizabeth: "It's basically a new, innovative space where people from middle school to high school to late twenties can use. It'll be growing with me since I am in my early twenties, but I have a personality of both a 12-year-old girl and a 40-year-old woman. It's a hub for everything I'm already doing and new things that I want to share like exclusive content, my obsessions, my written work, my travels, my favorite products, etc. It's like a curated editorial magazine that I'm doing all by myself. There's something for everyone on it. I'm really excited to have that creative outlet for myself again and even more ways to connect with everyone. There's a great discussion space on there where people, including myself, can talk. There's a ton of stuff! You can literally sit on the app and be entertained for a long time. I'm constantly posting and commenting on there so I'm excited to see where I can take it."
Celeb Secrets: What inspired you to create your own app?
Lauren Elizabeth: "Before I started anything, the first thing I did was create a blog and a website. So I always had a passion for writing and journalism. I studied journalism my first year in college so that's kind of where my creative outlet began. Then YouTube began to really take off so I let my blogging take the back-burner. It was something I wasn't really doing anymore. So a big goal for me this year was to re-vamp myself and get back into that writing realm. That was truly how I started out. I miss it and I think it's a great thing to have under the umbrella of my brand. I feel that it is something that girls have really been wanting since my channel covers a lot of fashion/beauty to more comedy/lifestyle. There's stuff that I don't really cover on my YouTube channel, but I can on my app. I just really wanted to get back to my roots and to connect with people for years and years to come."
Celeb Secrets: Can you tell us more about the film Airplane Mode and the role you play?
Lauren Elizabeth: "I actually play myself in Airplane Mode. I have a little cameo in it. It's kind of like the movie This Is The End with James Franco. I'm like Emma Watson when she randomly shows up in the movie. Logan Paul is really amazing, he's a good friend of mine. So he told me that I was the only pretty girl that he could find who wouldn't mind getting pied in the face. That is how I got the part. It's basically a bunch of YouTubers who mostly playing themselves. The big scene I'm in is when we're on the plane and we lose cell service. Everything goes crazy and haywire! I'm the beauty blogger who gets destroyed by all this silliness going on around me. It was definitely fun being on set and I'm excited to see how it all turned out."
Celeb Secrets: What was it like working with Logan Paul and the rest of the cast?
Lauren Elizabeth: "It was so much fun! It was so interesting because this is the third movie set that I've been on and each one is so different. Coming off from my last movie We Love You which will be on YouTube Red, I couldn't have my phone on sent and I really had to spend time focusing on my character. On the set of Airplane Mode, you're literally walking around with a bunch of Viners and YouTubers collaborating on SnapChats and Vines. It was so weird because even though I come from digital and I'm acting now, seeing it all meet in the middle was interesting. Everyone was so creative, funny, and constantly making all this content. It was a really cool set to be on. They were all exactly how you think they would be in person."
Celeb Secrets: Are you working on any other projects at the moment?
Lauren Elizabeth: "My app is definitely my second focus right behind acting. I just wrapped up my last movie so I'm just trying to find my next project for this summer. Hopefully I'll shoot another feature in the next couple months. I have a ton of classes and auditions going on right now. Acting is a really weird world so I'm working on that and the app. I'm very passionate about my app so I definitely want to make that what I and everyone else wants it to be and more. For my videos, I'm still working with AwesomenessTV to constantly pilot different concepts. One that were doing right now is "Cooking With Lauren". I also shot a new series called "Driving With Lauren". To be able to bring up the content on my channel is definitely a priority this summer. So pretty much do what I'm already doing, but bring it to the next level."
Celeb Secrets: Since we are Celeb Secrets, do you have secret you'd like to share with us?
Lauren Elizabeth: "I think the only secret right now is that I'm going to be moving for the fourth time in LA. My best friend Jenn McAllister and I have been living together for about a year, but now we're moving into our own apartments. We specifically got apartments next to each other though. We're obsessed with each other, but we both need office spaces since we're always doing our videos and stuff. So I'm really excited to tell everyone that I'll be doing a new room tour, office tour, home decor, and more on my app and YouTube channel. Moving is always fun when you can document it on social media. It's a secret just because Jenn and I don't want to freak everyone out. People will assume that there's drama just because we're not living together anymore, but we're still best friends and we're moving right next door to each other. If we could breakdown the wall, we probably would! Jenn was telling me how she still wants to be at an arm's length from me and I told her how I found an apartment right above me so we're good."
Featured photo by David Becker/Getty Images
Calling all HuffPost superfans!
Sign up for membership to become a founding member and help shape HuffPost's next chapter