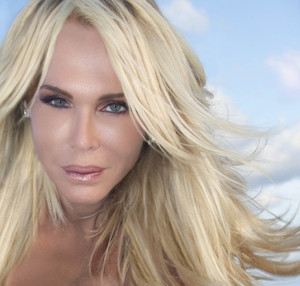 When Lauren Foster appeared in a six-page spread in a 1980 issue of Vogue Mexico people assumed she was just another girl. Little did they or even the editors know, she wasn't. She was born in Durban, South Africa 23 years earlier as a boy. While she's one of the world's most recognized transgender women and one of the first to appear in Vogue, she really does prefer to think of herself as just another girl.
"I used to say that to my mom when I was kid," Foster says from her New York apartment. "I don't reside in my transgenderism."
With individuals like Caitlyn Jenner and Laverne Cox in the public eye, the trans movement is stronger than ever. Although Foster has been called the "it girl for the transgender community," she doesn't consider herself a pioneer. She acknowledges those who came before her, but feels the time has come to tell her story and continue to provide inspiration to others. On September 8, she launched her new website titled "Just Another Girl," the first online guide to the transgender community.
"With this new gender revolution, we all have an opportunity to change and let the world see us for who we really are, one step at a time. That is how we effect change. One step. One moment. One kindness at a time. I hope in sharing my knowledge with you, your journey is a little easier," Foster writes on her website.
Foster describes herself as fun, exciting, reckless, adventurous and a risk taker. Anyone who saw her on Real Housewives of Miami, the first transgender woman to appear on the franchise regularly, would agree. She's also proven herself as an actress in Circuit and Joseph Lally's provocative and artistic films, Faces and Miss America Commits Suicide. Additionally, for over a decade she worked with Jeffrey Sanker, the most powerful promoter in the underground party circuit, and went on to manage DJ Paolo, Tracy Young and Grace Jones. No matter what path she takes, there never seems to be a challenge too big.
Her journey to greatness started when she was just six and her father, the captain of his cricket team, took her into the men's locker room after a match.
"The smell of the musk of all the men around me made me very anxious and made realize I shouldn't be there in that spot. I ran out of the locker room, tripped and fell and ran screaming to my mother, 'I want to go home!' That's the first recollection of when I realized I wasn't wired correctly," Foster recalls.
Unlike countless individuals who don't have the support from their families, Foster was always accepted and calls her childhood "amazing."
At 18, she fully transitioned and never looked back. She hopes her website, which she equates to Allure or New Beauty magazine for trans women, will offer the same care and guidance she had. With an overwhelming amount of information on the Internet -- some inaccurate and outdated -- Foster says her site contains all of the best resources for those thinking of transitioning, in the process of doing so and the encouragement for every step along the way. With no graphic content, it's also a place where young people can visit and find answers to their questions.
Spiritual leader, author and close friend to Foster, Marianne Williamson, will contribute content to the Spirituality/Mental Health portion of the site. Williamson says it's a gift to know Foster and describes her "like an exotic bird that's also your get-down-with-it girlfriend." The two first met during one of Williamson's lectures in the late '80s when one of Foster's friends dying of AIDS went looking for spiritual guidance. Having founded Project Angel Food, a meals-on-wheels program that serves homebound people with AIDS, Williamson was at the forefront of outreach to AIDS patients. When it comes to the transgender community, Williamson's thoughts resonate with Foster: "Spirit has no gender."
"She had the courage to take on this challenge when it was exceedingly rare; if anybody knows the ropes, she does," Williamson says. "There are a lot of life issues that will be easier for people because her site exists."
It's no small wonder Foster and Williamson would connect. Foster has always chosen to walk in the light and rise above negativity. Shortly after appearing in Vogue, another model outted her as transgender. Foster forged ahead.
"It was in print, so it wasn't so jarring," Foster says about the experience. "A week later the story was probably lining the bottom of someone's bird cage. If it happened now it would be different because the story would continue to live on. I knew I could embrace it or let it hurt me."
Forster is also penning her memoirs that will read as a love story. She says she'll reflect on the beauty in her life, which includes wonderful and intense relationships, including her long-term marriage to architecture-firm owner James Foster.
"Not many men can openly love trans women. I have been fortunate to have had that happen to me. I want to give people hope. You don't need to be embarrassed to have a transgender woman as a girlfriend or wife. I've never been with a man who has been embarrassed to be with me. I want to dispel all the myths," says Foster.
Over the years Foster has learned many lessons; the greatest being honesty and humility. Whether it's in front of the camera or in her private life, she's redefined what it means to be a woman.
"My life has had so many great moments," she says. "It's certainly not tragedy; it's rejoicing."
Not bad for being "just another girl."
Popular in the Community