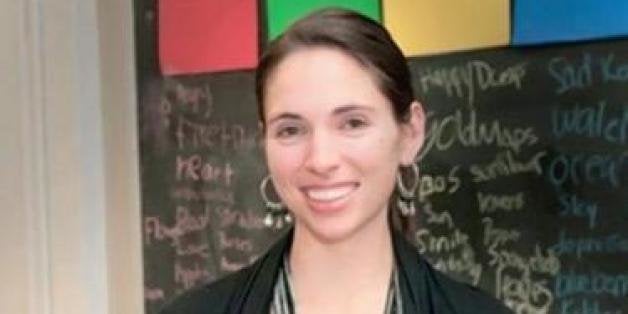 A former teacher at a Pennsylvania high school was sentenced Friday after pleading guilty to having sex with students.
She was initially charged with institutional sex assault of two students, ages 18 and 17, but ultimately pleaded guilty to charges of felony sexual contact. She also pleaded guilty to two felony counts of corruption of a minor for "sexually explicit conversations" and inappropriate sexual contact with two other boys, 17 and 16.
She was sentenced to nine to 23 months in prison, according to Citizen's Voice. In addition to prison time, she was ordered to register as a sex offender and is prohibited from working with with children. She resigned from her position at the school in January, and her teacher's license was suspended in August.
Harrington-Cooper was investigated late last year after parents of the 18-year-old found inappropriate text messages on their son's phone. When questioned by police, the victim said he'd begun a relationship with the 31-year-old teacher after she texted the teen's sister and said that the teenaged boy was "hot." He said he'd had intercourse with her twice, and that the teacher had performed oral sex on him three times.
But those were not the last allegations against the teacher to surface. The corruption of minor charges stemmed from incidents in which prosecutors said Harrington-Cooper engaged in inappropriate activity in a classroom, showing one victim her breasts, and engaging in inappropriate contact with the other.
While school officials maintained they had no evidence of inappropriate contact taking place at school, police allege... one instance in which she allegedly told a student, "All the candy you need is right here."
Prosecutors said the woman abused her position of power as a teacher.
Harrington-Cooper said little in court Friday, the paper reports, instead submitting a statement in which she said she regretted her actions and the damage she had done to her victims.
"She has been diagnosed with some significant psychological issues of inadequacy," the woman's lawyer, Joe D'Andrea said. "You would think that she's a pretty, young girl, that she would feel good about herself. But her self-esteem issues have really troubled her all of her life, and she found comfort and solace in some people giving her attention, as wrong as it was."
He also said that the case has strained his client's marriage and family life.
REAL LIFE. REAL NEWS. REAL VOICES.
Help us tell more of the stories that matter from voices that too often remain unheard.
BEFORE YOU GO
PHOTO GALLERY
Teacher-Student Sex Abuse Cases