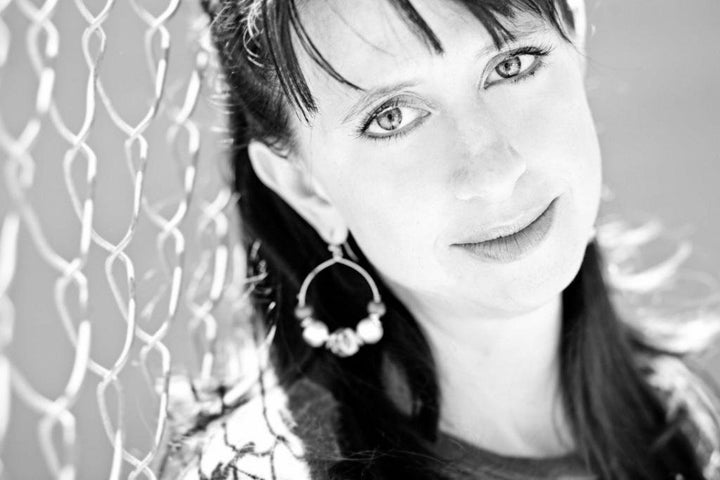 "I've had a wonderful time, but this wasn't it."
--Groucho Marx
On October 10th, I received one of the most exciting calls an author can hope to get: My novel, Shine, was a finalist for the National Book Award! Holy pickles!
"Are you sure?" I asked Harold Augenbraum, the director of the National Book Foundation. "Are you really and truly sure?"
Harold chuckled--this wasn't his first time at the rodeo--and assured me that yes, Shine, published by Abrams, written by me, Lauren Myracle, was indeed a finalist. "Congratulations," he said warmly. He told me to keep the good news to myself until the official announcement on the 12th.
I hung up the phone glowing, and the glow didn't end there. It grew inside me during the wait for the announcement, made live from the Oregon Public Broadcasting station, and then once the news was public--whoosh! The secret spark flared into a warm fire in my heart as family, friends, colleagues, and total strangers flooded my inbox, voicemail, Twitter account, and Facebook page with messages of congratulations.
Oh, it felt good! To hell with that--it felt frickin' glorious. This book, Shine, this book that my beloved editor and I had bled our souls into, had been declared--to the world--one of the best of the year.
And then, two hours later, came a concerned email from a journalist friend. "So what do you think of the Chime/Shine mix-up?" she asked.
"The..." My gut clenched. "Excuse me, what?"
"Oh dear," she wrote back. "Perhaps you should do some Googling. And Lauren? I am so sorry."
It was her "sorry" that triggered the freefall from exultation to confusion, from shock to humiliation, from bouncing off the walls to sliding down a wall until I was slumped on the floor, my knees bent and head in my hands. Speculation trickled in all that day and the next. Shine wasn't supposed to be on the list. Someone mistook Shine for Chime. Are they gonna keep Shine on the list?
Harold Augenbraum confirmed the rumors. There had been a miscommunication. Someone had said Chime and someone else had heard Shine. (For security reasons, the National Book Foundation had handled all the award communication by phone.) "But you are still a finalist," Harold Augenbraum told me firmly, his manner fatherly. "Don't let anyone take that away from you."
You don't have to tell me that, buddy, I thought. No way am I handing this honor over. I'm a National Book Award finalist!
Well, the joke was on me, as late Thursday evening I received another call from Harold--he was extremely apologetic--in which he told me that there was "push-back," and some had reversed their opinions and wanted Shine off the list, and how did I feel about that?
Then came the weepy weekend, with endless tears of the hiccupping, losing-it variety--and of course I was still receiving a flood of emails, cards, flower deliveries, and champagne. The latter, at least, came in handy...
Telling my parents about the mix-up, and telling them about the decision to pull the book--by that point the writing was on the wall--that was the worst part. God, it sucks to disappoint your parents, even at forty-two years old. They were nothing but loving, of course. I should have known they'd be. I did know they'd be. It still sucked.
So: Jump forward to Sunday, when it's time to end this mess. My sister, fellow writer Susan Rebecca White, helped me craft my withdrawal statement, and then my unflaggingly classy editor, agent, and publicists took it from there.
How the story played out after that is pretty much public knowledge--although one thing I'd like very much to add to the discussion is that this has been hard not only for me, but for the NBF staff, the judges, and most importantly, the real nominees in the Young People's Literature category. Franny, Gary, Thanhha, Albert, and Debby are incredibly talented writers who've written amazing books that absolutely deserve this honor.
I am also glad that, in all the discussion, the NBF generously agreed to donate $5,000 to the Matthew Shepard Foundation. Shine is about a hate crime and the bullying of gay teens, and the donation represents some real good to come out of all of this.
Also in the good column are the responses I received. Some were horrified, some were amusing, some were plain old cyber-hugs.
Here's a sampling of my favorite tweets:
Reading about the National Book Awards drama with my mouth hanging open. I simply can't believe this. Lauren Myracle is a class act. --@jessicaklow
I just read of the debacle and spit gin at the screen. --@Viklets
I want to be Lauren Myracle when I grow up. --@cjomololu
Husband thinks Abrams should make sticker for cover that reads: Erroneously Nominated for NBA. --@librarianlost
What a tale. I honestly cried, what a storm to push through! The emotional rollercoaster, one can't imagine. --@soupoftheday26
I want to read the book NOW! --@mysterysquid
OH MY GOD LAUREN MYRACLE CONGRATULATIONS ON THE BOOKER oh wait nevermind sorry. --@michaelschaub
As a gay boy living in NC, thank you for Shine, which I wldn't have known about w/o the screw-up. You may have saved my life. --@anonymous
NBA is missing out. Lauren is best part of a party! --@SarahMlynowski
How bout a T-shirt that says: My book went to the National Book Awards press conference, and all I got was this crummy PW Daily article! --@LauriHornik
In honor of SHINE & the MattShepardFDN I'm going to buy a couple of cases of SHINE for them to distribute to LGBTQ teens. --@tanyaleestone
Ah, life. Messy, wonderful life. This craziness has been good for me in that it's pushed me to do some self-examination, and though I try to be honest with myself in general, certain situations press down harder than others.
- it's just one more reminder not to be so invested in validation from external sources;
- some people are idiots;
- far more are generous and kind;
- all the shame I felt? That shame gets a one-way ticket to...God, I don't know. Oblivion, I suppose, because I didn't do anything shameful, people make mistakes, and I am truly lucky to be part of a great, funny, fierce, and compassionate community of writers, readers, publishers, and friends.
When things first started falling apart, my fear was that people were going to point at me and laugh.
A couple of people have, but mainly I feel embraced, supported, and hugged, and hugs (even virtual ones) are really, really awesome.

Related
Popular in the Community