The Cool Kids is a series documenting creative humans shaping present day society with their work and outlook.
Lauren Nukes & Brian Duck | Founders | Atelier Management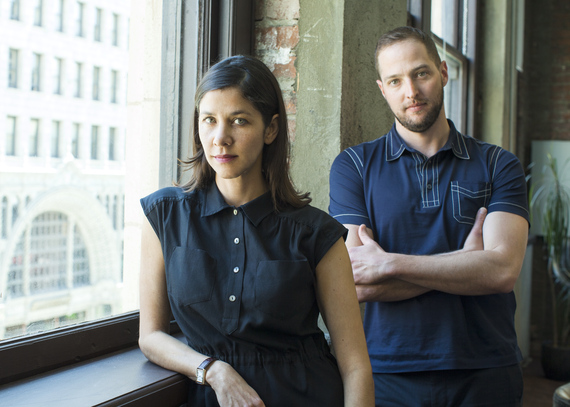 The story of Atelier Management began with the individual careers of founders Brian Duck and Lauren Nukes. Brian, a third generation Angeleno, began his career in the arts as a member of the Alvin Ailey Dance Company before making his way into the world of production. Lauren started in the graphic arts department at Warner Bros. Records, Geffen, and DreamWorks Records. When DreamWorks closed, she found herself client side at an agency in Minneapolis. As fate would have it, their career paths brought them together in 2005 on a shoot in Palm Springs where they discovered their like minds and professional approach. It was this immediate kinship that led them to vow that one day they would have to work together. A year later, Atelier Management was born with a simple mission: To be a kinder agency that prioritizes the happiness of both their artists and their clients.
Now in year eight, Atelier Management is home to some of the most prominent "behind the scenes" talent including photographer Hillary Walsh, make-up artist, Gloria Noto, stylists JAK, and production designer Stephen Caputo. Their work has been grabbing the attention of Elle, Vogue, and Vanity Fair with completed shoots for a list of brands that boast HBO, H&M, Louise Vuitton, Gap, Target, Revlon, Ralph Lauren, Samsung and Apple. I caught up with Lauren and Brian to talk about Atelier's approach, what makes them different, and their relationship with Downtown Los Angeles.
Lauren Nukes and Brian Duck, co-founders of Atelier Management.
 
How did Atelier Management come to be?
We met years ago on a two-week shoot in Palm Springs.  One night we were having dinner and we said to each other "we should do something together!" We didn't know in what capacity, we just really got along and liked each other's energy. A year later, he called me and said, "Let's do this."  
We started representing photographers with a small roster out of Lauren's house. 2 months later we moved to Downtown LA and a year and a half later we opened our NY office and added our first employee. We now have 8 employees and represent 50 artists.
 
What makes your agency special?
To be honest, we just wanted to be a kinder, gentler agency. I, [Lauren] came from the client side and some staff at agencies weren't always pleasant to deal with, and it's an opinion a lot of people shared with us. We thought, we can do this, we have done this, but we can do it nicer, all the while making sure our artists are happy, protected and taken care of.
When did you discover you were on to something?
When the phones started ringing. Within a few months clients and artists started seeking us out.
What's Atelier's relationship with Downtown Los Angeles?
We opened our first office in Downtown LA in 2006. It was right when the downtown revitalization was really starting to kick in. Rents were affordable - Our first space cost us $500 a month - but things were changing, and you could feel it. New restaurants, apartments, renovations were popping up all over Downtown LA. It's come a long way since then - when we moved in, people were still shooting up on the sidewalk -- but the buildings were amazing and the architecture was gorgeous and there were all these great people trying to create this new energy and a new zone in a place that was full of history -- and it just felt right.
And you kept your offices in DTLA as the company began to grow?
Yes. In October 2014, we needed more space so we moved a couple blocks away to Broadway. (Next door to a quinceanera dress shop!) The building we are in now used to be an old department store that was just renovated into office spaces, and it's beautiful - we love that we have a wall of 8-ft windows that overlook Broadway.
What about the work you do brings you the most joy?
When people are happy with the job we have done.  Getting that call or email saying all you did is appreciated is the icing on top. When a client or artist is happy, it just completes it.  Really, you just want to do good work. In the end you just want people to have a great experiences and be happy and think, "that was so easy and drama-free."
What do you discover about yourselves through your work?
How lucky we are to be doing what we do.  It's such a fickle industry and to be able to do this and do it successfully is something we never take for granted.
 
What do you hope to achieve with Atelier Management? 
We want to do good work, encourage our artists to do good work, and make clients happy - it's really as simple as that.
 
What does your work/artists contribute to society?
 Visual beauty inspires pleasure.  
 
As creatives, what do you hope to contribute to the world?
Our artists are the creatives, but we have a enormous appreciation for art and beauty and it's thrill whenever we can help them succeed. It's really cool when you're driving down the street or flipping through a magazine and you see something that you've helped produce.
Do you guys have a personal mantra?
Everything in life is simply one foot in front of the other.
Calling all HuffPost superfans!
Sign up for membership to become a founding member and help shape HuffPost's next chapter