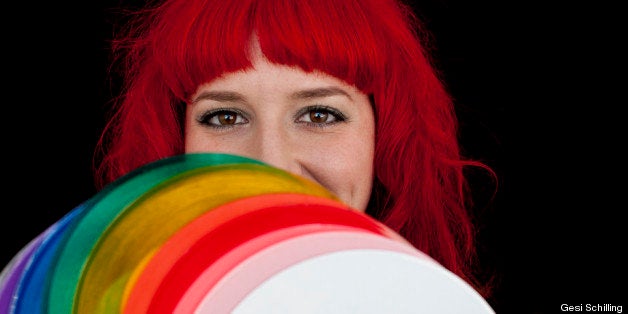 Miami needs about 100 more Lauren Reskins if it's going to stop losing its ambitious, young, and talented to Los Angeles, Portland, and Brooklyn.
Growing up here, Reskin felt discouraged by the lack of good concerts and almost skipped town for some other city with a more robust music scene.
But instead she dug her heels in, opened up an indie record store, and started bringing bands down to play.
Sweat Records is to Miami what Amoeba Records is to L.A., what Easy Street is to Seattle. It's not just a place to buy music, but the epicenter of local indie culture from the latest pressing by a local band to Miami-made vegan cupcakes.
For the third year, Sweat Records will host its annual Sweatstock on national Record Store Day this Saturday. Iggy Pop is the guest of honor and lineups include Psychic Mirrors, Plains, Arboles Libres, and Afrobeta.
HuffPost Miami spoke with Reskin about why our often misunderstood city is really a "semi-secret oasis of awesome."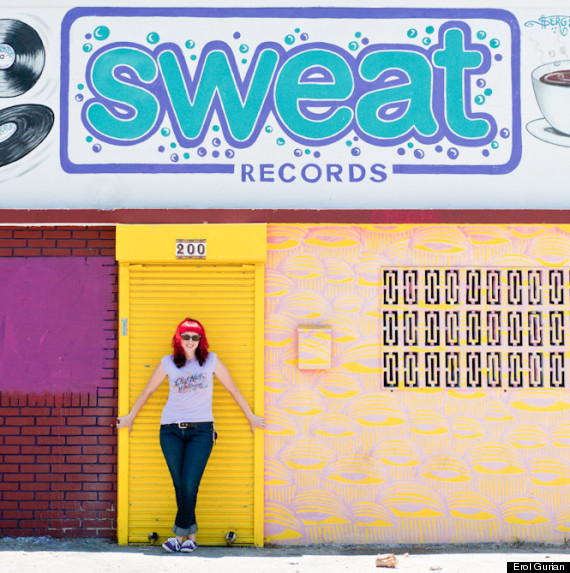 Who are you:
Lauren Reskin (or Lolo), owner of Sweat Records, DJ, event planner.
Years in Miami:
Born and raised here and never left, so 29.
Favorite childhood memory in Miami:
Skating every weekend at Hott Wheels in Kendall, going on bike rides with my dad and brother to find mangos, playing in the roots of huge fallen trees after Hurricane Andrew
Current neighborhood:
MiMo/Upper East Side
Current gig:
Overseeing the grand scheme of Sweat Records, DJing at The Vagabond, Bardot and random art and social events, putting out vinyl on our Sutro record label.
Favorite 'Only in Miami' moment?
Every time Caveman comes to sell us coconut water at the shop. Caveman is a grizzled older guy who never wears shoes and pushes a shopping cart full of coconuts and a machete through Little Haiti.
What's your idea of a perfect day in Miami?
Coffee, wandering around the beach, going to the free yoga class at Bayfront Park, nice dinner somewhere and drinks at The Broken Shaker.
395 or 195?
195 for sure. The color-changing neon halos around the palm trees as you approach Miami Beach are one of my favorite things in the whole city.
Where do you take visiting out-of-towners?
Fairchild Tropical Gardens, Robert Is Here (amazing fruit stand in the Redlands agricultural area), Lincoln Road (best people watching on earth), Little Haiti.
Local oasis to escape the 305 grind?
Running at the local park and stopping by the bay to take in the amazing view.
Biggest misconception about Miami's local music scene?
That it doesn't exist, that it's only Gloria Estefan, Tiesto and Rick Ross. For seven years now we've been living proof that that could not be further from the truth. We have amazing bands, scenes, festivals and a really unique camaraderie down here. Miami also has every other possible extrapolation of arts and culture, and a lot of it all blends into each other.
Favorite place to hear live music?
The Fillmore, The Vagabond, my shop.
Any new local act you're particularly excited about?
Garage rock duo Deaf Poets, live disco funk quartet Krisp, and post-punk twang trio Axe and The Oak. We're going to be putting out vinyl by all three over the next several months.
Last big project you did:
Planning Sweatstock 2012.
Upcoming projects you're working on:
I'm hosting a panel on "Miami Vinyl" at the Miami Art Museum on May 3rd to go along with their wax-centric show The Record. I'm going to spend some time in New York this summer and am working on a really cool music-related project for the fall. More info on that will come in a month or two.
Name five songs recently blasted from your speakers.
Deaf Poets - "This Pain"
El Guincho - "Bombay"
Grimes - "Oblivion"
M83 - "Midnight City"
Rich Aucoin - "Brian Wilson Is A.L.I.V.E."
What's it like to run a record store in the age of MP3s?
It's great. We're a boutique/archive of wonderful music from all eras and geographic locations. Music will always be important and the tactile is always more alluring than the digital. That said, a lot of our business is driven by our in-store events and the other promotional efforts we make.
Why do you hate Miami?
I hate the fact that it's such a misunderstood city, and I especially hate when people complain without making a real effort to find what they like. It's a massive metropolis and there's so much out there.
Why do you love Miami?
I love Miami's clean air and water, the multicultural influences everywhere, and the amazing people I've been fortunate enough to live, work and play with every day.
What are three local meals you can't live without?
Grilled tofu fajita wrap at Books & Books Cafe on Lincoln Road
Frito Misto fried cauliflower appetizer at Sublime in Ft. Lauderdale
Mushroom buns and Brussels sprouts at Gigi in Midtown
In a word (or two or three), Miami is...
A semi-secret oasis of awesome.
Related
Popular in the Community