They say breakfast is the most important meal of the day, and with The Granola Project, LA-based Lauren Soloff is out to prove just that. Although, why relegate her salty and sweet blends of rolled oats, nuts and dried fruit to the morning? As good with ice cream (or straight from the bag, for that matter) as with yogurt, Soloff's granola has to be one of the most addictive and satisfying snacks around.
Originally from New York, Soloff moved to the golden state around ten years ago. Always a food lover, she launched The Granola Project last year and has been flooded with orders ever since. And while granola might seem like a basic food, Soloff infuses it with her particular brand of passion. Dedicated to using high quality and sustainable ingredients (olive oil, local honey and 72% dark chocolate), her flavors have names like La Dolce Vita (dried fig, pine nut and olive oil), which was inspired by an old lover who sent her a photo of his granola breakfast in Rome. Read on for our interview and a recipe for one of The Granola Project's best blends.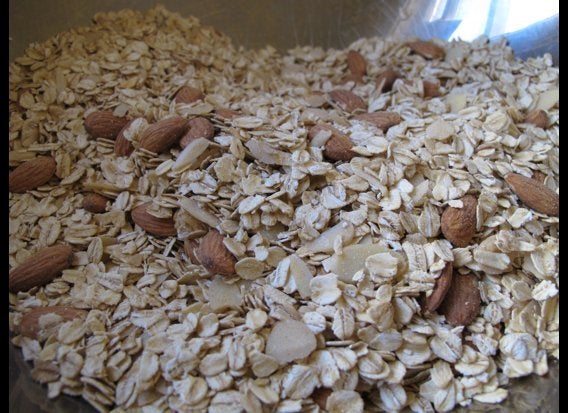 The Granola Project
Heather Taylor: Why granola?
Lauren Soloff: Granola is one of those perfect foods, you know? It's filling, balanced and if done right, has a ton of flavor. As someone who loves to cook, it seemed like the ideal thing to try and perfect.

HT: When did you develop a passion for food?
LS: I have always loved to eat and when I was around 12 years old, I became interested in what I was eating and how food looked. I remember a trip to Mismaloya, Mexico when I was 14. My family rented a house and there was a cook every morning making fresh flour tortillas and orange-lime juice. I would wake up early just to watch her prepare breakfast. I became obsessed.

HT: How does Los Angeles inspire you?
LS: Moving to California from New York was like arriving in the Promised Land. Produce was perfect all the time and in such abundance. So generally speaking, I find the farmers market very inspiring.

HT: What's your daily breakfast routine?
LS: On a good morning, Greek yogurt with granola or rice-almond bread with almond butter. On a rushed morning, nothing.
HT: Tell me about your newest flavor.
LS: The new flavor is a blend of sun dried angelino plums, pistachios and almonds. I wanted something that captured the feel of a hot and dry California summer. Local plums and pistachio nuts seemed like the ideal combination.
HT: Any projects on the horizon?
LS: I am currently collaborating on a series of guest-curated private dinners that I am extremely excited about.

Coconut Sesame Date Granola
Yields approximately 8 cups


Ingredients:
6 cups rolled oats (not quick-cooking or instant)
2 cups sliced or slivered almonds (raw and unsalted)
1 cup dried unsweetened shredded coconut
1 cup roasted sesame seeds
1 teaspoon ground cinnamon, or to taste
Generous dash of sea salt
1/2 to 1 cup agave or maple syrup
3/4 cup olive oil (or olive oil and canola oil blend)
1 cup deglet dates, pitted and chopped

Instructions:
Preheat oven to 350 degrees. In a bowl, combine oats, nuts and seeds, coconut, cinnamon, and salt.
On the stove in a small pot combine the sweetener and oil and bring to a boil. Immediately remove from heat and add to the oat mixture.
Place on a sheet pan lined with parchment paper and put in oven. Bake for 30 minutes or a little longer, stirring frequently. Be careful the edges do not burn.
Remove pan from oven and add the dates. Cool on a rack. Transfer to a sealed glass container.
Chef Speak is a bi-monthly column by LA-enthusiast Heather Taylor in which she explores LA's diverse and dynamic food culture, featuring interviews with Angeleno chefs of-the-moment, seasonal recipes, and rising restaurants.
Popular in the Community