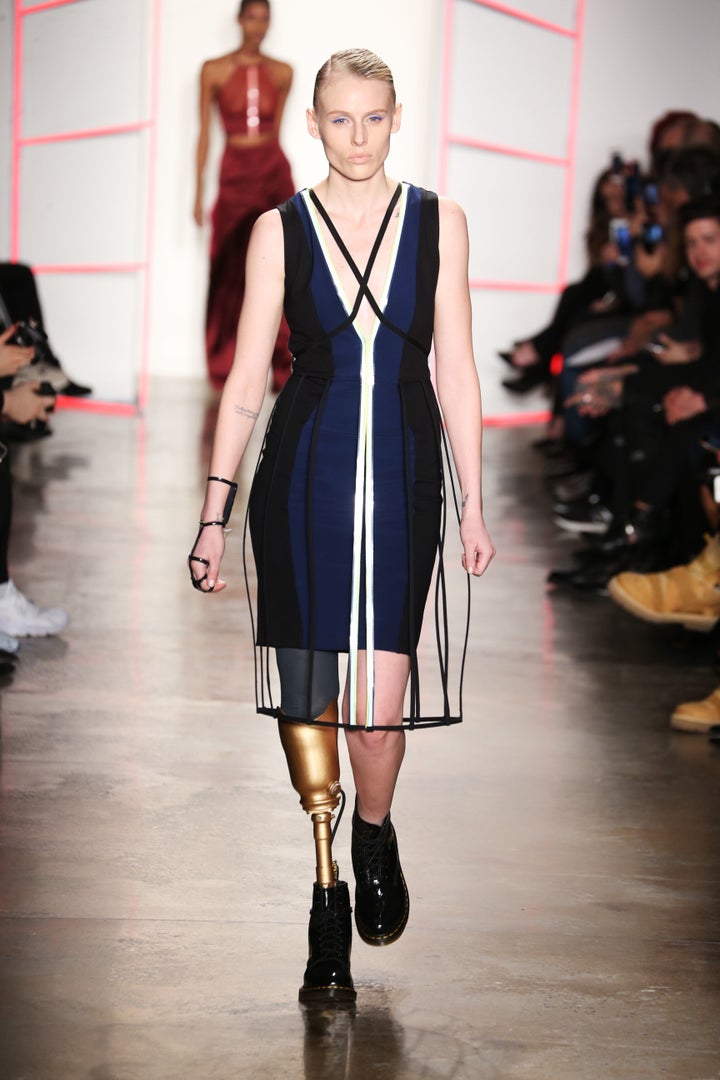 Meet the new face of empowerment.
Last week, 28-year-old Lauren Wasser made her runway debut at New York City Fashion Week sporting a bold accessory -- her prosthetic leg.
Wasser -- along with transgender model, Isis King, and plus-size stunners, Sabina Karlsson and Denise Bidot -- walked in a show titled "Lumina" for the forward-thinking brand, Chromat.
"Great day with great people," Wasser wrote in an Instagram photo caption backstage at the show, which garnered over 500 likes and comments loaded with supportive kissy-faced emojis written by followers inspired by the Wasser's fierceness.
Wasser's road to the runway was an emotional one that includes a four-year detour sparked by the loss of her right leg to toxic shock syndrome.
At 24, Wasser, a tall, blonde and blue-eyed beauty was living a charmed life -- riding 30 miles on her bike by day and rubbing shoulders with Los Angeles' elite by night. According to a profile in Vice, she had given up a full-ride basketball scholarship at a Division I school to pursue modeling -- a career that began when she appeared next to her model mother when she was 2 years old in Italian Vogue.
It was the fall of 2012 when everything changed. Wasser showed up to a friend's birthday party on Oct. 3 feeling sick. She had her period, but the pain had spiraled past cramps and lower-back pain. She was feeling flu-like symptoms and was struggling to stand upright.
"Everyone was like, 'Dude, you look horrible,'" she told Vice. Wasser decided to leave the party, drove home and fell asleep.
Aside from a few spotty moments, Wasser awoke from a several-day slumber in the hospital on the verge of death. Her organs were failing.
"They were telling [my mom] and my godfather to prepare for my funeral," she told Today.
Wasser didn't connect her pain to her period until an infectious disease specialist asked if she was wearing a tampon. She was, the tampon was rushed to a lab and tested. Wasser had toxic shock syndrome. The diagnosis surprised Wasser. She had changed her tampon three times the day she got sick -- in the morning, afternoon and again in the evening, Vice reported.
When HuffPost reached out for comment, a spokesperson from Kimberly-Clark, which owns Kotex, said:
"Kimberly-Clark does not comment regarding ongoing litigation. In regards to tampon usage, we encourage all consumers to thoroughly read the instructions and warnings that accompany tampon packaging and be diligent in using the product as directed."
Many women are familiar with toxic shock syndrome, due to warning labels on the back of tampon boxes that warn customers to change their tampons every four to eight hours. The labels were placed on boxes back in the 1980s after 38 women died from toxic shock syndrome from tampons, according to the CDC.
But tampons aren't the sole reason why someone develops toxic shock syndrome. According to the Mayo Clinic, men and children can also get toxic shock syndrome. What makes menstruating women more susceptible is if someone has staph bacteria (or Staphylococcus aureus) in their system and uses a tampon made out of synthetic materials rather than pure cotton, according to Yale Journal of Biology and Medicine. The combo can cause a bacterial infection or toxic shock syndrome.
Roughly 20 percent of the general population carries Staphylococcus aureus, according to the journal.
Due to complications, she had to have her right leg below her knee amputated.
"I literally was laying there, thinking my life was over. That I would never be accepted again, I could never model again. No one would look at me the same," Wasser told Today.
After the amputation, Wasser was in pain and contemplating suicide. But through support from her family and girlfriend, photographer, Jennifer Rovero, who took hundreds of pictures of Wasser, as sort of a photo therapy, as she recovered, she slowly regained control of her life.
Wasser is now suing Kotex, the brand that created the tampon that caused her illness, and in 2015 Mic reported that she appeared in a Nike campaign for Nordstrom.
"I'm more beautiful than I've ever been because I've experienced so many things, and I can relate to so many different people," Wasser told Today. "And you know, it's just made me a better person."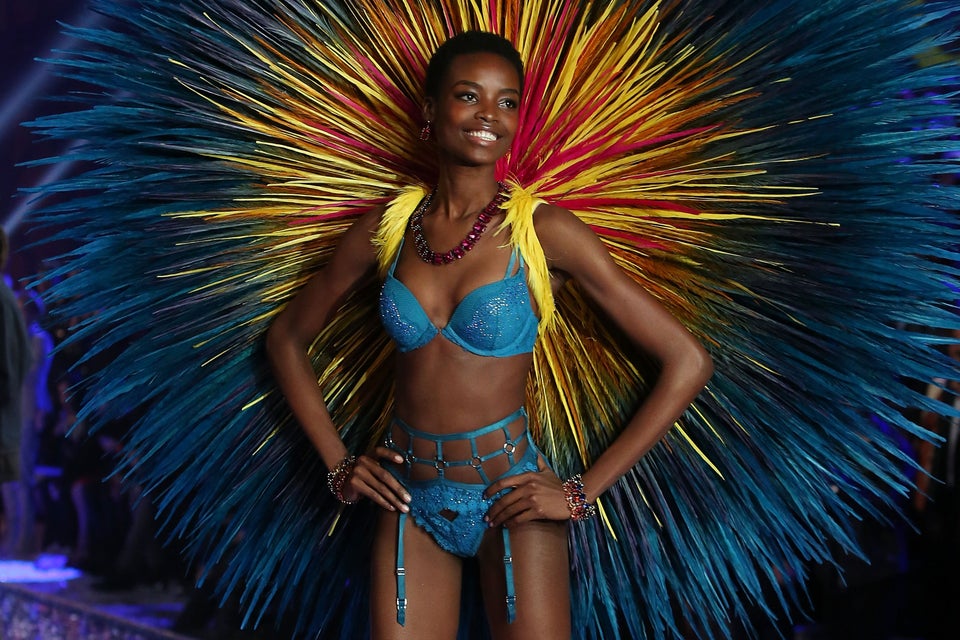 Fashion Diversity Wins In 2015
Popular in the Community