Lauren Weisberger, the literary "it girl" whose 2003 roman a clef The Devil Wears Prada became an international bestseller and was the basis for the popular chick flick of the same name, is expecting her first child, but that is not stopping her from hitting the road promoting her most recent book Last Night at the Chateau Marmont.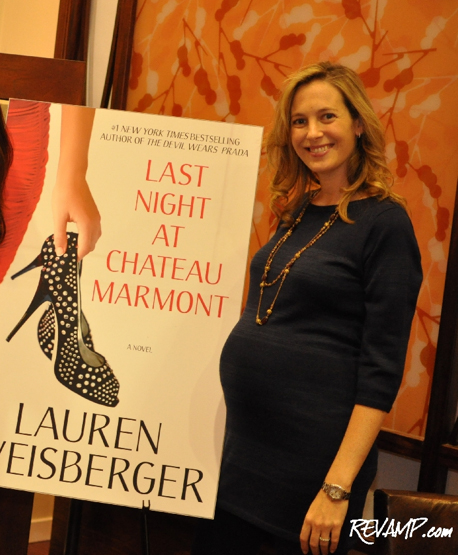 The thirty- something blonde was at the suburban Washington, DC boutique Ginger as part of Bethesda Row Boutique week where she signed hardcovers and interacted with fans with the ease and affability of a sorority sister.

The New York-based writer says that her pregnancy is not giving her creativity a surge, because she's "tired and hungry all the time," but she explained she likes to unwind between preparing for her baby and flacking her book by reading "the books everyone else is reading" like Jonathan Franzen's Freedom on her Amazon Kindle.

During our brief interview, I got the distinct impression there's been no rapprochement between Weisberger and her old boss, Vogue editor Anna Wintour, whose witchy ways and diva like demands reportedly inspired "the Devil" in her popular book.
"I had flashbacks. I found it very transporting," Weisberger told me when asked what she thought of last year's fashion documentary "The September Issue," which chronicled how Wintour and her army of editors and assistants put together the most anticipated magazine of the year.
When it was suggested that the film made Wintour appear more "human," Weisberger responded with a cold and pensive "hmmmm."