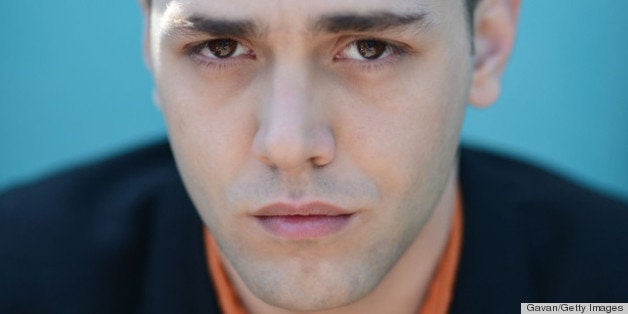 A sweeping romantic epic that appears to have been effortlessly made, the glorious Laurence Anyways, which is playing in New York City at Cinema Village after a brief, barely heralded run at the Angelika (and on that theater's smallest screen, no less), is also an advertisement for moviemaking as a young person's pursuit. Directed by Québec's then-22-year-old Xavier Dolan (now 24), Laurence looks at the decade-long love affair between a trans woman and her female-identified, ever-passionate partner. It traces their breakup, by painful piecemeal, as Fred (played by the spectacular Suzanne Clément) awakens to her admiration for the trans Laurence (Melvil Poupaud in a revelatory performance), while at the same time realizing that her erotic needs are hyper-specific, and that they're not about to change: Entering her 40s toward the end of the film, Fred experiences a surge of sexual energy, but it's not the sort that might jibe with Laurence's needs.
Throughout the film, Fred must contend with two terrifyingly contemptuous familial forces: her imperious mother, Andrée (Sophia Faucher), and her more disturbingly dismissive sister, Stéfie (played by Dolan stalwart Monia Chokri), whose self-consciously "hip," semi-punk style is little more than a half-assed affectation, as she demonstrates when expressing disgust over LGBT concerns. Stéfie may support abortion rights, drug abuse, and casual sex, and in so doing seem "progressive," but she appears to accept the historically specific, pseudoscientific party line on transgenderism: that it's a "mental illness."
Set in the '80s and early '90s, Dolan's film is a period piece, uncannily capturing the mini-epoch that witnessed the director's birth. Some of the film's most piercing scenes show the astonishing proximity of the "official," medico-juridical stance on LGBT identities, which, in a chilling sequence set in an antiseptic school boardroom, represent a rhetorical ragbag of horrific assertions.
Laurence is not a Hollywood-style "message" film. It is not about Fred's education in LGBT politics, or about the title character's learning self-acceptance. It's about Fred's messy love for Laurence -- a love that transcends any recognition of gender identity but coexists, maddeningly, with what academics would call Fred's phallic fixation, and what the earthy, intensely relatable Clément presents as an abiding desire for dick. This paradox isn't played for laughs, nor is it a source of shame. Dolan loves his characters and nurtures his fine performers. There isn't a bum bit of acting in the entire, nearly three-hour film.
Clément is like a Canadian Anna Magnani, sturdy and sexy and capable of shutting people up (as in a remarkable scene in which Fred, feeling like a creature enclosed in a zoo, and tired of fielding inane and condescending questions from those who stare at the trans woman that she so desperately loves, explodes at a waitress in a Montréal café). As the haughty and horridly hypocritical Stéfie, Chokri displays her usual lip-curling disdain; she's still too new to the screen for one to be able to tell if she can achieve such devilish insolence outside Dolan's direction. As Laurence's similarly lofty but far more adaptable and dependable mother, the iconic Nathalie Baye brings a bracing quality to the film, fighting her son's demand for love as if it were a strategy of extortion.
Everyone adored Baye as the sprightly script girl in Truffaut's Oscar-winning Day for Night (she was the jauntily lovely Ludivine Sagnier of the '70s), and also as the ethereal mother of Leonardo DiCaprio (and the one-time wife of Christopher Walken) in Spielberg's Catch Me If You Can. In Spielberg's hands, she was the essence of fair French charm, seen as if through a gossamer screen. In Laurence, she's a lioness. Look for the dream sequence (or is it really a represented reality?) in which her petite Julienne hoists a hefty, box-like analog television set (another marker of the film's historical moment) and tosses it to the floor as if it were a mere milk carton.
Reportedly, Louis Garrel was Dolan's first choice to play Laurence. It's hardly a pity that Garrel was unable to take the role, not because he's a bad actor (far from it) but because he's still somewhat too young (or at least too young-looking) to play Laurence, a character who requires a hint of having led a long, passionate yet compulsorily "heterosexual" life prior to the point at which the film begins (with a bang, and a montage of disquieting, transphobic gazes). If Garrel would not have worked for Laurence, then Poupaud, who ultimately played the part, is no longer the cruelly blank male ingénue of Le Divorce, a film in which his hot, thoughtless young thing betrays the more worldly Naomi Watts by shacking up with an irritating teen "artist." In Laurence, he's not only ripe and full of depth; he also gives a performance for the ages.
The film's running time is entirely necessary. You don't feel it; Dolan's touch is so assured that he transports you, as if on a tidal wave, across the 10 years of his narrative as well as through the real time of your lived theater experience. When I saw the film at the Angelika, a few elderly ladies, taking a break from what appeared, by the presence of giant paper bags, to have been a ponderous shopping spree, started chatting with each other during the opening credits. I couldn't quite make out what they were saying to each other (were they criticizing the film, offering a few transphobic remarks?), but it was clear, from the mere fact of their speech, that Laurence simply wasn't working for them.
It was their loss, of course, and after they'd left, about two hours into the film, the remaining audience members nestled into their seats, in a collective thrall unlike any that I have experienced in recent years. There were no glowing cellphone screens, no restless rattles. When the film's final scene came -- a flashback as cathartic as it is erotic -- I could feel the room rumble, ever so gently (and not from the trains that so often interrupt an Angelika experience). When the closing credits appeared, no one budged. For the first time in a long time, I wasn't the only moviegoer to remain in my seat until the last possible minute -- a testament, I think, to the tremendous achievement of Laurence Anyways. See it soon.
Popular in the Community