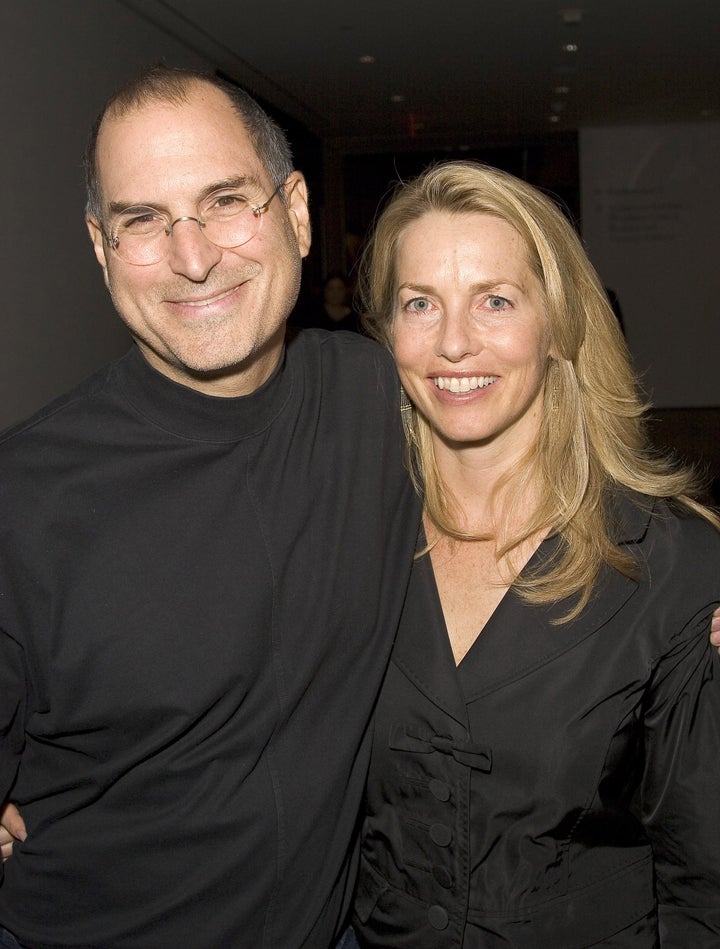 In her first major interview since the 2011 death of her husband, Laurene Powell Jobs said she and her children miss Apple (AAPL) co-founder and CEO Steve Jobs "every day," and also spoke extensively about her efforts to reform U.S. immigration policy.
"His private legacy with me and the kids is that of husband and father, and we miss him every day," Powell Jobs said in an interview with NBC's "Rock Center" anchor Brian Williams on Friday night.
She also talked about how she came to focus on
"I started getting more and more active around immigration reform because this was such a waste of lives, such a waste of potential, such a waste for our country not to have the human capital that we developed -- geared toward improving our entire society," Powell Jobs told Williams. "We need all of these brains, we need all of that energy."
Since her husband's death from pancreatic cancer, Powell Jobs has been in the public eye but has given no major media interviews.
In 2012, she was a guest of Michelle Obama at the State of the Union address, was named to the 49ers Super Bowl Bid Committee and was appointed a Stanford University trustee. She holds a Stanford MBA and met her future husband in 1991
after he lectured at one of her classes.
Powell Jobs is also a co-founder of the East Palo Alto nonprofit College Track, a college preparatory program for economically disadvantaged young people that led to her efforts on behalf of the Dream Act -- "Development, Relief, and Education for Alien Minors" -- that would provide a path toward legal status for high school graduates, students or those who have served in the military.
"I came across this circumstance of undocumented students," she told Williams. "These are kids who were brought to this country as youngsters, who are raised as Americans and go to American schools, and then when they graduate high school they have no prospects in front of them because they are undocumented and illegally in the United States. Even if they qualify for college, they can't access state and federal funding so it's out of reach, and they can't work legally."
As for College Track, she said it opens up a "portal of opportunities for individuals so that they can become what they want to become."
"That's part of the American promise," she said. 'That's why our country is such a beautiful, beautiful experiment. We manifest, we allow freedom, if you follow certain rules and if you work really hard. That's at the root of our cherished values."
Her husband, in contrast, kept his distance from charitable and political causes during his life.
In the interview with Williams, Powell Jobs spoke passionately about giving young people in particular a path to citizenship that would improve their lives. She and Jobs raised two daughters and a son along with Jobs' daughter from a previous relationship.
Powell Jobs and filmmaker Davis Guggenheim are promoting immigration reform through the film "The Dream Is Now" and the pair showed the film to members of Congress this week.
"The Dream Is Now" airs Sunday on MSNBC. Guggenheim, who also directed the documentaries "An Inconvenient Truth" and "Waiting for Superman," told NBC that his hope with his latest film "is that, when we tell this story, people see the human lives that are at stake. It definitely has an opinion to it."
Supporters of immigration reform welcomed Powell Jobs' support and hope her star power helps push for passage of the Dream Act.
"Someone of her towering stature showing leadership on this issue is encouraging and important," Reshma Shamasunder, executive director of the California Immigrant Policy Center, told this newspaper. "It's very exciting and it shows the growing recognition that we must create an inclusive and common sense immigration reform process for a prosperous future for all of us."
But Ira Mehlman, spokesman for the Federation for American Immigration Reform, said, "I'm not sure how significant it is. There's obviously a lot of support in Silicon Valley because high-tech wants as easy access as possible to foreign labor. There's nothing new here."
Powell Jobs told Williams that, "I think there's been a great realization over the last several years that, in fact we do not wish to punish the children because of any actions from their parents."
She said one of her favorite quotes came from a lawmaker, who said, 'I do not support any immigration policy that would've kept my grandparents out of the country.' And I think that's a good rule. How about we agree upon what our common American values are, which is let's make this a true land of opportunity. We're also a land of rules and laws that should be enforced. Let's fix this problem, and then let's let people flourish," Powell Jobs said.
NBC reported that a new NBC News/Wall Street Journal poll shows about two-thirds of Americans support providing undocumented immigrants with a path to American citizenship.
A USC Dornsife/Los Angeles Times poll released in March showed that only 19 percent of California voters believe people who are in America illegally should be required to leave. And about two-thirds of respondents believe that undocumented immigrants should be allowed to stay in the United States with eventual citizenship rights.
Staff writer Eric Kurhi contributed to this report. Contact Dan Nakaso at 408-271-3648. Follow him at Twitter.com/dannakaso.
(c)2013 San Jose Mercury News (San Jose, Calif.)
Distributed by MCT Information Services
Calling all HuffPost superfans!
Sign up for membership to become a founding member and help shape HuffPost's next chapter
BEFORE YOU GO
PHOTO GALLERY
Steve Jobs Through The Years