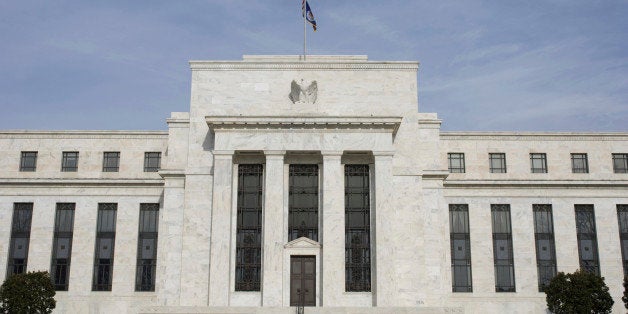 NEW YORK (Reuters) - A British man has been charged with hacking into computer servers belonging to the U.S. Federal Reserve, and then widely disclosing personal information of people who use them.
Thursday's charges against Lauri Love were announced four months after he was arrested in England, and accused by U.S. and British authorities of hacking into various U.S. government computer systems, including those run by the military.
According to the latest indictment, Love, who is in his late-20s, worked with other hackers from October 2012 to February 2013 to infiltrate the Federal Reserve's system.
The Suffolk resident allegedly used a hacking method called a "sequel injection" to access names, email addresses and phone numbers, and then post the stolen information to a website he controlled after a prior hacking.
Prosecutors said Love boasted about his activity in a chatroom under names such as "peace" and "Smedley Butler," once saying he planned to "drop another little federal reserve bomb," meaning he would disclose confidential information.
"Lauri Love is a sophisticated hacker," U.S. Attorney Preet Bharara in New York said in a statement. "We place a high priority on the investigation and prosecution of hackers who intrude into our infrastructure and threaten the personal security of our citizens."
The extent of the theft was not immediately clear.
Last February, the Fed said one of its internal websites had been breached briefly, after a claim that hackers linked to the group Anonymous stole and published personal information on more than 4,000 U.S. bank executives.
Thursday's grand jury indictment charges Love with one count each of computer hacking and aggravated identity theft.
He faces a maximum of 10 years in prison on the hacking charge and another two years on the identity theft charge, if convicted.
A lawyer for Love could not immediately be reached. Jim Strader, a spokesman for the Federal Reserve Bank of Richmond, Virginia, declined to elaborate on the new charges. The U.K. Serious Frauds Office did not immediately respond to requests for comment.
In the earlier case, investigators said Love and three unnamed co-conspirators, including two in Australia and one in Sweden, infiltrated thousands of systems, including those of the Pentagon's Missile Defense Agency, the space agency NASA and the U.S. Environmental Protection Agency.
Criminal charges in that case were filed with the federal court in Alexandria, Virginia. Love has not entered a plea.
The New York case is U.S. v. Love, U.S. District Court, Southern District of New York, No. 14-cr-00126. The Virginia case is U.S. v. Love, U.S. District Court, Eastern District of Virginia, No. 13-mj-00657.
(Reporting by Jonathan Stempel in New York; Additional reporting by Jim Finkle in Boston and Guy Faulconbridge in London; Editing by James Dalgleish and Gunna Dickson)
Related