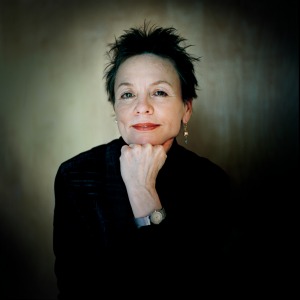 Even if you're not particularly attuned to the experimental music scene, Laurie Anderson's hair, shocked into a pixie cut decades ago, and her creative pursuits with rocker husband Lou Reed have kept the icon with the mischievous smile a figure you know you want to know better. New Yorkers will get their chance during Anderson's stint as a performer and guest curator in this summer's free River To River festival in Lower Manhattan.
Perpetually avant-garde, the performance artist who plays with art, politics and technology moved into popular awareness in 1981 when she landed a UK pop chart number 2 hit with "O Superman," which is on her Big Science album. She's gone on to Grammy nominations, a NASA residency and designing her own instruments and devices, including one that provides "audio drag," electronically lowering her voice by octaves into what she calls the "voice of authority."
In an exchange with NYC-ARTS, Anderson reveals what's she's got up her sleeve for her River To River evenings in Rockefeller Park, June 18 and 19. She also shares news about working with an iPad, and drones, and her Skype duet with Chinese dissident artist Ai Weiwei, happening June 16 at the Luminato festival in Toronto.
What are your expectations for your two River To River performances?
These two nights—"The Language of the Future"—are going to be complete one-offs. Doing the River to River festival was a chance to do something really different. Sitting out on a big lawn on a summer night listening to stories and music is very different than being inside a concert hall. The notes float off into the night...the light changes more dramatically than you can possibly do in theaters. So I decided to do use a very different pace—mostly stretching things out. I've included sounds and instruments I've never worked with before.
Also, I've come to love improvisation. Some of the players will never have met before sound check. Partly this is because there are seventeen players plus a few drone pilots, and it was impossible to rehearse with everyone at once. Many of the people I asked to be in the shows are extremely busy touring musicians or writers or actors with heavy schedules, so some of the pieces will be put together on the spot.
But I get to work with many of my favorite musicians—the brilliant viola player Eyvind Kang, the astounding horn and woodwind player Doug Wieselman, Gerry Leonard, the most soulful and original guitarist I know. Jacob Garchik has made some beautiful arrangements for his trombone ensemble. Really haunting. Almost all of the musicians are also composers so they bring a lot to the music. Also featured in the land of electronica are Annie Gosfield and her trio and Richard Devine and his daring and sharp sounds.
Working with this many people is both risky and a tremendous amount of fun. So I'm not sure what to expect. Plus, Tuesday's forecast is for thunderstorms.
The June 18 "Stories" performance will include your fellow New Yorkers Steve Buscemi and playwright Young Jean Lee. Can you tell us more about that?
The first night, "Stories," will include a few stories from "United States 1-4" ["United States Live"] a big eight-hour multimedia opera I did in the early 80's which has four sections—transportation, politics, money and love. Recently I decided to add a fifth part—it seems like a good time to make another portrait of this country—and "United States V" will be ready in a couple of years. It will be a two-evening work with flashbacks to 1-4, so I've been looking back at that material and seeing what might be relevant and how it might work with the new piece which will focus on the weather, the war, surveillance culture and the digitization of the world. I've put some of these first flashbacks into these two evenings.
I have always admired the playwright (and now recording artist) Young Jean Lee and she'll read one of her works and Steve Buscemi will be reading a fantastic and mesmerizing short story by the writer Harry Mathews that almost certainly no one at the event will ever have heard. Planes and plane crashes are the subtext of the first night but you'd probably only recognize that if you saw it more than once, which will be impossible!
What new technologies are fascinating you now?
I'm using a new rig that is controlled by my iPad and every few weeks we make improvements so I barely know the latest version. I've also been using drones in a short movie I'm shooting and I'm fascinated by their electronic eyes. So they'll make an appearance. We're also going to include excerpts from "Greetings to the Motherland," a Skype duet I'll do with the artist Ai Weiwei on June 16 at the Luminato festival in Toronto. We were starting to write some songs and I invited him to Skype in. We'll see what happens!
To learn about the other multimedia events Laurie Anderson has curated for the festival, see NYC-ARTS. River To River is presented by the Lower Manhattan Cultural Council. WNET/Thirteen, the parent company of NYC-ARTS, is a media sponsor.
Calling all HuffPost superfans!
Sign up for membership to become a founding member and help shape HuffPost's next chapter