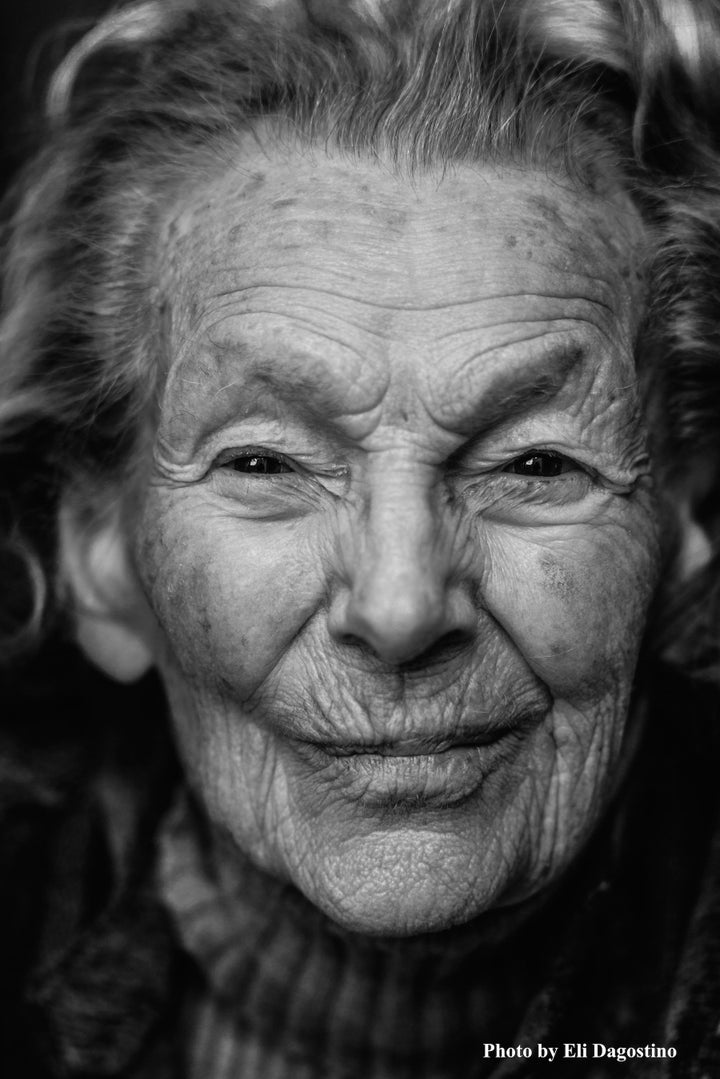 The book's editor is Laurie David, producer of the Academy Award-winning An Inconvenient Truth who, more recently, teamed up with Katie Couric to produce Fed Up, a film about the causes of obesity in the United States. 
We caught up with David recently to talk about the Freydberg book.
Huff/Post: How did you meet Peggy and how did the book come about?
David: Last fall, I became an empty nester -- both my daughters are in college -- which meant that I could spend more time on Martha's Vineyard and get a little more invested in the community there. I heard about a reading by some mysterious iconic poet -- a local legend -- that was going to be in someone's studio. Basically, I invited myself to that and went alone. I didn't know anyone there -- about 30 people, all crammed in this studio.
Anyway, Peggy was there; people were reading her poems to her. She was 106. To be honest, my jaw dropped open. I couldn't believe how relatable and beautiful the poetry was. So accessible. She wrote about aging and her life so honestly.  I was the last one to leave.
Peggy, sitting there at age 106, was elegant and charming. Her hair was done, her mind completely there. She told stories and had the room enraptured. She was born in 1908 and had lived through all the world wars. She came of age at a time when women were supposed to be seen and not heard. And she was so incredibly beautiful, even though she fought being defined by her beauty.
I asked to meet Peggy and felt like I had met Emily Dickinson at the end of her life except that no one knew her or had read her poems. I called Nancy Aronie the next day -- we had been in her studio -- and asked her to take a walk on the beach with me. I told her we just had to publish a book of Peggy's poems. Now Peggy -- always humble -- couldn't believe I was interested in her work. In the process, I would go and spend an hour with her -- that's about as long as she could manage. I loved being in her company. She had so much to share.
Excerpt from "Preparing Oneself For Dying:"
"The Steuben heard of glass, though chipped,
will go to Bet, who never scolds imperfect hearts.
"The primitive I painted years ago,
while sitting in a field behind the house,
will go to Joceluyn, who understands it was
the first day of my life I saw what I was looking at."
 H/P: How would you describe Peggy's poems?
DAVID: Well, here's what Billy Collins, two-term Poet Laureate of the United States -- and Peggy's favorite poet -- said about it: "Reading these poems made me feel like I was being let in on a secret, a secret I'm dying to whisper to lots of other people." The quote appears on the book's back cover.
You write for yourself, but writing needs to be received. And I think with Peggy's work, you will hear the message even if you aren't a poetry fan. No one else is talking about aging with this kind of honesty.
Excerpt from "Appointment With A Gerontologist:"
I am shown to an examining room,
and told to take my clothes off,
and to put on a a paper gown ("gown?")
"The Doctor will be with you shortly."
I hear her push-button, rushed, and ushering voice.
I put the skimpy, stiff kimono on --
white is the coldest color --
like a child's drawing of a paper doll dress.
on an old body best kept secret.
H/P: How did she see aging?
DAVID: She began writing poems when she was 90 -- and she wrote a lifetime's worth of beautiful poems. She proved that creativity has no age limit, which in itself is a powerful message. She redefined what beauty is. We all should. Look at her face when she was 106 and it says "This is beauty." She died of old age. She fell at Christmas time and broke a hip. She was ready to go after that. 
Excerpt from Transformation:
And if this very wise old woman
(as some say aging faces often are),
for she is still a striking sight,
with hair as white as swans on water,
and with grey eyes, steely brave,
old flesh in all its shame,
that her face is beautiful.
that she knows what she is,
HP: Did Peggy face loneliness as she aged?
DAVID: She was surrounded by her son and daughter and her granddaughter Tamara, who helped a great deal with this book. She was something of a living legend here on Martha's Vineyard and lived in a house she adored. She had so many friends and admirers. 
Excerpt from "The Dance:"
in a long, loose dress that covers imperfections,
is sitting in a row of empty chairs reserved for wallflowers,
hoping, though she fears it may not happen,
someone she has never known,
and stop before her chair,
and take her hand in both of his,
asking for the last dance.
H/P: She was married twice, right? And she and her second husband, to whom she was wed for 47 years, were inseparable. Is that relationship in the book?
DAVID: Yes, and so is her great insecurity about his love. Her second husband was a bit of a withholder. She was never completely confident that he loved her. 
H/P: There is a lot of Peggy's life story in this collection.
DAVID: Yes. In Birthday Party, she talks about ritualizing her birthday with friends.
And when I bent to blow the candles out, 
I did not need to make a wish for something better.
with one great whoosh of liberation,
I blew away the ninety years of little lies.
H/P: What was your favorite poem?
DAVID: Ah, so many. I would say "Making Sure," about losing a little hair comb. When she had this hair comb in place, she always felt ready to go forward. Then in a wind storm, she loses it. Two years later, she continues to search for it.
Excerpt from "Making Sure:"
And every time I walk along the driveway of the Tisbury Printer,
(where I always thought I must have lost the comb),
I look down with hope that never loses freshness.
thinking I will see it -- rusted now,
down in the deep, green grass.
I cannot keep myself from searching,
just what it is I'm looking for. 
PHOTO GALLERY
12 Famous Artists On Art And Life
Calling all HuffPost superfans!
Sign up for membership to become a founding member and help shape HuffPost's next chapter