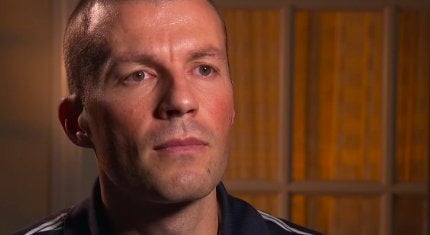 Fine's wife, Laurie, may have also engaged in sexual relations with one of the alleged victims.
One of the alleged victims of abuse by Fine, Bobby Davis, shared tape-recorded telephone conversations from 2002 between himself and Fine's wife during which they discuss the alleged abuse in graphic detail. During the segment of ESPN's "Outside The Lines" that included the recordings, Davis admitted in an interview that he also engaged in sexual relations with the wife of the former Syracuse assistant basketball coach.
Davis claims that he and Laurie had a sexual relationship when he was a senior in high school. Davis indicated that she had initiated their physical relationship and that the pair had engaged in sexual intercourse.
"I did tell Bernie," Davis said when asked if the former assistant coach knew of his sexual relationship with his spouse. "This is as I got older not like when I was a kid. I thought he was going to kill me, but I just had to tell him. I told him what was going on between me and Laurie. It didn't faze him one bit, honestly."
Earlier in the the tape recordings, Laurie talked about how she believed her husband was in denial about his alleged crimes and stated her belief that he didn't think he would ever be punished.
On Sunday evening, several hours after ESPN made the tape recordings public, Syracuse fired Fine from his position on the coaching staff of the men's basketball team.
I am personally very shocked because I have never witnessed any of the activities that have been alleged. I believe the university took the appropriate step tonight," he said. "I deeply regret any statements I made that might have inhibited that from occurring or been insensitive to victims of abuse."
REAL LIFE. REAL NEWS. REAL VOICES.
Help us tell more of the stories that matter from voices that too often remain unheard.